ACT Test Dates (2018, 2019)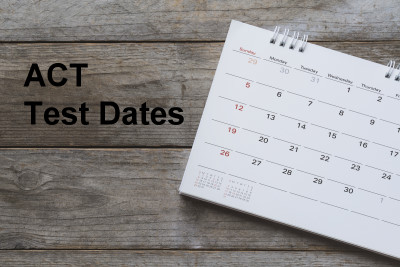 October 1, 2018
Studying for the ACT takes careful planning all on its own, but so does deciding when to take the actual test. After all, there are many factors that go into selecting the best test date. When are your application deadlines and how much legroom do you want to allow yourself between seasons? These are just a few questions prospective ACT students have to weigh when making this challenging decision. "Timing is everything," at least as the old expression warns—so how does that relate to choosing the right ACT test date?
Thousands of students every year sit for the ACT, having put in hours of highly focused preparation and time. High school juniors and seniors won't know of a more important test in their lives so far, as the ACT can determine major life choices, such as admissions to a dream school or even a scholarship that makes attendance possible in the first place. The ACT is one of a handful of crucial standardized tests throughout a student's higher education career; undoubtedly, selecting the right time to take it is of paramount importance when considering its weight, permanence, and influence.
Let's take a look at important factors to consider when determining the best time to take the ACT. Naturally, with such an important decision, there are more than just one aspect at play, so delving into some of the most prominent will help shed some light on this significant decision.
Months the ACT is Offered
Okay, before we get into the nitty-gritty, it's important to keep in our minds when the ACT is offered. Thankfully, the ACT is administered seven months of the year: February, April, June, July, September, October, and December. More about these specific dates and times, as well as registration, can be found at the ACT website, ACT.org. Below are the registration dates as well as test dates for the ACT 2018/'19 calendar, to give you a broader idea.
| 2018/2019 ACT Test Date | ACT Registration Date | Date Scores Are Back |
| --- | --- | --- |
| Saturday, June 9, 2018 | May 4, 2018 | June 19-August 3, 2018 |
| Saturday, July 14, 2018 | June 15, 2018 | July 24-August 27, 2018 |
| Saturday, September 8, 2018 | August 10, 2018 | TBD |
| Saturday, October 27, 2018 | September 28, 2018 | TBD |
| Saturday, December 8, 2018 | November 2, 2018 | TBD |
| Saturday, February 9, 2019 | January 11, 2019 | TBD |
| Saturday, April 13, 2019 | March 8, 2019 | TBD |
| Saturday, June 8, 2019 | May 3, 2019 | TBD |
| Saturday, July 13, 2019 | June 14, 2019 | TBD |
So really, when looking at this chart, it's clear that there are three dates you must keep in mind when scheduling ACT test dates: registration day, exam day, and the day scores are revealed. Unfortunately, as is evidenced in this chart, the score return dates are not revealed until time gets closer to the actual exam date, so it never hurts to take the ACT a month or so earlier than you anticipated just to give yourself some leeway and you aren't scrambling at the last-minute. All in all, though, these four dates are crucial when factoring in this schedule to your planning time.
Your Application Due Dates
Along the lines of "important dates," a fourth should be added to the aforementioned list above, and that is the date that your college application is due. Many schools require all admissions materials—including your ACT score—by late November for notification in late January or early February. Of course, this varies by school, as no one "due date" is the same, so keeping a watchful eye on the calendar is imperative to meet all the necessary guidelines and requirements.
Additional factors you will need to consider is if you are applying Early Action, which guarantees you a spot to your chosen school if you apply early and promise to attend. Naturally, those due dates are earlier than the due dates for normal admission. If you are applying to certain scholarships, those are also important dates to keep in mind, as some may vary from the others. Clearly, a strong ACT score is more than likely required for any merit/academic-based scholarships or financial aid, so having your ducks lined in a row, so to speak, is vital.
Planning Your ACT Prep
A typical in-person or online ACT course with us at Manhattan Review lasts about eight weeks, spanning 28 hours. Personalized tutoring can fall anywhere ahead or behind that amount, so factoring in at least three months of ACT preparation is the minimum needed to attain a high score. Not only will you need a complete math and science review for test day success, but increasing your vocabulary, building up reading comprehension skills along with harnessing effective exam strategies take time and concerted effort. The guidance of an experienced ACT educator or tutor is paramount to this process. Thankfully, we have a very impressive roster!
Of course, factoring in mock exams in an attempt to track and document your own progress should be included in this study plan, so giving yourself the luxury of time will really lower your stress and increase your performance.
High School Juniors vs. Seniors
The ACT is intended for high school juniors and seniors. Taking the ACT as a junior is highly recommended, ideally in the spring of junior year, or even in the month of February if you're wanting to get a head start. More than likely, you will have been exposed to exams such as the PSAT or PreACT, both of which are great precursors to the structure and rigor of the ACT.
Thankfully, juniors also have the option of taking the ACT in July, which is a relatively new testing month offered. For many, that may even be better, as you will have completed important third-year courses that will have enhanced your reading and writing capabilities for the English and Reading portions, as well as having covered more science and math material. (Note: Some sophomores in high school wanting extra practice take the ACT just to get a sample score and the ball rolling, which is entirely up to you and your own ambitions.)
When it comes to seniors—well, this is the last stop on the train, so to speak, so if you haven't taken it by senior year, you most certainly will be. Naturally, your test dates are more constricted due to your impending application deadlines. September is more than likely the best time to take the ACT as a senior, since October can be pushing it awfully close to November due dates. (All of this is pushed back, too, if you're applying Early Decision/Early Action.)
Again, so much of the junior/senior ACT testing falls on overall test score progress and application and scholarship deadlines.
Retake Policy
The ACT has a policy stating you cannot take the exam more than 12 times total, which includes cancelled scores. For most people, this won't be a problem, as it would be unusual to officially sit for the exam more than three or four times. But if you are aiming for a higher score for an elite university, then retaking this test is probably realistic for you. For example, if you're a high school junior who takes the test in February and you're wanting to raise your score, retaking it again in June and then even again in September is a viable retake schedule.
It's important to note here that the cost of the ACT is $50.50 without the writing section, $67.00 with the writing section, and an additional charge of $16.50 if you are absent on test day or switch to non-writing before testing begins. The cost of this, along with materials for preparation, can be a factor in determining the total number of times you retake the test.
ACT Scoring
ACT scoring isn't as clear cut as other standardized tests, as it involves an averaging of sections. Below is a chart detailing all four ACT test sections, their questions, and total possible points.
| ACT Test Section | # of Questions | Total Points |
| --- | --- | --- |
| English | 75 | 75 |
| Mathematics | 60 | 60 |
| Reading | 40 | 40 |
| Science | 40 | 40 |
The ACT writing portion is an added-on essay that is evaluated by two graders, who score it on a scale of 1 to 6 on each of four domains. All in all, a writing score is determined by averaging the four domain scores, which results in a total ACT Writing score from 2-12.
Our Advice
Frankly put—better safe than sorry—at least, that's our advice when it comes to determining a proper schedule for your ACT preparation. Think about all that you have to take into consideration: 3-4 months of ACT preparation in an in-person or online class or via private tutoring, university application and scholarship deadlines, the day to register for the exam, the day to take the exam, the window of time given for anticipated scores—oh, and not to mention retakes. When looking at a calendar, these dates could span the course of up to a year and a half.
No one likes to feel hurried or rushed when approaching the ACT, as test day performance is never optimal under such circumstances. Give yourself the luxury of time—not only to study the test, its content, and important strategies, but also to feel your way through the testing and college application process so that you have some flexibility along the way. After all, it's important to study hard, but plan hard, too.