ACT Start and Stop Time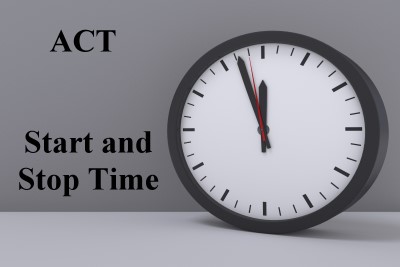 January 30, 2019
Preparing for the ACT takes months for many students. Just think of all that goes into a course of study—practice exercises, diagnostic mock exams, private tutoring, class time sessions—the list can be endless! Most students will not have faced an exam they must prepare well on more than the ACT. The ACT is a gateway for countless students around the world to attend the college or university of their dreams. For undergraduate-bound high schoolers, this is the test that matters the most. Naturally, you want to do all that you can to ensure it's a successful experience.
While there are countless tips, pieces of advice, as well as ideas to enhance your testing strategy to increase your ACT score, there are also important exam day pointers to follow. Many students express concern over start and stop times of the ACT; some even have continuing questions about protocol and even testing length. We will explore all of these issues in this article in an attempt to ease your mind and clear up and confusion around important timing-related ACT questions.
ACT Start Time
According to ACT.org, the makers, innovators and administrators of the ACT, the start time is 8:00 AM for all students. This doesn't mean the exam begins right at 8:00 AM, but it's what ACT refers to as "Reporting Time". This time can vary depending on your exam date, but most of the testing times have Report Times at 8:00 AM sharp. Latecomers are not permitted to take the exam. Your Reporting Time will be printed on your ACT ticket for admission.
Additionally, you will need to bring proper identification, as testing staff will check your photo ID and ticket, admit you to the test room, direct you to a seat, and provide testing materials. Once all attendees are checked in and seated, testing begins.
Start Time Tips
Naturally, you want to do all that you can to do your very best on the ACT, meaning you want to take the proper steps to get you to the testing center on time. Here are a few tips that relate to your ACT start time to help you make the most of this important day, experience, and step towards college readiness:
Make a dry run to the testing center. Whether you're arriving by public transportation, carpool, or your own vehicle—knowing exactly where you are going is important to avoid last-minute confusion. This way you won't encounter any transportation-related surprises while en route, which may include road construction, confusion around taking a shortcut, and even parking.
Wear comfortable clothing. Oh, boy, this one is vital—after all, no one does well on a standardized test feeling uncomfortable, right? Make sure to wear comfortable clothing, but also dress in layers. Similar to a movie theatre or air travel, you never know what the climate conditions will be in a testing area. If you're freezing cold, having the luxury of being able to wrap up can help you focus; similarly, if you're burning up, you want the option to de-layer. Remember—no one is making fashion statements while taking the ACT; their focus is on their brain, not their shoes!
Bring snacks or drinks. During break times, you are permitted to consume food and beverages outside the classroom. Make sure to bring water or another hydrating beverage. Protein-packed snacks can help your energy and concentration, as well. Whatever you bring, make sure it's easily consumable, as you don't want to be running around searching for a microwave, fork, knife, or spoon during these very small breaks.
Eat a big breakfast. Breakfast is the most important meal of the day, right? This could not be more true for days when you're looking at a four-hour testing experience. Make sure to consume protein-rich foods that will provide you energy, not overly saturated fats and sugary cereals. You want to maintain your stamina, not have it rise abruptly and then dissipate halfway through the ACT. Similarly, watch your coffee intake. Sure, we all need a little to get going, but you don't want "the jitters" while focusing on important reading comprehension questions.
Get a good night's rest. This is paramount to success on test day. Why? Well, just think about it—how well have you performed on a standardized test being totally exhausted? Allotting an extra hour or two the night before than you normally get also may be a good idea, as it may take your longer to initially fall asleep with the big day approaching.
Don't cram the night before. Yes, getting a good night's rest is important, but equally crucial is to not cram. Trust in all the hard work you have done and know it won't affect your score if you attempt to work on a handful of practice exercises before bed. Put the books away, rest up, and give your mind a break.
While there may very well be a handful of other important tips, these are just a few to keep in mind. Everyone has their own night-before or test-day ritual; whatever yours is, just make sure it involves nourishment, preparedness, and sleep!
ACT Length
There are four multiple-choice sections on the ACT, consisting of: English, Math, Reading, and Science. This takes approximately two hours and 5 minutes. If you choose to participate in the 40-minute Writing section, this ups your testing time to three hours and 35 minutes. Below is a breakdown of all testing sections and breaks to illuminate these points.
ACT Section
Total Time
Start Time
End Time
English
45 minutes
8:30AM
9:15AM
Math
60 minutes
9:15AM
10:15AM
Break
10 minutes
10:15AM
10:25AM
Reading
35 minutes
10:25AM
11:00AM
Science
35 minutes
11:00AM
11:35AM
Break
5 minutes
11:35AM
11:40AM
Writing (optional)
40 minutes
11:40AM
12:20AM
TOTAL
3 hours, 5 minutes (without writing)
3 hours, 50 minutes (with writing)
ACT Length & Extended Time
For some students with disabilities, extended time is possible. Such learning disabilities might include ADHD, a medical condition, or autism spectrum disorder. To qualify, you must have a documented disability, which consists of an Individualized Education Plan (IEP) or 504 plan through school. Processing can take up to four weeks and a school coordinator has to make the request. Here are some facts about extending time on the ACT for students with disabilities:
For students qualifying for time and a half, they are allowed five hours for the ACT without the Writing section and six hours with the Writing section. The sections are in the same order as the regularly timed test—English, Math, Reading, and Science—but students are allowed to self-pace through the test.
Students qualifying for time and a half can distribute their time between all four sections. In other words, this time can be used freely and is not limited to a section-by-section breakdown or expectation.
Breaks do not change for students with extended time. If they need more than the average 10-minute and 5-minute break, then a special request must be made.
Testing with extended time occurs at a national test center on a Saturday morning.
Students are still required to be at the testing center by 7:45 AM at the latest, as the doors close at 8:00 AM.
Since space can be limited, it's advised to register for your extended testing date as soon as possible.
The Takeaway
All in all, planning ahead to arrive on time is of utmost importance to your ACT learning plan and overall success. Below is a sample time table of not only your testing time, but of a mock schedule which you are welcome to use as a prototype in planning your day. Remember, this is one day of your life—but one of great consequences—taking the proper precautions is always best.
The Perfect ACT Schedule for Test Day

| Time | Activity |
| --- | --- |
| 6:15AM | Wake up |
| 6:30AM | Shower, eat a healthy breakfast, read the newspaper for ten minutes to warm up your brain |
| 7:15AM | Leave for the testing center |
| 7:30-7:45AM | Arrive at testing center |
| 8:00AM | Fill out all paperwork |
| 8:45AM | English Test |
| 9:30AM | Math Test |
| 10:30AM | 1st Break |
| 10:40AM | Reading Test |
| 11:15AM | Science Test |
| 11:45AM | Finish/Wrap up |
| 12:00AM | 5-minute break before essay or dismissal if no Writing Test |
| 12:10PM | Writing Test |
| 12:50PM | Dismissal |