ACT to Old & New SAT Score Conversion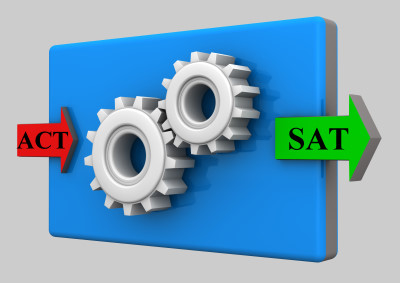 January 31, 2019
Without a doubt the most important exam any high schooler will take is the ACT or SAT. Yes, there are tests such as the PSAT and TOEFL (for international students) but the ACT or SAT are real markers of college readiness. In fact, much of your admissions decision, particularly to an elite school, relies on your test scores—not to mention your GPA, letters of recommendation, and admittance essay. Have you begun to think about which exam is right for you? There are differences, similarities, and even some nuances that can steer you towards the ACT or SAT.
When deciding which one for which to sit, it's important to understand how scoring for both works. Maybe you have already taken a practice ACT already and are wondering how well you'd do on the SAT. Sound familiar to any readers out there? Thankfully, there are some accurate conversion charts to help you determine your old and new SAT score with your ACT score handy.
ACT vs. SAT: The Basics
First and foremost, it's important to understand the basic differences between the ACT and SAT.
It seems that both tests have long since had a rivalry. Well, maybe not so much a rivalry, but a relationship as friendly competitors. While the SAT was the only real college preparedness exam given prior to the 1970s, the ACT has often surpassed it in terms of popularity. (Although, this recent year, the SAT emerged as the most popular after being second place for nearly a decade.)
Regardless of your preference between the two, it's important to break down the differences between both exams to give you further insight into your decision. The following table breaks down both tests, detailing their basic differences and similarities.
ACT
SAT
Why Take It
Colleges & universities for admissions and merit-based scholarships.
Colleges & universities use SAT scores for admissions and merit-based scholarships.
Test Structure
English
Math
Reading
Science Reasoning
Essay (Optional)
Reading
Writing & Language
Math
Essay (Optional)
Length
2 hours, 55 minutes (without essay)
3 hours, 40 minutes (with essay)
3 hours (without essay)
3 hours, 50 minutes (with essay)
Reading
4 reading passages
5 reading passages
Science
1 science section testing your critical thinking skills (not your science knowledge)
None
Math
Arithmetic, Algebra I & II, Geometry, Trigonometry, Probability, Statistics
Arithmetic, Algebra I & II, Geometry, Trigonometry, Data Analysis
Calculator Policy
You can use a calculator on all math questions.
Some math questions don't allow you to use a calculator.
Essays
Optional
Optional
Scoring
1-36 range
400-1600 range
ACT vs. Old SAT
What we refer to now as the "old" SAT was the exam given before 2016. If you took the test that year or before, this is the conversion chart you want to use when finding your ACT score. Note: If you're wondering the characteristics of the "new" SAT, that is outlined in the next section.
ACT Total Score
(0-36)
Old SAT Total Score
(600-2400)
36
2400
36
2390
35
2380
35
2370
35
2360
34
2290
34
2220
33
2190
33
2150
32
2130
32
2080
31
2030
30
2010
29
1960
29
1910
28
1860
27
1830
26
1750
25
1700
24
1610
23
1570
22
1530
21
1480
20
1430
19
1350
18
1310
17
1260
16
1200
15
1130
ACT vs. New SAT
The SAT underwent some major revisions in 2016, a primary one being its scoring range. While the "old" range used to be 600-2400, the "new" one is administered on a scale of 400-600. If you have taken the SAT in 2016 or after, you have probably sat for the revised version. Some highlights of the 2016 revision include:
no penalty for wrong answers, just like the ACT
only 4 answer choices instead of 5
no more Sentence Completion questions
fewer total sections on the test, but they are longer in time than the old test
If you're wanting to determine what your "new" SAT score would be based off your current ACT score, the following conversion chart chronicles just that:
ACT Score
(0-36)
New SAT Score
(400-1600)
36
1600
36
1590
35
1560
35
1530
34
1520
34
1490
33
1480
33
1450
32
1440
32
1420
31
1410
31
1390
30
1380
30
1360
29
1350
29
1330
28
1320
28
1300
27
1280
27
1260
26
1250
26
1230
25
1220
25
1200
24
1190
24
1160
23
1150
22
1120
22
1100
The Takeaway
Finding out which test is right for you should be your number one priority before moving forward with a course of study. Thankfully, there are a handful of free ACT and SAT practice tests available online that will aid you in attaining a projected score. This way, you can find out where you line up with your desire school's score expectations and proceed with an in-person, private tutoring or online prep course.
You want to choose the test that you can do the best on, whether it's the ACT or SAT; hence, this means it's not advised to study for both tests and run the risk of burnout. Thankfully, all schools accept one or the other, just follow the data you come across as well as your own instincts. Even though the ACT is more popular as an assessment, the SAT is just as viable and has been the standard torchbearer for decades when it comes to undergraduate admission. Only you can decide which exam and course of preparedness is right for you.