ACT Prep Courses in Mesa (Arizona)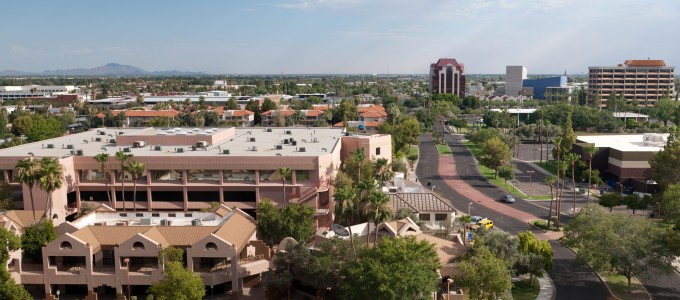 As the second-most widely taken standardized test in the world, students who are looking to take the ACT face a potentially large amount of competition that makes proper preparation for the day of the exam an increasingly important factor in securing a high score for whatever purposes the student is taking the exam for. Students in the Mesa area looking for the best ACT preparation options available to them should look to Manhattan Review for the best ACT preparation options for students in and out of Mesa, with Manhattan Review having provided a wide variety of study options for the ACT since 1999. Manhattan Review can provide students with any combination of group courses, private tutoring, and practice exams that they feel would be best for ensuring that they can study in a way that they feel would suit their needs best during the process of their course of study.
Students who work with the study options that Manhattan Review has available for those looking to prepare for the ACT are also able to utilize a wide variety of benefits to help them get the most out of their course of study. Manhattan Review's instructors have many years of experience with helping a wide variety of high school students who are looking for assistance with exams such as the SAT and ACT. Manhattan Review's curriculums and practice exams are updated on an annual basis to ensure that students have an accurate view of the exam's formatting and content, and the group courses and private tutors that Manhattan Review offers can help their students either in-person or online depending on the preferences of the student. Manhattan Review's in-person tutors can work with their students at any mutually convenient Mesa location, and private tutors can generally customize their lesson plans for their students.
Students who have worked with Manhattan Review for the process of preparing themselves for the ACT exam have managed to use the guidance they have received to develop a stronger grasp of how to take the ACT and how to generally execute their stronger grasp of the material covered on the day of the exam. Students who have worked with Manhattan Review for the process of taking the ACT exam have managed to gain a higher score on the day of the exam that has helped them get into a wide variety of institutes, including Mesa-based schools such as Arizona State University, and schools outside of the area such as Harvard, Yale, Stanford, Columbia, Penn State, UCLA, Kenyon, Brown, Emory, Oxford, Cambridge, and many others in a wide variety of locations. Students have also used their academic backgrounds at these institutions to launch careers at companies located in and out of Mesa, including Boeing. Call or email an academic program advisor today for ACT prep guidance.
Meet a Mesa ACT Tutor: Anna W.
Anna W. has been helping high school students with their preparations for standardized tests such as the SAT and ACT since her own time in college, where she took up working as a private tutor for money while also studying English. She later became a teacher after moving to Mesa and now continues her work helping students with Manhattan Review.
Anna has been helping a wide variety of students using a wide variety of teaching methods for several years, and has continued to assist students who need academic assistance with the work they have been assigned after completing their standardized test prep. In her spare time away from helping students with standardized tests, she likes to go fishing and swimming.