LSAT Prep Courses in Jacksonville (Florida)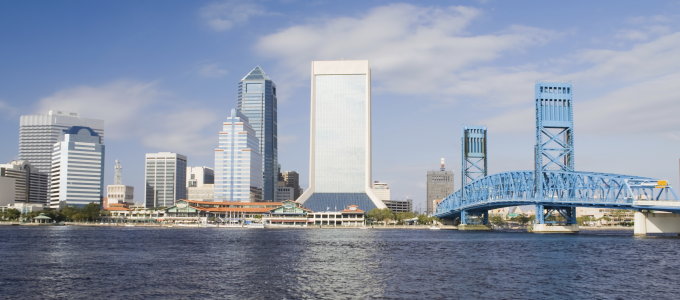 Before prospective law students can apply to law school, they must successfully pass the Law School Admission Test, or LSAT. Even further, they must obtain a high score if they want to get admitted into any of the top law schools all over the world, including in Jacksonville. While some have managed to have success alone as they have prepared to take, unfortunately, this is not the case for most law school hopefuls. Many prospective law students find that they either need help with LSAT test taking strategy, tips on verbal and analytical reasoning skills, practice writing, or need help curbing anxiety and building confidence, Manhattan Review can help with our world-class LSAT test prep courses.
For over 15 years, Manhattan Review has been specializing in the delivery of state-of-the-art LSAT test prep services all over, including in Jacksonville. Our a la carte program is the industry leader for two major reasons. First, students enjoy the fact that our LSAT test prep is fully customizable, which means that they can design their own individual test prep in consideration of their unique learning styles and availability. This includes access to interactive online courses as well as other tools and resources such as our LSAT practice tests, that help students get some real one-on-one time with the test will ultimately determine their future. In addition, we offer prospective graduate students elite private tutors. Not only are our private tutors among some of the most talented professionals in their fields, but they also know a thing or two about the standardized tests that they tutor. Each of them has successfully aced their own standardized tests before applying to undergrad and/or graduate school. For these reasons and so much more, Manhattan Review has developed a stellar reputation in Jacksonville.
All of the top law schools in Jacksonville, including the Florida Coastal School of Law, have all accepted our past students, not only because they had the top scores to get in, but also because they demonstrated all of the academic qualities that law schools look for in potential law students and future lawyers. The area law schools share the same goal as Manhattan Review: to develop the best and brightest in an effort to help both the students prosper as well as the greater Jacksonville area. This then leads to many professional opportunities for our past participants that they simply can't get anyplace else, particularly with area law firms as well as well as the top companies, including the four Fortune 500 companies in Jacksonville: CSC Corporation, Fidelity National Financial, Fidelity National Information Services and Southeastern Grocers.
At Manhattan Review, we aren't just committed to helping students achieve their desired LSAT test scores. We are also committed to developing students into successful future lawyers. We take pride in giving students the necessary foundation to succeed both academically and professionally and we are confident we can help you achieve yours as well.

Hello, I just wanted to let you know that the current class that i am taking is really helping my studies. George has been a great help and I thank you for fitting the class into my busy schedule.
- Simone (This student prepared for the LSAT with us)
Jacksonville
Primary Course Venue:

Manhattan Review GMAT GRE LSAT Prep
Jacksonville Teaching Center at the Hyatt
225 East Coastline Drive
Jacksonville, FL 32202

Phone: (904) 302-5456

NOTE: We do NOT typically have staff at the venue, so email us before visiting the venue.
Meet a Jacksonville LSAT Tutor: Melanie D.
Growing up in nearby Palm Coast, Melanie spent a great deal of time learning about the ins and outs of being a successful lawyer from her mother, which made quite an impression on her. Melanie decided at a very early age that she wanted to be family lawyer just like her mother. She also worked hard to ace the SAT and then later the LSAT so that she could attend the prestigious Florida Coastal School of Law in Jacksonville. Her efforts paid off in dividends as she was one of the top students in her graduating class and was hired before earning her law degree to work for one of the top law firms in the area.
Although it took some time to earn work up the ranks and earn her stripes, as it were, Melanie has become of the most sought after family lawyers in all of southeastern United States, and most especially in Jacksonville. However, it wasn't until she had a chance meeting with a former client that just so happened to be utilizing Manhattan Review's GRE test prep services, that she became aware of and interested in pursuing a side career in professional LSAT tutoring.
Since becoming an elite professional tutor at Manhattan Review, Melanie has played an instrumental role in developing top talent in Jacksonville, a duty and responsibility that she takes very seriously. Melanie also spares no expense when it comes to investing time and energy in her students, which they appreciate and revere. Often spending late evenings to help students grasp terms and concepts, Melanie is known to go the distance to ensure that her students reach their academic goals, which, in turn, lay the foundation for achieving their professional goals thereafter.