ACT Prep Courses in Bangkok (Thailand)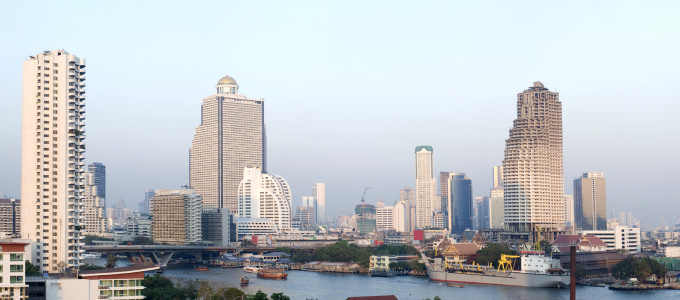 Most colleges and universities in the United States that require admissions testing will accept the ACT as evidence of student potential. Bangkok students choosing to take the ACT can receive elite scores with Manhattan Review's local ACT prep offerings. Our ACT programs and ancillary services include one-on-one ACT tutoring, online ACT instruction, on-site ACT prep courses, and ACT practice tests. Manhattan Review students learn how to acquire and develop all of the skills necessary for high ACT reading, math, science, English, and writing scores through experienced instruction from highly qualified classroom instructors and individual tutors. Our ACT educators utilize the industry's most comprehensive course materials and innovative instructional methodologies to boost student performance and confidence. We have been a reliable provider of prep services around the world since our company was founded in 1999, and we have helped countless students reach their target ACT scores. Become a Manhattan Review client today by contacting our Bangkok office for all of the relevant details on our ACT course offerings.
ACT scores are reported on a scale of 1 to 36 each for the English, reading, math, and science sections. The ACT composite score is simply the average of these four sectional scores, and is also given from 1 to 36. ACT writing is scored separately on a scale of 1 to 12. The most recent available mean scores for all test-takers are 20.4 English, 20.8 math, 21.4 reading, 20.9 science, 21.0 composite, and 6.9 writing. The averages for math, reading, and science are below the ACT's College Readiness Benchmarks, which are 22, 22, and 23 respectively (the benchmark for English is 18). ACT has established score ranges associated with varying degrees of college selectivity. Scores of 27-30 are considered acceptable for "highly selective" institutions, while scores of 25-27 match the "selective" category. The other categories, in descending order, are "traditional" (22-24), "liberal" (18-21), and "open" (17-20). These institutional classifications are largely based on the high school class rank of new college students, and should serve as only an approximation of ACT standards. 78% of new Yale University students, for example, scored 32 or higher on the ACT, which is above all of the listed categories.
Manhattan Review students are distinguished by acceptance to many of the world's most selective universities. Our clients have secured admission to Princeton, Harvard, Yale, Columbia, Stanford, UC Berkeley, Brown, Cornell, the University of Pennsylvania, the University of Chicago, Johns Hopkins, Carnegie Mellon, Caltech, MIT, Georgetown, Vanderbilt, Tufts, Swarthmore, and the University of Virginia. Our clients eventually become accomplished professionals in almost every field. We've seen our past students hired by Fortune 500 companies, including Valero Energy, New York Life Insurance, Prudential Financial, Express Scripts Holding, and Lockheed Martin. Many of our former Bangkok students have returned home to accept jobs with Air People International, Pruksa Real Estate, Muang Thai Life Assurance, Rose Media and Entertainment, Indorama Ventures, and other local firms. With Manhattan Review's ACT prep courses and private tutoring in Bangkok, you can start working on your own future accomplishments right away.
Bangkok
Primary Course Venue:

Sheraton Grande Sukhumvit
250 Sukhumvit Road
Bangkok 10110, Thailand

Phone: +66-6-0003-5529

NOTE: We do NOT typically have staff at the venue, so email us before visiting the venue.
Meet a Bangkok ACT Tutor: Cyril P.
Cyril P., originally from Liverpool, England, has been an ACT prep educator since 2010. Previously an ACT teacher in London and Boston, he has been living in Bangkok for the past three years. His teaching philosophy is based on improving skills by building student confidence. "If my ACT students believe in themselves, they can accomplish whatever they wish," he says.
Cyril's undergraduate studies were completed at the University of Michigan, where he majored in communications and graduated with honors. He would then earn a master's degree in education from the University of Wisconsin-Madison. His ACT students have been admitted to elite universities all over the United States, including several of the most widely respected institutions in the world.