SAT Prep Courses in Dallas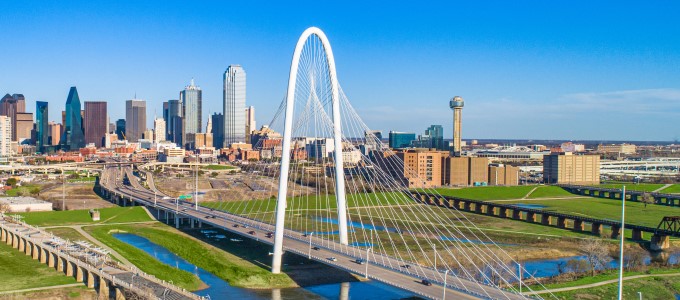 SAT Preparation in Dallas (Texas)
Preparing for the SAT may seem like an overwhelming obstacle, especially for students already balancing a full academic course load. Whether you are the student or the parent, you must recognize the significance of studying and test prep for the standardized admission test. Just about every undergraduate program requires an SAT score, which measures aptitude for future performance in the next four years.
Manhattan Review's test prep services in Dallas cater to ambitious students who are eager to get accepted to their first-choice schools. No matter where you want to pursue your higher education (and in what field), you can take a more proactive approach by ensuring your college application is excellent. As an educational services firm, we offer our students admissions consulting and other academic tools to streamline this process from application to acceptance letter.
With the help of our advanced, highly customizable teaching tools and talented tutors in Dallas, you can get a competitive SAT score whether you have taken this test zero or three times. Thanks to our unparalleled study tools and experienced educators, we have helped hundreds of students in the area get into top schools across the country. While you may not need a perfect SAT score to get into the nation's best schools, you will require top-percentile results to stand out beyond the other applicants. Plus, you have a better shot at landing a special scholarship at first-class learning institutions.
Take one of our full-length SAT courses, and an instructor will lead you through our customizable syllabus in the classroom. Broken down into several easy-to-understand sessions, you'll enjoy test prep support that's both efficient and effective. You can also opt for an Interactive Online Course to participate in the classroom setting virtually. If you work best with a ratio of 1-on-1, sign up for private tutoring in the Dallas area. Your tutor will help you bolster your score based on your unique learning needs, strengths, and challenges.
Sign up for the sessions that work best for you today. Then you'll have access to the very best study materials along with SAT practice tests. As you work toward your undergraduate admissions in Texas, this is the time to get the attention of in-state schools such as University of Texas at Austin, Texas A&M University, Rice University, University of Houston, University of North Texas, Baylor University, Texas Tech, Southern Methodist University, and Dallas Baptist University.

My instructor goes into detail with every problem. I left this SAT course with new material learned and easier ways to solve problems, which helped me out a lot. With the material I learned here I was able to up my math test scores.
- Shaniqua (This student took our SAT preparation course.)
Dallas
Primary Course Venue:

Manhattan Review GMAT GRE LSAT Prep
Dallas Teaching Center at the Sheraton
400 North Olive Street
Dallas, TX 75201

Phone: (214) 254-3620

NOTE: We do NOT typically have staff at the venue, so email us before visiting the venue.
Meet a Dallas SAT Tutor: Vicky I.
Vicky is a retired teacher who spent several decades in the Cleveland, Ohio public school system. She's now an empty-nester who has guided four children through the undergraduate admissions process. Her scholars have graduated from schools in vastly different regions of the country – at New York University, University of Florida, Texas Southern University and Amherst. She and her husband moved to Texas back in 2010 to be closer to their children and grandchild who settled into the area, where they now happily call home.
Vicky is a skilled instructor who has helped some students boost their SAT scores by several hundred points. She has worked with students at every learning level, from those with learning challenges to students who struggle with test-taking angst. With her experience in the classroom, she is no stranger to making her courses interactive and engaging. She is also accessible to work with students one on one to overcome specific hurdles and inspire confidence. For one student, Vicky encouraged such a transformation that her pupil advanced by more than 500 points. (This student received a sizable scholarship to Yale and sent Vicky flowers to celebrate.)
Aside from serving as a popular SAT tutor in Dallas, Vicky loves spoiling her grandchild, riding her horse, and gardening.