Free SAT Prep – Overview
Preparing for the SAT requires hard work, determination, and a concrete score in your mind needed for the school of your dreams. With focus, concentration, and a little bit of hope, rest assured this is within your grasp, particularly with a background a track record of success behind you. Meeting the challenges of complex verbal and mathematical SAT questions is no easy feat, but the strategies with which to do so are within your fingertips thanks to a rigorous course of study and preparation.
Manhattan Review is poised to provide a vast variety of free SAT prep options in our continued mission to support high school students aiming for elite undergraduate admission. After all, if you're going to master advanced Trigonometry questions, won't it take some repeated and consistent practice? Thankfully, we have a variety of offerings from which to choose when it comes to free SAT practice from Manhattan Review. Remember the old saying "the best things in life are free"? Well, in this instance—we got you covered!
Since you deserve a high SAT score, you also deserve the most effective practice questions with which to work. That's why we provide—totally free of charge—20 realistic Math SAT practice questions to assess, evaluate, and fine-tune your skills. These practice questions are also conveniently labeled by levels of difficulty to facilitate students who seek high scores. Since you're aiming for admission to an elite school, don't you think you should practice with questions that meet you on your level?
Our free SAT practice questions cultivate a nuanced understanding of what each question really asks, in addition to in-depth explanations for both correct answers and incorrect answer selections. After all, there very well may be more than one route to determine a correct answer, offering you an assortment of effective techniques and SAT tactics. Our free practice questions are here to show you the SAT progress you deserve.
Spanning mathematical question types such as Trigonometry, Geomoetry, Heart of Algebra, and Advanced Topics in Math, working through these free practice questions paves the way for a better understanding of how to apply valuable strategies to get you results. While this free practice inevitably helps to build confidence, it's also important to proceed with caution so as not to avoid wrong answer traps.
In particular, our practice questions around topics such as Trigonometry, Geometry, Heart of Algebra, and Advanced Mathematics go so far as to categorize each by level of difficulty—Medium, Challenging, and Hard. At Manhattan Review, we believe that advanced test-takers merit advanced questions. How else will you nab a high score and secure admittance to the school of your dreams?
Our Heart of Algebra questions make you think twice before arriving at an answer choice, while our Trignometry questions span subtopics such as unit circles and conversion. Each particular question type offers its own unique challenges—regardless of level of difficulty—ensuring that consistent exposure and practice are truly inseparable with SAT success. Success on the SAT equals success in your academic and professional life; this, we understand, which is why we offer you only the best.
In the end, you have the drive and determination to attain that top SAT score—all you need is the material that will help you get there. Our free practice questions are an ideal start. Please click here to get started with your SAT practice questions.
New Innovative Visual Tool: Your Answers Versus Those of Other Test Takers
We've got exciting news at Manhattan Review, as we've got a feature to our practice questions you are going to love. See the screenshot below of the sample SAT question? While it may look like a standard right/wrong SAT practice set, if you take a look further it's so much more. Here we are combining the worlds of accurate SAT prep with test-taker data to further enhance your preparation process. Sure, other test firms may offer you lots of practice, but we take into account your own individual process—and that of other test-takers!
Below is a question with four answer choices: A, B, C, and D. A is outlined in bold, indicating that's what "you" chose in this set, along with 33.3% other people. However, it's the wrong answer, as is B, which 33.3% of other test-takers also selected, along with C at 22.2%. Answer D is the correct one, as it's isn green, and this appears to be a tricky one, as it only garnered 11.1% of other students! Naturally, this is a cutting-edge feature of SAT prep that can bring you one step closer to your ideal score.
Example Question (Screenshot):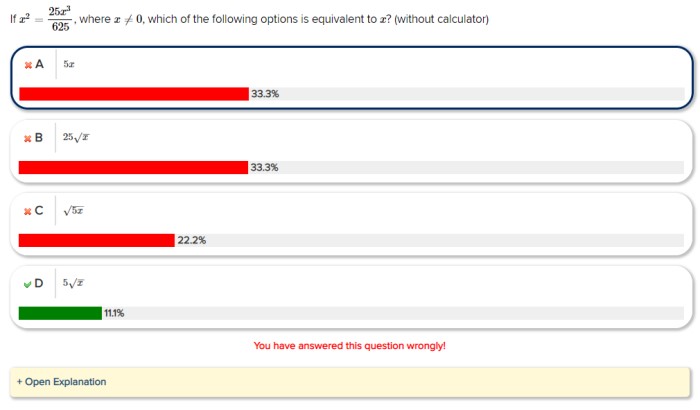 Diagnostic SAT exams are vital in a rigorous course of study. How else can you track your hard-earned progress than by assessing a sample score every few weeks? Mock tests facilitate an enhanced understanding of the test as a whole, but also aid you in focusing on your weaknesses. Where else can you get that "exam day experience" than by sitting for it like it's the real thing? Truly, our free SAT practice test will give you a realistic view of where your SAT skills currently are.
With our highly realistic free SAT practice exam you have the opportunity to flex your test day muscle brainpower while applying your highly effective strategies. With all the hard work you've put into preparing for the SAT, who wants any curve balls or surprises when it's time for the real thing? When we enter that testing aren fully prepared and know the format, structure, and road of what's expected—there's no telling the high score we can ultimately earn.