SAT Prep Courses in Bangkok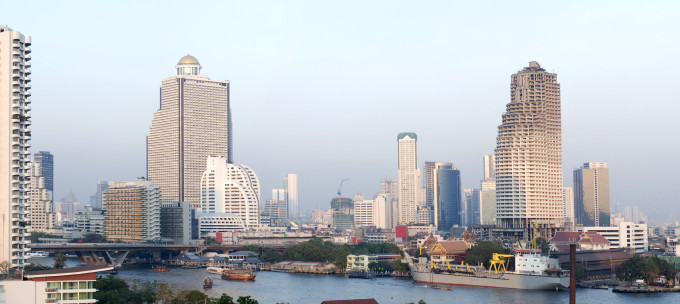 SAT Preparation in Bangkok (Thailand)
On your way to the SAT in Bangkok? Let Manhattan Review take the stress out of the standardized testing experience with expert tutoring services that include SAT practice exams and skilled instructors.
We have analyzed and broken down the SAT, so you don't have to do it. You can choose to study flashcards and reflect back on immensely dense high school curricula. Yet from the vocabulary section to reading comprehension and your basic algebra and geometry, there are better approaches to this material.
It's simply not productive or particularly helpful to start reviewing high school curriculum. SAT is a gauge for aptitude and, as such, students have to understand how to take the exam. Sometimes content is considered king, but there is an algorithm to the types of questions asked and the type of answers that are inevitably correct for such questions. Sound confusing? Don't worry. We have been deconstructing this exam since 1999, so we can show you exactly how to approach this test in a streamlined matter that's both efficient and effective.
Students with top scores on the SAT set themselves apart for the admissions departments of top colleges and universities. You can join our thousands of students who have gotten accepted with financial assistance to the best undergraduate colleges and universities in the world. From the Ivy Leagues in the United States spanning Stanford to Harvard; to Cambridge and Oxford in the UK; to the many programs in Southeast Asia, China and Japan that are grooming tomorrow's business leaders.
No matter what your industry or what you ultimately want to do with your degree, your top-percentile SAT score will make it easier for you to succeed in the short- and long-term. We look forward to working with you, whether you want to attend a full-length classroom course, plug in via Interactive Online Courses, or connect with one of our skilled SAT instructors on a one-on-one setting. We have every avenue to help you realize your goals, and all you need to do is take the first step. We will meet you the rest of the way with SAT practice exams, a highly cultivated course syllabus, tricks and tools for test taking and the expert support of our Bangkok tutors.

He helped us relate new vocabulary words with words we use everyday. I learned some excellent SAT tips and new vocab.
- Jessica (This student took our SAT preparation course)
Bangkok
Primary Course Venue:

Sheraton Grande Sukhumvit
250 Sukhumvit Road
Bangkok 10110, Thailand

Phone: +66-6-0003-5529

NOTE: We do NOT typically have staff at the venue, so email us before visiting the venue.
Meet a Bangkok SAT Tutor: Eliza N.
Eliza grew up in Thailand and attended King Mongkut's University of Technology, Thonburi for both undergraduate and graduate level programs. A profoundly gifted mathematician, she received her B.Sc. in Mathematics and her M.Sc. in Teaching of Mathematics. She first started working with Manhattan Review in 2008, and her knowledge of math instruction helped the many students who were struggling to grapple with geometry and algebra. Eliza has a knack at making these formulas come across as less complex, lending special tricks so her students can remember how to solve equations.
And Eliza isn't all about the numbers, either. Despite her incredible intellect when it comes to facts and figures, she is a born teacher who has helped her students improve their SAT scores dramatically in Thailand. With an interactive classroom setting, she invites her students to actively participate and be engaged in the test prep process. Her skills as an educator and academic shine through, and her students tend to keep in touch over time because of her mentoring abilities. As Eliza has said, "This is a very stressful time, especially for a high school junior or senior. I remember because I was there myself. The help I can give goes a long way – starting with the reassurance that all students can be trained with good test prep, ending with keeping my class engaged and educating through methods that have nothing to do with rogue memorization." Eliza also loves to bake, read classic literature and non-fiction works, and spend time in her garden nurturing her fresh herbs and vegetables.