SAT Prep Courses in Toronto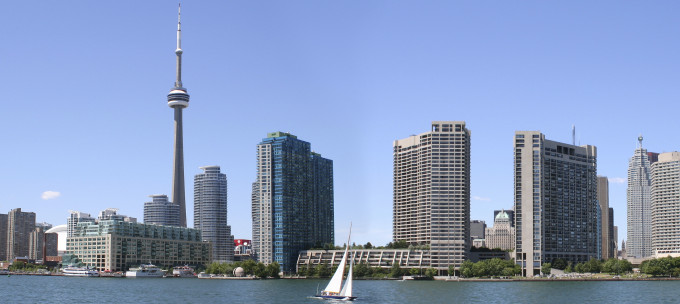 SAT Preparation in Toronto (Canada)
Studying for the SAT in Toronto? If so, Manhattan Review can help you reach your maximum potential on this standardized test. Excel on exam day with the best test prep resources to score high on every component of the SAT. Then, the top schools in Canada will accept your undergraduate application. High SAT scores strengthen your candidacy and distinguish you as a highly qualified candidate at these prestigious colleges and universities.
With a solid foundation in higher education, Toronto has myriad opportunities for young professionals to enter the workforce. In Canada, Bank of Nova Scotia, George Weston, Husky Energy, Magna International, Manulife Financial, Royal Bank of Canada, and more represent the myriad employment options available. Toronto is Canada's financial and business capital. As one of the top global cities with economic resonance, companies with a competitive edge flock to this diverse, dynamic, and rising hub of commerce.
Toronto also houses a range of post-secondary educational facilities, including four universities and four colleges. Every discipline and skill is available through academia. Whether you have chosen your career track or are yet undecided, your top SAT score in Toronto is a gateway to any future goal. Show the University of Toronto, for example, that you deserve a spot at the school by sharing a top-percentile SAT score. While these scores are only numbers combined with other aspects of your application, they still represent a quick and easy benchmark for schools to weigh your overall ability to flourish at the learning facility.
Choose from Manhattan Review's full-length classroom courses, private tutoring services, and Interactive Online Courses. Each learning platform is based on our efficient, effective, and industry leading course syllabus. The level of support from our world-class Toronto tutors depends on your learning style and schedule. Let us help you get accepted to McGill University, University of Alberta, University of Waterloo, York University, Ryerson University, OCAD University, and many more.
Since 1999, Manhattan Review has been helping students get into the top-ranked colleges and universities in Canada, plus the most prestigious schools in the U.S. and around the world.

He was able to break down difficult material. I was able to destruct and master the basic things I would need to get a good score on the SAT.
- Sade Catlyn (This student took our SAT preparation course)
Toronto
Primary Course Venue:

Manhattan Review GMAT GRE LSAT Prep
Toronto Teaching Center at the Sheraton
123 Queen Street West
Toronto, Ontario M5H 2M9
Canada

Phone: (416) 628-9976

NOTE: We do NOT typically have staff at the venue, so email us before visiting the venue.
Meet a Toronto SAT Tutor: Brian W.
Brian graduated from New York University with a 4.0 GPA in his major of Mathematics. He decided to head north to pursue his Masters in Mathematics at University of Toronto, where he graduated with honors. Entering the financial district of Toronto, Brian's work took him overseas for several years utilizing his mathematical finance Masters in a major corporate environment. Now Brian has settled comfortably back in Toronto, where he lives with his wife and two kids. Brian had gotten a perfect score on his SAT, helping to start this successful track.
Today, this SAT tutor is great with the numbers, but he is well rounded in his learning and well versed in his world-class education and experience. Brian's everyday employment situations have given him a unique angle break down complex subjects into simple concepts. He has worked with high school students to adults returning to school to receive their undergraduate degrees. Consistently, Brian is praised for his own mastery of the course material and his ability to bring problem solving to the next level. If you want to boost your SAT score, work with Brian to begin your positive trajectory in Toronto.