SAT Prep Courses in Tampa (Florida)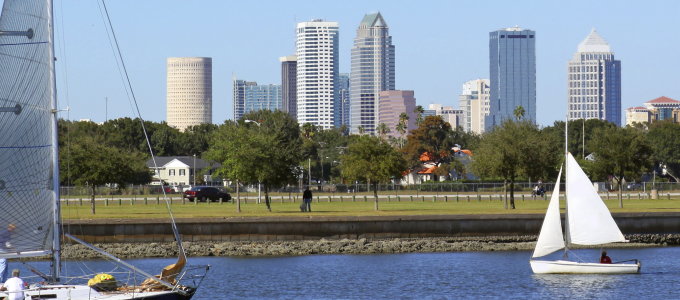 For prospective college students, the Scholastic Assessment Test, or SAT, is one of the most stressful parts of the college application process. For good reason. Designed to measure reading, writing, and math skills necessary to determine academic preparedness and potentiality for success, the SAT is used by more than 6,000 colleges, universities, and schools. As a result, many college hopefuls around the world are encouraged to modify their study strategies, including participating in professional test prep services in an effort to help them achieve their highest possible score on the SAT. At Manhattan Review, we can help you reach your testing goals and so much more.
Since 1999, Manhattan Review has been at the forefront of the test prep services industry, helping prospective college students to achieve their highest possible SAT score and ultimately gain acceptance into their school of choice. Specifically, we do so by giving our participants the opportunity to custom design their own learning plan in an effort to maximize their learning potential and help them gain the most from the test prep service. Although many students option for private tutoring sessions with our world-class instructors, some prefer to utilize our state-of-the-art interactive online courses as the foundation for their learning plan. In addition, our prospective college students find that they also have access to a myriad of other tools and resources such as our SAT practice test, which not only increase preparedness for the SAT, but also give our participants a great confidence boost in their ability to reach their testing goals on test day.
Over the years, Manhattan Review has garnered the respect of the growing academic and business community because of our noted investment in the up and coming talent. More specifically, all of the top colleges and universities in the Greater Tampa Area, including the University of South Florida, University of Tampa, Hillsborough Community College, Southern Technical College, Jersey College, Eckerd College, and St. Petersburg College, all have a track record of accepting our past participants. They have done so and continue to do so for one reason: they believe that our students are in fact among the best and brightest that Tampa has to offer. The area businesses such as BayCare Health System, Publix Super Market, HCA West Florida, Verizon, Tampa General Hospital, Wal-Mart, Florida Hospital, JP Morgan Chase & Co., Moffitt Cancer Center, Citi, Wikipedia, MacDill Air Force Base, Department of Defense, Tampa International Airport, and the Port of Tampa feel the same way as demonstrated by their continued commitment to hiring our past students each and every year. Join the growing list of top talent in Tampa, starting with Manhattan Review's SAT test prep services.

My instructor goes into detail with every problem. I left this SAT course with new material learned and easier ways to solve problems, which helped me out a lot. With the material I learned here I was able to up my math test scores.
- Shaniqua (This student took our SAT preparation course.)
Tampa
Primary Course Venue:

Manhattan Review GMAT GRE LSAT Prep
Tampa Teaching Center at the Sheraton
200 North Ashley Drive
Tampa, FL 33602

Phone: (813) 830-9623

NOTE: We do NOT typically have staff at the venue, so email us before visiting the venue.
Meet a Tampa SAT Tutor: Carter
Growing up in New Orleans as an aspiring business professional, it was inevitable that one day Carter would pursue the hospitality and tourism industry. He did. And while his success eventually required him to travel for promotions, which was very fulfilling, it wasn't until his most recent promotion to a senior level management position with a prominent hotel chain that he received an opportunity to come to Tampa. Upon moving to Tampa, Carter found it easy to settle into his new home and not long after decided to broaden his horizons, professionally. That was six years ago.
Since becoming a member of our exceptional team at Manhattan Review, Carter has played an integral role in helping us to deliver the world-class SAT test prep services that we are known for in Tampa. As someone who has travelled a great deal and subsequently accumulated a great deal of knowledge and experience as a business professional, our students love to work with Carter. Carter also has a knack for helping our prospective college students to figure out their best learning strategy, which is essentially the basis for successful test preparation. Carter is also known for his incredible sense of humor and as a result his private tutoring sessions are among the most enjoyable learning experiences that our students have ever come across. For these reasons and so many others, Manhattan Review is proud to have Carter as part of our team of private SAT tutors in Tampa.