SAT Tutoring Scottsdale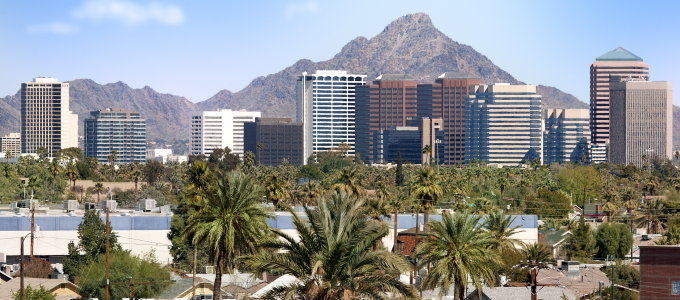 As one of the most widely accepted standardized tests administered all over the world roughly six times a year, the Scholastic Assessment Test, or SAT, plays a highly critical role in the application process for the vast majority of colleges and universities. More than an instrument designed to reading, writing, and math skills, the SAT is also used to determine overall academic success; particularly in comparison to one's peers. Such reality can and does create a tremendous amount of pressure on college hopefuls, who then are sometimes affected to the point that their test scores begin to suffer. At Manhattan Review, we'll provide you with the necessary tools to overcome any obstacles you may face on the road to achieving your testing goals.
Since 1999, Manhattan Review has been at the forefront of test prep services industry, providing students all over the world, including right here in Scottsdale, with top rated SAT test preparation. Specifically, our state-of-the-art program gives students access to interactive online courses, which the students can access at any time of the day from anywhere thanks to our fully customizable learning plans that are developed by each individual student to suit their unique learning style and availability. We also offer a myriad of other tools and resources, including SAT practice tests that give our participants the opportunity to get a real feel for what they can expect on their actual test day. However, our biggest attraction, perhaps, are our private tutors, whom we have handpicked from all over the world to come and help develop the next generation of professionals. Our model is unlike any other and it shows.
All throughout the Greater Scottsdale Area, Manhattan Review is known for developing up and coming talent. The top schools in the area, including Scottsdale Community College, the University of Phoenix, Scottsdale Culinary Institute and the nearby Arizona State University have all proudly accepted out past participants because they know that our student represent the best and the brightest that Scottsdale has to offer. The proof is seen year after year when our students not only are among the top scorers on the SAT, but also have the best academic aptitude; some of who receive scholarships after working with us. The top companies in Scottsdale also agree. We know this because they also have a track record of hiring our past participants based solely on Manhattan Review's reputation alone. This is true regardless of APL, Dial, Discount Tire, Fender, Go Daddy, JDA Software, Kona Grill, Magellan Health, United Blood Services, City of Scottsdale, The Vanguard Group, Mayo Clinic, Scottsdale Insurance Company, CVS Caremark and so many other local employers, both large and small. At Manhattan Review our exceptional private tutors aren't just interested in helping you reach your SAT testing goals they want you to get the necessary foundation to succeed, academically and professionally, thereafter as well. Contact our world-class test prep services in Scottsdale to get on the path to achieving your goals.
SAT Private Tutoring
Hours package 12 to 48 hours, Personalized 1-on-1 Tutoring, In Person or Live Online
SAT Private Course
12 hours in total, Personalized 1-on-1 Course, In Person or Live Online

Funny, made things clear and related things to real life. The SAT / ACT course was very helpful, I don't think I would've improved my reading skills without it. This course also gave me strategies to break down a reading. I got a feel for the SAT and had practice in areas I struggled in.
- Niaema Fox (This student took our SAT preparation course)
Scottsdale
Primary Course Venue:

Manhattan Review GMAT GRE LSAT Prep
Scottsdale Teaching Center at the Garden Inn
7324 East Indian School Road
Scottsdale, AZ 85251

Phone: (480) 478-1309

NOTE: We do NOT typically have staff at the venue, so email us before visiting the venue.
Meet a Scottsdale SAT Tutor: Rory T.
When Rory first came to Manhattan Review in Scottsdale, he appeared to be nothing short of yet another highly successful and accomplished professional wanting to make an impact on the lives of up and coming talent in the area. Rory is a survivor and very much a person of integrity, on top of all of his great academic and professional achievements, qualities that set him apart from other tutors but also helps define Manhattan Review as the number one SAT test prep service around.
Long before Rory began privately tutoring SAT test prep to students at Manhattan Review, like so many, he struggled in his youth to maintain a good grade point average as a result of a learning disability. Mourning the loss of a couple of very close relatives before he graduated from high school also made it extremely difficult for Rory to stay focused on his academics. That is, until he met his mentor, a local college professor who helped Rory through a difficult time, but also made an indelible impact on the young aspiring hospitality professionals. As a result, Rory vowed to do the same for others and he found the perfect opportunity to do so with Manhattan Review, nearly 10 years after working as general manager of one of the top international cruise companies in the country, right here in Scottsdale.
Since becoming a private tutor, Rory has not only been providing the world-class SAT test prep services that we are known for delivering, but he's also been intent with being as impactful with his own mentor was with him years ago and remains to this day. For that reason and so many more, we are proud to have Rory as part of our team in Scottsdale.