SAT Tutoring in Rome (Italy)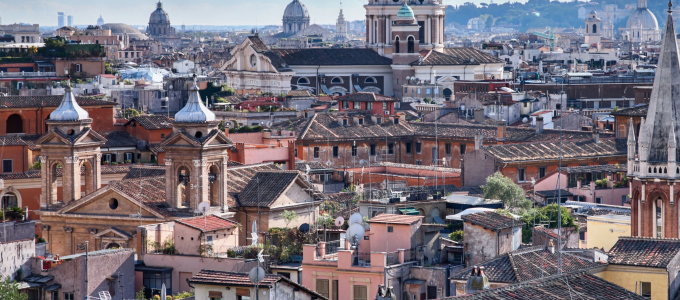 For prospective college students, the Scholastic Assessment Test, or SAT, represents one of the biggest obstacles that they must overcome during the application process. Designed to measure basic reading, writing, and math skills necessary for academic success at the college level, the SAT is perhaps most important because it is used as a gauge to determine scholastic potential. And while some college hopefuls in Rome will feel that they can adequately prepare for the SAT on their own, an increasingly number of high school students are finding they can achieve their highest possible score on the SAT and so much more by working with the elite private tutors at Manhattan Review.
For over 15 years, Manhattan Review has been at the forefront of the SAT test prep service industry, specializing in helping prospective college students all over the world to achieve their testing goals. No other test prep invests in students like Manhattan Review as demonstrated by our unique and 100 percent customizable learning plans. Our unique learning plan program allows each participant to create a plan that matches their own learning style and needs in an effort to ensure they in fact achieve their goals while in our program. Some students opt for more modern learning experiences, such as our interactive online courses, while others opt for a more traditional approach by working one-on-one with one of our world-class instructors, who just so happen to be some of the most successful professionals in all of Rome. To add to this, each college hopeful is given access to a host of supplemental tools such as our SAT practice tests, which are specifically designed to give our students the advantage of familiarity on test day.
As a result of our hard work with prospective college students in Rome, Manhattan Review has become a widely respected institution, known for developing the best and the brightest. Namely, all of the top colleges and universities in Rome including Sapienza University of Rome, Tor Vergata, Roma Tre, LUISS School of Government, ISIA, British School of Rome, French School of Rome, Pontifical Gregorian University, The American University of Rome, John Cabot University, St. John's University, and Temple University of Rome have all supported Manhattan Review by accepting our past participants over other applicants. The same is true of the local businesses across a wide variety of industries including services, high technology, research, construction, commercial, and tourism, who continue to hire our past SAT test prep students not only because they are among the highest scorers on the SAT, but also because they are confident that our participants indeed have the necessary skills to perform the responsibilities of their job function, yielding positive results for any prospective employer. Let Manhattan Review invests in talent, like you, and guarantee your success in Rome.
SAT Private Tutoring
Hours package 12 to 48 hours, Personalized 1-on-1 Tutoring, In Person or Live Online
SAT Private Course
12 hours in total, Personalized 1-on-1 Course, In Person or Live Online

He helped us relate new vocabulary words with words we use everyday. I learned some excellent SAT tips and new vocab.
- Jessica (This student took our SAT preparation course)
Rome
Phone: +1-212-316-2000

Primary Course Venue:

Fortyseven Hotel Rome
Via Luigi Petroselli 47
00186 Rome
Italy

NOTE: We do NOT typically have staff at the venue, so email us before visiting the venue.
Meet a Rome SAT Tutor: Jensen
Before coming to Manhattan Review to join our elite team of private tutors, Jensen spent much of his career working all over the world becoming one of the leading experts in telecommunications, particularly design. However, when his very talented wife received an opportunity to work for the Rome location of her multinational employer, Jensen was eager to relocate to the city of Rome, where he would get the chance to once again expand his career. Having never experienced an interruption in his career upon moving to Rome, Jensen always tells his students at Manhattan Review that the reason was due large in part to his credentials and academic foundation. It was his sense of duty to up and coming professionals and unique experiences working with professionals around the world that ultimately led Jensen to Manhattan Review, helping to develop talent in Rome.
Since becoming an instructor for our SAT test prep in Rome, Jensen has been instrumental in aiding us in providing the industry leading test prep services that we are known for around the world. His down-to-earth personality coupled with his depth of knowledge and consistent willingness to ensure that prospective college students are indeed adequately prepared to both take and meet their testing goals on the SAT are among the top admirable qualities that makes Jensen the top tier instructor in Rome that he is. Having tutors like Jensen plays a great role in making Manhattan Review the top rated SAT test prep service that it is and is why we are known for developing the best and brightest.