SAT Tutoring in Knoxville (Tennessee)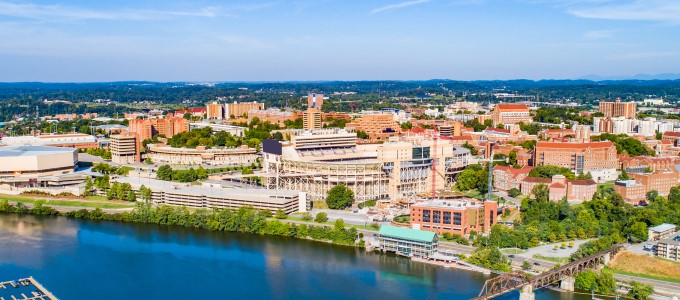 Manhattan Review has the most effective, comprehensive, and engaging SAT services Knoxville has to offer. Since 1999, our international education company has been working with tens of thousands of students all over the world to produce top-tier college admission test scores. We are pleased to offer Knoxville area residents interactive online and on-site group courses, one-on-one tutoring in-person or online, practice SATs, and other admissions consultation services. In our more than 20 years of experience, we understand that a winning formula to test preparation is high-quality instructors, rigorous methodology, and the best materials. With this combination and your dedication, we know that the sky is the limit when it comes to how well you can perform on the SATs. All you have to decide is which of our world-class learning plans will work best for you. While some students thrive in a dynamic group setting, others prefer the customization only one-on-one tutoring can provide. We have a dedicated staff on site to help you navigate which plan best works for both your learning style and your schedule and transportation restrictions. Learn more about teaming up with Manhattan Review to achieve success by calling, emailing, or contacting us online.
The SAT is one of the world's most widely taken test, with more than 2.1 million test-takers. As the test is taken by more students every year, the pressure to succeed increases and admissions become more competitive. The average composite SAT score is 1050, and while this is interesting, students looking to attend elite institution know that it isn't the end of the story. We advise that students research their school of choice to have an idea of the average score of students who have already been accepted. For example, while the national average is 1050, the average score of students accepted to the University of Tennessee ranges between 1140 and 1310. Typical incoming Vanderbilt students score between 1440 and 1570. These scores are wide-ranging, so it is important that you have a clear understanding of the scores you will be expected to get to achieve admission into the program of your choice. Being armed with this information is the first step, followed by having an effective plan to earn your highest potential score. Don't waste precious time finding your own tutors or piecing together a study plan – let our experienced learning coaches lead you through effective, efficient preparation.
Many of our former clients were sitting where you are today. They decided to put their trust in our proven methods, and we are proud of what they have achieved. Manhattan Review's SAT students have been admitted to a long list of elite research universities and liberal arts colleges, including Vanderbilt, Harvard, the Massachusetts Institute of Technology, Northwestern, Stanford, Duke, Johns Hopkins, the University of California at Berkeley, the University of Michigan, the University of North Carolina at Chapel Hill, the College of William & Mary, the University of Virginia, the California Institute of Technology, and many more. Manhattan Review's SAT prep courses and SAT private tutoring for students in Knoxville are investments you can make into your future. You've worked hard to earn a high GPA and be involved thus far – take it to the next level with top-percentile SAT scores.
SAT Private Tutoring
Hours package 12 to 48 hours, Personalized 1-on-1 Tutoring, In Person or Live Online
SAT Private Course
12 hours in total, Personalized 1-on-1 Course, In Person or Live Online

I like his walkthrough of the problems. Also the strategies he gave. It helped me improve my English and writing. I went up on my SAT scores.
- Jeleine Toussarz (This student took our SAT preparation course)
Knoxville
Primary Course Venue:

Manhattan Review Prep
Hyatt Place
530 S Gay St.
Knoxville, TN 37902

Phone: (212) 316-2000

NOTE: We do NOT typically have staff at the venue, so email us before visiting the venue.
Meet a Knoxville SAT Tutor: Omer Y.
Omer Y, an Israeli native, who first came to the United States to study statistics at Columbia University. When preparing to apply to Columbia, Omer first encountered the SAT, and has enjoyed helping other conquer it ever since, first with his friends and then with other students. Omer came to Knoxville to work at Oak Ridge National Laboratory and also enjoys working with students preparing for the SAT and ACT.
Omer is known by his students as sympathetic and very knowledgeable. "I knew he'd be great when it came to math and quantitative concepts, but I was also amazed at how well Omer could explain the verbal concepts as well!" Omer loves to go hiking and snowshoeing when he is not working with his students or working at the lab.