SAT Tutoring in Boulder (Colorado)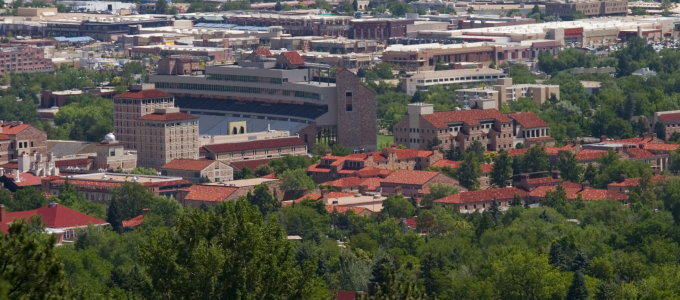 The Scholastic Assessment Test, or SAT, is one of the most widely accepted standardized tests around the world. In Boulder, the SAT serves as both a tool to measure basic skills necessary for academic success at the college level such as reading, writing, and math, as well as a gauge to determine potential for success. For prospective college students, the SAT is one of the biggest challenges that they must face during the entire application process. This is especially true for the high school students who are applying to the top colleges and universities that demand a high score on the SAT. With the right tools and resources, a high score can be achieved on the SAT. Manhattan Review can help you reach that goal.
Since 1999, Manhattan Review has been the leading provider of SAT test prep consultant services, providing prospective college students, like you, with the necessary tools and resources to achieve their desired SAT test scores. As the number one SAT test prep consultant service in Boulder, Manhattan Review gives participants the opportunity to essentially control their own learning process by custom designing their own plan. Specifically, we offer a wide selection of interactive online courses, which are designed particularly for the independent learners and individuals with limited availability during normal business hours, and one-on-one sessions with our elite private tutors, which are more suited for the traditional type of learner who desires immediate feedback and interaction with a live instructor. An additional component to our SAT test prep program, and one that helps to give our participants an advantage over their competition, are the supplemental learning tools such as our SAT practice tests, which are designed by experts who have an intimate knowledge of what is needed to achieve a high score on the SAT.
All throughout the city of Boulder, Manhattan has garnered a reputation for working with the best and brightest. Specifically, all of the top colleges and universities in Boulder including the University of Colorado Boulder, Naropa University, and Culinary School of the Rockies consistently endorse both Manhattan Review and our SAT test prep participants because the top schools are confident that Manhattan Review knows how to adequately prepare students for success at the college level. The top employers, across a variety of industries, have also come to support Manhattan Review's SAT test prep students for similar reasons. As a result, our participants have completed our program and gone on to work for major employers in Boulder such as IBM, Covidien PLC, Emerson Process Management, Whole Foods Market Inc., Qualcomm Inc., Ricoh Company LLC, Markit, GE, The Hain Celestial Group Inc., Elevations Credit Union, Spectra Logic Corp., Wells Fargo, CP+B, Zayo Group, Google Inc., Rally Software Development Corp., Research Electro-Optics Inc., LogRhythm Inc., Boulder Brands, Inc., Corden Pharma Colorado, McGuckin Hardware, Leanin' Tree Inc., Active Interest Media, and SolidFire Inc. At Manhattan Review, we want you to succeed at your academic and professional goal, which starts with a solid foundation. That is why we invest the necessary time and effort to help you achieve your SAT testing goals. Call Manhattan Review today to get started on the road to success in Boulder.
SAT Private Tutoring
Hours package 12 to 48 hours, Personalized 1-on-1 Tutoring, In Person or Live Online
SAT Private Course
12 hours in total, Personalized 1-on-1 Course, In Person or Live Online

I like his walkthrough of the problems. Also the strategies he gave. It helped me improve my English and writing. I went up on my SAT scores.
- Jeleine Toussarz (This student took our SAT preparation course)
Boulder
Primary Course Venue:

Manhattan Review GMAT GRE LSAT Prep
Boulder Teaching Center at the Marriott
2660 Canyon Boulevard
Boulder, CO 80302

Phone: (303) 468-0655

NOTE: We do NOT typically have staff at the venue, so email us before visiting the venue.
Meet a Boulder SAT Tutor: Francis P.
Before coming aboard our elite team of private SAT tutors in Boulder, Francis never imagined herself as an instructor. Growing up, Francis struggled academically for years until an advisor finally helped her to realize that traditional study habits were not productive for her. That interaction forever changed Francis and is the driving force behind her decision to join Manhattan Review as private tutor. In addition, as one of the most innovative healthcare administrators, Francis is eager to share her accumulated knowledge and the benefits of her experience with up and coming professionals in Boulder. Not long after her most recent promotion to hospital administrator, Francis was urged to join Manhattan Review. Francis saw an opportunity to fulfill her new passion for working with students.
As a member of our exceptional team of experts turned instructors at Manhattan Review, Francis plays a significant role in helping us to deliver world-class SAT test prep consultant services unlike any other. Our students feel comfortable sharing their trials and tribulations with Francis, but also feel confident in her ability to help them to solve their academic problems and ultimately achieve their goals, starting with obtaining their best score on the SAT. For these reasons and so many more, Manhattan Review is very excited to have Francis on our team of private tutors in Boulder, delivering unprecedented SAT test prep services.