SAT Tutoring in Ann Arbor (Michigan)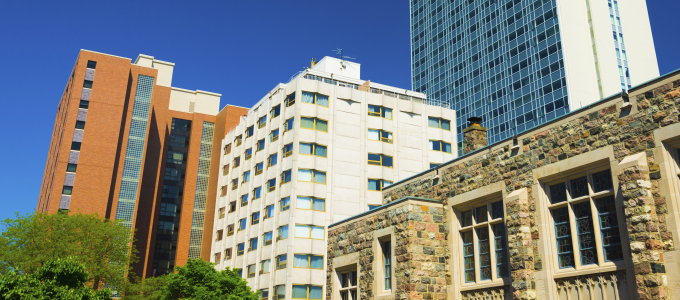 Looking for the most advanced and customizable SAT tutoring services available? Right here in Ann Arbor, Manhattan Review's unmatched test prep courses have been helping aspiring high school students to boost their score for the past fifteen years. With one-on-one tutoring, weekend courses and Interactive Online Courses, we can work around any busy schedule. Our rigorous study guide was not created for the masses, but rather for those truly seeking to achieve a top SAT score. Getting into the best institutions around the country is challenging, but with our unique exam prep services, we ease the worrying and waiting once you ace the exam. A top SAT score will move your application to the top of the pile and colleges like Princeton, Yale, Dartmouth and Harvard will be eager to enroll you.
Past students of ours local to Ann Arbor have enjoyed successful careers after graduating from the prestigious University of Michigan. They found out that with a top SAT score, the doors to any college across the country were open to them. The most difficult decision to make was would they surf at the University of Southern California in the summer or ski in the mountains near Harvard at winter break. With companies like Dominos Pizza headquarted just outside the 'A squared', to Google's Adwords based in the city, some of the biggest names in business are ready to hire you. Perhaps you would rather carve your own path, and talented and intelligent university graduates do just that and begin their very own successful web and tech companies. Ann Arbor is friendly to large and small companies alike.
No matter which course you decided to take following graduation, having a top SAT score will open the door to a bright and rewarding future. Past students of ours have enjoyed success at universities around the country in law, masters and graduate programs. We carefully match each student with a tutor best suited to your learning style. Then, with our unprecedented curriculum in hand, students are guided towards a high percentile SAT score and the first important step in an exciting future.
SAT Private Tutoring
Hours package 12 to 48 hours, Personalized 1-on-1 Tutoring, In Person or Live Online
SAT Private Course
12 hours in total, Personalized 1-on-1 Course, In Person or Live Online

He was able to break down difficult material. I was able to destruct and master the basic things I would need to get a good score on the SAT.
- Sade Catlyn (This student took our SAT preparation course)
Ann Arbor
Primary Course Venue:

Manhattan Review GMAT GRE LSAT Prep
Ann Arbor Teaching Center at the Holiday Inn
3600 Plymouth Road
Ann Arbor, MI 48105

Phone: (734) 786-9587

NOTE: We do NOT typically have staff at the venue, so email us before visiting the venue.
Meet an Ann Arbor SAT Tutor: David E.
David has been working in classrooms and private tutoring sessions for over six years and loves every moment. His span of students ranges from those re-taking the SAT for the third time and looking to boost their score, to those taking it for the first time. Throughout his time teaching, David has seen upwards of 400 students improve upon an eclectic range of subjects. Upon receiving his undergrad diploma from the University of Washington, David attended graduate school at Columbia, where he received his Masters in Cognitive Psychology.
David realized his skill to help others understand complex subjects was valuable while in undergrad and used his free time to tutor and in turn, help offset tuition costs. Once he became a SAT coach, David really shined as he used his degree in Cognitive Psychology to focus on the psychology of learning. He understands that no two students learn the same and isn't a stranger to motivating these young scholars whose parents enrolled them in his courses. He spins our world-class curriculum to reach his pupils year after year and results are always the same: high-percentile SAT scores.
David has a great sense of humor and jokes that as long as you don't belittle his beloved Seattle Seahawks- even if you are rooting for the Detroit Lions- he promises to uphold his end of the bargain and go above and beyond your expectations.