SAT Prep Courses in San Diego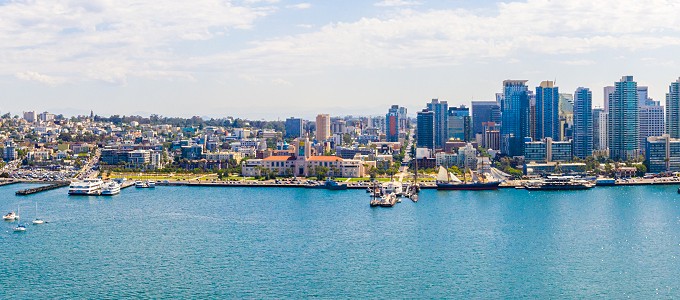 SAT Preparation in San Diego (California)
San Diego, which is wedged near the booming Los Angeles metropolis and San Francisco Bay Area, serves as its own vibrant city center. The city has several claims to fame, with seals sunbathing on the rocks, unique neighborhoods, a trendy scene for shopping, dining and entertainment, and the Zoo. The area is also home to a long list of lucrative companies ranging from middle-size to conglomerate corporations.
Students attending colleges and universities near San Diego graduate with a world of opportunities at the ready. Make the most of the improving job climate to get your career started in California. When you graduate from a widely respected school, you can get your foot in the door of distinguished employers. Your university applications have a number of key components, including essays, recommendations and a transcript of your high school years. But it's the SAT that measures your aptitude for collegiate success in the years to come.
Work with Manhattan Review to ensure you make an excellent impression on admissions departments in San Diego and across the country. Wherever you aspire to pursue your degree and no matter what your field of study, we'll help you get high scores on the sections for reading, writing, and math. We won't encourage you to revisit every lesson you learned in your younger years. Our customizable course syllabus is designed to give you the deconstructed nitty-gritty of what will be covered on the exam.
Streamlined for your study sessions, you can work with an SAT tutor in San Diego to achieve a high-ranking score. Attend several full-length classroom courses, sessions that will strengthen any areas of weakness with guided support and SAT practice exams. If you are unavailable to attend in person, register for our Interactive Online Courses to access our virtual classroom. Since we cater to students' unique learning needs, you can also work with a private tutor. Through personalized instruction in a one-on-one setting, your tutor will be by your side during this turning point in your academic career.
Since 1999, our SAT test prep services have helped students get accepted at University of California at Berkeley, Caltech (California Institute of Technology), Claremont McKenna College, Harvey Mudd College, Scripps College, Stanford University, University of San Diego, San Diego State University, Point Loma Nazarene University and many others. We have also helped students get into the best schools across the country and around the globe, including the top-ranked schools on the U.S. News and World Report, premier private and public institutions and the formidable Ivy Leagues.

He helped us relate new vocabulary words with words we use everyday. I learned some excellent SAT tips and new vocab.
- Jessica (This student took our SAT preparation course)
San Diego
Primary Course Venue:

Manhattan Review GMAT GRE LSAT Prep
San Diego Teaching Center at the Sheraton
1380 Harbor Island Drive
San Diego, CA 92101

Phone: (619) 819-0716

NOTE: We do NOT typically have staff at the venue, so email us before visiting the venue.
Meet a San Diego SAT Tutor: Aaron T.
Aaron acquired his MS degree from National University in San Diego studying Media Communications. He secured a position at Sony Computer Entertainment America in the company's marketing department. In this role, Aaron delivered a number of lectures to his peers and shone in the spotlight. With his articulate delivery and natural knack for public speaking, Aaron continued to thrive in his career.
These skills also served Aaron very well as a Manhattan Review SAT tutor. He engages students in a classroom syllabus, bringing our course syllabus to life. Rather than making study sessions a drag, he creates an interactive dialogue where students want to engage. Oftentimes, everyone ends up laughing while they learn. Aaron may be laidback, but he gets the job done – his proven track record for success speaks for itself.
Otherwise, Aaron adores his pit bull terrier Mason, who loves to join him on his daily jogs. He also enjoys action movies, camping, and music festivals – Coachella being his ultimate favorite.