SAT Prep Courses in Rome (Italy)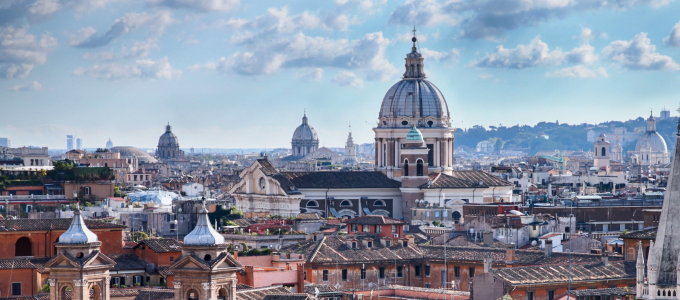 Every student is different when it comes to learning style, which can have significant effects on their performance on a standardized test. This is particularly true for prospective college students who may be preparing for the Scholastic Achievement Test, or SAT. As an integral part of the application process for thousands of colleges and universities around the world, the SAT serves as tool to assess basic reading, writing, and math skills deemed necessary for academic success at the college level. As such, the SAT can be quite intimidating to the many high school students that are likely to take the SAT prior to being accepted into college. However, to gain acceptance into college, especially the top colleges and universities in Rome, a high SAT must be achieved. No matter what your learning style may be, Manhattan Review has world-class SAT test prep courses that are guaranteed to help you reach your highest possible score.
Since 1999, Manhattan Review has been touted as the top rated test prep service provider all around the world, helping prospective college students, like you, to achieve their testing goals and so much more. Specifically, our state-of-the-art program affords our students the opportunity to do what other test programs does not: to custom design their own learning plan. In doing so, college hopefuls are able to create a plan that is reflective of their unique learning style and needs. Learning plans can either consist of a mix of interactive courses, chosen by the students, or one-on-one tutoring sessions with one of our elite private tutors, instructors that our recruiters have personally selected to educate our participants, giving them the requisite knowledge and skills they'll need to adequately prepare for the SAT. In addition to their own custom design learning plans, prospective college students are given access to a myriad of supplemental learning tools that are available through our online portal.
There is no other SAT test prep service around that both prepares prospective college students for the SAT like Manhattan Review in Rome. All throughout the Metropolitan City of Rome, Manhattan Review has garnered the respect of both the institutions of higher learning as well as the local businesses as well. Specifically, Sapienza University of Rome, Tor Vergata, Roma Tre, LUISS School of Government, ISIA, British School of Rome, French School of Rome, Pontifical Gregorian University, The American University of Rome, John Cabot University, St. John's University and Temple University of Rome continue to support our test prep services at Manhattan Review and as a result our talented students because the top colleges and universities in Rome know that our students are indeed the best and brightest that Rome has to offer. Similarly, the top employers in Rome have also demonstrated the same support by hiring our past participants. As a result, it is not uncommon for past participants to leave our SAT test prep at Manhattan Review and go on to work for such companies as Enel, ENI, Telecom Italia, EXOR Group, Assicurazioni Generali, UniCredit Group, Intesa Sanpaolo, Poste Italiane, and Finmeccanica. Join the growing list of best and brightest in Rome, starting with Manhattan Review's world-class SAT test prep services. You are guaranteed to get the foundation you need to achieve success.

I like the amount of attention given to the topic and the instructor helped very much. She did a great job! My score on my diagnostic SAT went up 260 points!
- Chelsea (This student took our SAT preparation course.)
Rome
Phone: +1-212-316-2000

Primary Course Venue:

Fortyseven Hotel Rome
Via Luigi Petroselli 47
00186 Rome
Italy

NOTE: We do NOT typically have staff at the venue, so email us before visiting the venue.
Meet a Rome SAT Tutor: Patrick
After traveling to Rome during a semester in college, Patrick not only fell in love with the Italian capital, but also saw an opportunity to forge the successful career in the field of art that he always dreamed of having. With the necessary academic foundation in place, something his own mentors encouraged him to have since his days in grade school in an effort to create the best possible opportunity for himself to succeed, by the time Patrick completed his Masters of Art degree at the prestigious Southern California University at Los Angeles, Patrick was well on his way to achieving his professional goals in his new home of Rome. What surprised him was that after landing a great opportunity with one of the biggest international brands in the world, Patrick also realized he was interested in developing future talent as well. Becoming a private tutor for Manhattan Review seemed like the ideal fit for Patrick and his goals.
Since becoming a respected member of our team of private tutors in Rome, Patrick has played a pivotal role in helping Manhattan Review to maintain the top rated SAT test prep services that we are known for. Our students love working with Patrick not only because he is successful and therefore has a lot of knowledge and experience to offer his students that can benefit them in their own journey, but also because he has taken the SAT and GRE standardized tests, and has a particular knack for helping students to custom design their own learning plans to optimize its benefits. At Manhattan Review, we pride ourselves on providing students with a solid program that affords prospective college students the opportunity to control and influence their own test prep process, as well as giving them the proper tools and resources to build a foundation upon which they can achieve success in Rome.