SAT Prep Courses in Raleigh-Durham (North Carolina)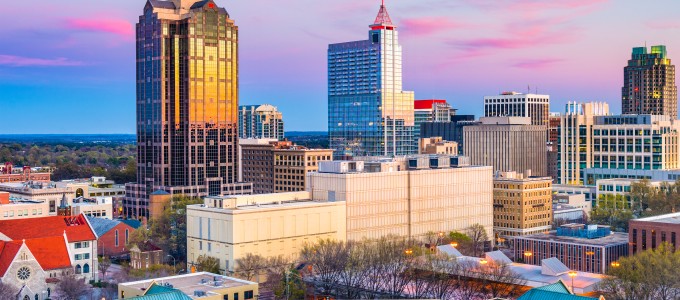 Manhattan Review has been helping students bolster their SAT scores since 1999. In the past 15-plus years, we have worked with thousands of high school students and other test-takers worldwide to improve their SAT test scores and help them get accepted into some of the top universities around the globe.
Many students studying for the SAT create flashcards and furiously set about a crash course of vocabulary and math. But the SAT tests a completely different curriculum than that learned in a high school classroom. With our years of experience and well-educated tutors, we understand that there is much more of a method to this assessment than meets the eye.
Manhattan Review has all the resources you need to excel on exam day. We have deconstructed the test in order to create our elite SAT prep courses. We strategically prepare our students in a way that best suits their learning style. From private tutoring in Raleigh-Durham to Interactive Online courses, we offer a variety of SAT courses that accommodate all schedules and styles of learning. Our unique test prep methods have proven results and are delivered by experienced, highly educated SAT tutors in the Raleigh-Durham area.
Strong SAT scores solidify an undergraduate application and can help you stand out from the enormous number of students applying to college each and every year. Our past students have enrolled in Ivy League giants such as Yale University, Harvard and Princeton, as well as other top colleges like Georgetown University and MIT. We have also placed students at a number of impeccable institutions right in Raleigh-Durham, from the renowned University of North Carolina to Duke University and North Carolina State. With the right SAT scores, these schools, and many others like it, could be in your future! In fact, the sky will be the limit for where you choose to apply.

He was able to break down difficult material. I was able to destruct and master the basic things I would need to get a good score on the SAT.
- Sade Catlyn (This student took our SAT preparation course)
Raleigh-Durham
Primary Course Venue:

Manhattan Review GMAT GRE LSAT Prep
Raleigh-Durham Teaching Center at the Hilton
4810 Page Creek Lane
Durham, NC 27703

Phone: (919) 436-3748

NOTE: We do NOT typically have staff at the venue, so email us before visiting the venue.
Meet a Raleigh-Durham SAT Tutor: Liam H.
The son of two schoolteachers, Liam knew from a young age that educating was in his blood. He got his start in tutoring while he was still in high school and kept at it while receiving his degree in Education from the University of South Carolina. Nowadays, Liam teaches at a local high school and helps high school students boost their SAT scores. He has been a huge success as part of the Manhattan Review team, helping SAT test-takers to reach their full potential and approach the standardized exam with 100 percent confidence and preparedness.
Liam doesn't believe in force-feeding his pupils years of formulas, equations and the usual high school curriculum in order to score high on the SAT. Instead, he works with each student to guide him or her through the exam, step-by-step and section-by-section. Having worked with high school students for more than 20 years, Liam specializes in helping juniors and seniors master the curriculum specific to the SAT exam. Scoring in the 98th percentile in math and the 95th in verbal, it's no wonder Liam has helped his former pupils get into top-ranked schools from around the country, such as Princeton, Dartmouth and Columbia. When he's not studying, teaching, or doing some combination of the two, Liam is a huge sports fan who loves playing soccer, football and golf.