SAT Prep Courses in Pittsburgh (Pennsylvania)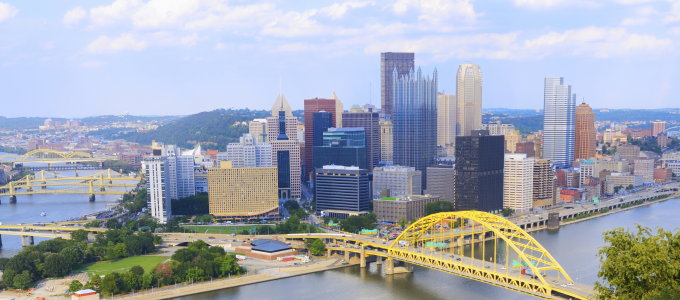 For most college hopefuls, the Scholastic Assessment Test, or SAT, is the biggest hurdle that they must overcome in order to get accepted into their school of choice. This is particularly true for prospective college students who are applying to some of the top schools all over the world, including in Pittsburgh. Primarily designed as a tool to measure reading, writing and math aptitude, the SAT has become one of the most significant indicator of a college hopeful and their academic ability going forward. Naturally, every college and university wants to best and the brightest, which then puts a pressure on students to not only meet the challenge but excel by outperforming their peers. Manhattan Review has ideal test prep courses with the requisite tools and resources to help every type of learner meet their SAT testing goals.
Since 1999, Manhattan Review has been trusted by thousands of prospective college students in Pittsburgh to help adequately prepare them to take the SAT, and we have successfully met each and every one of their expectations. We have been able to accomplish this by providing college hopefuls with a boutique program that affords students the opportunity to custom design their SAT test prep according to their own individual learning styles and availability. In addition, we also offer students access to private one-on-one tutoring sessions as well as a host of other resources including SAT practice tests that give the students real world experience before they actually sit for the exam. As a result, our investment in every student reflects in their accomplishments soon after, ultimately making Pittsburgh a better place for future students and professionals alike.
All of the top colleges and universities in Pittsburgh, including Carnegie Mellon University, the University of Pittsburgh, Duquesne University, Carlow University, Chatham University, Point Park University, the Art Institute of Pittsburgh and the Pittsburgh Institute of Mortuary Science, have all endorsed our work at Manhattan Review by way of accepting our past SAT prep students. They have come to know that Manhattan Review is synonymous with training the best and brightest that Pittsburgh has to offer and they want the best and brightest for their respected programs. Major employers, including the eight Fortune 500 companies in Pittsburgh: US Steel, PNC Financial Services, PPG Industries, H.J. Heinz Company, WESCO International, Mylan and Consol Energy also support the work we do with students and proudly hire our past participants because they know that they are professional and capable. You will find no other SAT test prep takes the time to invest in potential college students like Manhattan Review.

Funny, made things clear and related things to real life. The SAT / ACT course was very helpful, I don't think I would've improved my reading skills without it. This course also gave me strategies to break down a reading. I got a feel for the SAT and had practice in areas I struggled in.
- Niaema Fox (This student took our SAT preparation course)
Pittsburgh
Primary Course Venue:

Manhattan Review GMAT GRE LSAT Prep
Pittsburgh Teaching Center at the Marriott
112 Washington Place
Pittsburgh, PA 15219

Phone: (412) 235-1755

NOTE: We do NOT typically have staff at the venue, so email us before visiting the venue.
Meet a Pittsburgh SAT Tutor: Andrew D.
From an early age, Andrew knew that he would one day take over his father's sporting goods franchise. Naturally, he spent a great deal of time with his father at the store, which happened to be a franchise of the one of the world's largest sporting good corporations, learning everything about how to run the business. However, Andrew also knew that while hands-on experience was pivotal to a successful and long term career in his industry, that he had to obtain a solid educational foundation as well in order to sustain his business. As a result, he began to heavily concentrate on his academics, including taking and acing the SAT before obtaining his Bachelor of Science in Business Management, which he has never regretted pursuing despite his career path.
For Andrew, although he always knew where he would spend his life working and what career he would pursue, he never dismissed the value of a good education. That's why he was so eager to join our team of elite tutors at Manhattan Review. Since coming aboard Manhattan Review in Pittsburgh, Andrew has been uniquely inspirational to our students not only because he's not that much older than them, but also because his particular brand of success if very relatable and in their eyes, very achievable. Andrew is very hands-on with his students and they admire and benefit from it tremendously. Never unavailable or lacking the resources to help his students, Andrew has become quite an asset to our team at Manhattan Review and we are certainly lucky to have him.