SAT Prep Courses in Palo Alto (California)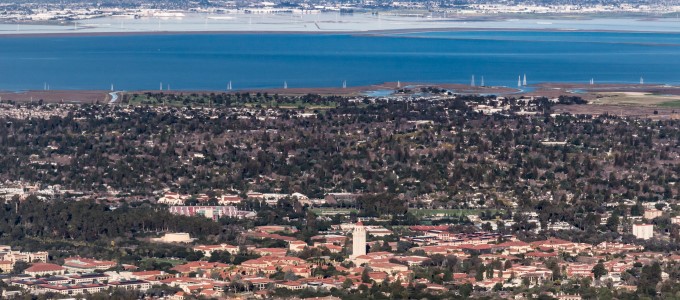 Palo Alto students can receive their best possible SAT scores with Manhattan Review's superior test prep services. Our students learn how to master SAT content, testing strategies, and study techniques through any one of several flexible learning plans. For SAT learners interested in the classic classroom experience, we offer on-site prep courses at convenient sites in Palo Alto. Tech-savvy test-takers may prefer the practicality of our online SAT instruction, which is based on cutting-edge educational technology. Students who feel they need the full attention of an SAT educator should choose our one-on-one private tutoring, which is customized to the individual SAT learning requirements of each client. Manhattan Review's authentic SAT practice tests help all of our students craft their study plans and evaluate their skill development. Manhattan Review has been the world's leading international test prep company since we first opened our doors in 1999, and thousands of students worldwide have reached their academic goals via our instruction. Learn more about our Palo Alto SAT prep services by phoning, emailing, or contacting us online today.
Manhattan Review's SAT prep courses and private tutoring have helped thousands of students in Palo Alto and other cities worldwide gain acceptance into their first-choice schools. We can't possibly list all of these schools here, but we will name a few: the Massachusetts Institute of Technology, Harvard, Princeton, Stanford, the University of Pennsylvania, Columbia, the University of California-Berkeley, the University of Chicago, the California Institute of Technology, Georgetown, Dartmouth, Cornell, Yale, the University of California-Los Angeles, and the University of Virginia. Past Manhattan Review SAT students are now employed by Fortune 500 companies, such as Dow Chemical, New York Life Insurance, CVS Health, United Continental Holdings, Walgreens Boots Alliance, and JP Morgan Chase. Some of our alumni now work for great companies in Palo Alto, including DAG Ventures, Palantir Technologies, Stanford Federal Credit Union, Embarcadero Media, and Symphony Technology Group. Begin executing your plan for future success with Manhattan Review in Palo Alto.
The 2016 version of the SAT introduced the concept of enhanced scoring to the exam for the first time. Students receive the standard sectional and composite scores (on scales of 200-800 and 400-1600 respectively), but they now also receive assessments in a number of other areas. These include test scores for reading, writing and language, and math (reported on a scale of 10-40 each), cross-test scores for analysis in science and analysis in history/social studies (also 10-40 each), and subscores for seven areas within the individual test sections (1-15). Enhanced scoring is helpful to SAT prep, because practice tests help teachers and students much more precisely identify areas of weakness and develop strategies for improving in these areas. At Manhattan Review, we use practice testing and practice assessments (the main distinctions between the two involve length and timing) as essential components of our instruction. This allows students to understand their issues early in the preparation process, facilitating the creation of individual study plans that maximize the return on the test-taker's investment of time.

I like the amount of attention given to the topic and the instructor helped very much. She did a great job! My score on my diagnostic SAT went up 260 points!
- Chelsea (This student took our SAT preparation course.)
Palo Alto
Primary Course Venue:

Manhattan Review GMAT GRE LSAT Prep
Palo Alto Teaching Center at the Sheraton
625 El Camino Real
Palo Alto, CA 94301

Phone: (650) 618-5062

NOTE: We do NOT typically have staff at the venue, so email us before visiting the venue.
Meet a Palo Alto SAT Tutor: Cornelius A.
Cornelius A. has been an SAT classroom instructor and individual tutor since 2009. First hired by Manhattan Review's San Francisco office, he has been on the instructional staff of our Palo Alto branch since 2017. He has successfully prepared more than 600 students for high SAT scores and admission to selective universities in the United States, and his course evaluations show that he is a respected and well-liked SAT educator.
Cornelius is a graduate of the University of California-Davis (bachelor's degree in mathematics) and the University of Southern California (master's degree in education). In addition to his SAT responsibilities, he is a math educator at the secondary level. Originally from Barstow, California, he regularly makes the trip back home to visit his large family and group of friends.