SAT Prep Courses in Newport Beach (California)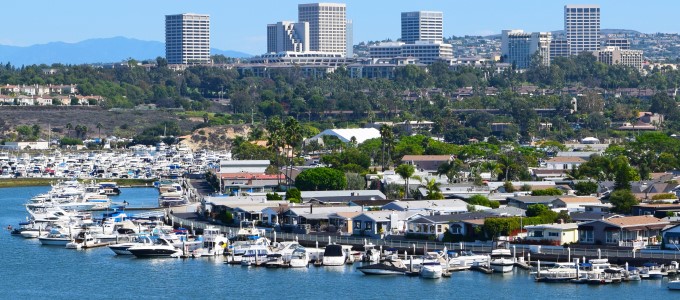 For many high school students, preparing for the Scholastic Assessment Test, or SAT, can be quite intimidating. Implemented as part of the application process for many colleges and universities around the world including right here in Newport Beach, the SAT is designed to assess basic math, reading, and writing skills, skills that are necessary for academic success at the college level. For the top colleges and universities, however, applicants are encouraged to do their on the SAT and edge out the competition by earning a score within the 99th percentile of top scorers, scores that are critical to acceptance into all of the top local and national colleges and universities. With the help of Manhattan Review's industry-leading SAT test prep courses, high school students, just like you, are able to achieve their highest possible score on the SAT and edge out the competition to attend your school of choice.
For over 15 years, no other test prep consultant service has helped more high school students to earn SAT scores in the 99th percentile than Manhattan Review. In Newport Beach, as the top-rated SAT test prep service provider, Manhattan Review provides prospective college students with the necessary foundation to help them to achieve academic success, starting with the SAT, through a state-of-the-art program that allows them to custom design their own learning plan. Specifically, our SAT test prep participants can essentially create a test preparation plan that reflects both their individual learning styletheir unique needs as well. At Manhattan Review, we understand that every student is different and we work hard to ensure that no matter what learning style a participant has they are able to achieve their testing goals through our SAT test prep courses or one-on-one sessions with an elite private tutor. We also know that practice helps more than anything, which is why we give our participants SAT practice tests that are designed to help them both identify any opportunities to improve their own SAT score by adjusting their test preparation strategy in order to maximize their benefit in our program.
At Manhattan Review, prospective college students are given the best possible advantage to achieve their highest SAT score in Newport Beach. The top colleges and universities in the area agree. Specifically, Newport University, University of California Irvine, University of California Irvine, Southern States University, and the Interior Designers Institute have all supported Manhattan Review's past SAT participants by accepting them into their esteemed programs. Our past SAT test prep students have also gone on to attend highly respected programs across the country including Harvard, MIT, Duke, Yale, and Vanderbilt just to name a few. Like the top colleges and universities in Newport Beach and across the U.S., major employers in Newport Beach such as Acacia Research, Conexant, Galardi Group, Jazz Semiconductor, Toyota's Calty Design Research Center, and Pacific Life have continuously relied on Manhattan Review for top talent, preferring to hire our past SAT test prep participants over other applicants over and over again. Let Manhattan Review invest in your future, starting with giving you the tools to reach your SAT testing goals. Give us a call or register online today.

I learned a lot of effective strategies for SAT writing/verbal.
- Taahirah Ali (This student took our SAT preparation course)
Newport Beach
Primary Course Venue:

Manhattan Review GMAT GRE LSAT Prep
Newport Beach Teaching Center at the Hyatt
1107 Jamboree Road
Newport Beach, CA 92660

Phone: (949) 335-1935

NOTE: We do NOT typically have staff at the venue, so email us before visiting the venue.
Meet a Newport Beach SAT Tutor: Bryson D.
After completing one of the most rigorous technology undergrad programs in the country at the highly competitive MIT, Bryson had his pick of entry level computer engineers jobs across the country. He opted to stay close to his hometown of Cambridge, where he also continued his education and earned his graduate degree in the same field. It wasn't until he was offered an opportunity to head up own his department for a company in Newport Beach that he and his wife Brie moved out to the Orange County. Without a moment to look back or sit idle, Bryson indeed adapted to his new home rather quickly, building up his department by saving money, but more importantly hiring top local talent and coaching his team members to ensure they reach their professional potential. It didn't take long for a recruiter at Manhattan Review to notice Bryson's talents.
Since becoming a member of our elite team at Manhattan Review, Bryson has played an instrumental role in helping us to achieve the delivery of world-class SAT test prep consultant services in Newport Beach. Our students love to work with Bryson because he is so down-to-earth and he has the experience, both academic and professional, that they can benefit from. A huge proponent of Manhattan Review's customized learning plan, Bryson is known for taking the necessary time to ensure that each of his SAT test prep students obtain their goals in Newport Beach, starting with reaching a desired SAT score. Dedicated professionals at the top of their fields with a passion for developing up and coming professionals in Newport Beach, like Bryson, helps Manhattan Review to continue to provide industry-leading SAT test prep services.