SAT Prep Courses in New Haven (Connecticut)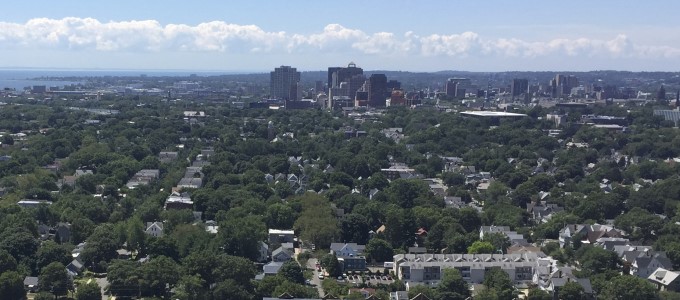 Manhattan Review is New Haven's most trusted resource for SAT preparation services. SAT learning plans available to New Haven students include on-site SAT prep courses, SAT private tutoring, online SAT instruction, and SAT practice tests. Manhattan Review's highly professional SAT tutors and classroom instructors use original and innovative methods of instruction to engage students fully in the development of SAT content skills, study techniques, and testing strategies. Since our company's founding in 1999, we've taught thousands of students how to substantially expand their options for higher education by improving their test scores. The footprint of our company is truly global, and we currently teach test prep to clients in major North American, European, South American, Asian, and African cities. No other company can match the diversity of our clientele or the effectiveness of our instructional methodologies. Get started on New Haven's best SAT prep today by contacting Manhattan Review for more information on our SAT courses and private tutoring plans.
Manhattan Review students have been accepted to the top universities in the United States, and we consider the accomplishments of our clients to be the ultimate statement on the quality of our teaching. Past Manhattan Review students have pursued and completed undergraduate degrees at world-class schools such as the Massachusetts Institute of Technology, Princeton, Stanford, Harvard, Yale, Johns Hopkins, the University of Pennsylvania, the California Institute of Technology, the University of Chicago, the University of Virginia, UC Berkeley, UCLA, the University of Michigan, and many more. Manhattan Review's test prep clients also become successful in their professional lives. Some of our past students now work for firms in New Haven, including Premier Education Group, Alexion Pharmaceuticals, Peter Paul Candy Manufacturing Company, and Amphenol Corporation. Others have opted for jobs with Fortune 500 companies, including New York Life Insurance, World Fuel Services, United Continental Holdings, Archer Daniels Midland, and JP Morgan Chase. At Manhattan Review, we look forward to helping you achieve a high level of success in college and in your career.
Universities in the United States will accept either the SAT or the ACT for undergraduate admissions. It is difficult to say whether either of these tests has a general advantage over the other, but individual students may find that one exam better accentuates their academic strengths. The SAT is clearly the more popular choice at the most selective universities, although the discrepancy seems to be narrowing at some institutions. Data for the most recent entering class at the University of Pennsylvania, for example, shows that 57% of students submitted SAT scores, compared to 43% who opted for the ACT. Between 69% and 77% of first-year Penn students received sectional SAT scores of 700 or above. At Dartmouth College, the SAT/ACT split is much more pronounced at 70/30, with about 70% of students achieving sectional SAT scores of 700 or higher. Manhattan Review has successfully prepared countless students for the upper-percentile SAT scores that lead to elite university admission.

He helped us relate new vocabulary words with words we use everyday. I learned some excellent SAT tips and new vocab.
- Jessica (This student took our SAT preparation course)
New Haven
Primary Course Venue:

Manhattan Review GMAT GRE LSAT Prep
Yale Teaching Center at the Study
1157 Chapel Street
New Haven, CT 06511

Phone: (203) 672-0680

NOTE: We do NOT typically have staff at the venue, so email us before visiting the venue.
Meet a New Haven SAT Tutor: Sherrie A.
Sherrie A., originally from Philadelphia, Pennsylvania, has been teaching individual tutoring sessions and group courses for the SAT since her senior year of college in 2008. First hired by Manhattan Review's home office in New York City in 2012, Sherrie has been on the staff of our New Haven branch for the past year. Her focused and differentiated SAT instruction has helped hundreds of clients get accepted to their first-choice universities.
Sherrie completed her undergraduate education at the University of Maryland (bachelor's degree in mathematics), and then earned a master's degree in education from the Graduate Center of the City University of New York. In addition to her SAT duties, she is a full-time math teacher at a Connecticut high school. In her spare time, Sherrie enjoys rooting for all of the Philadelphia sports teams, especially the Flyers.