SAT Prep Courses in Mesa (Arizona)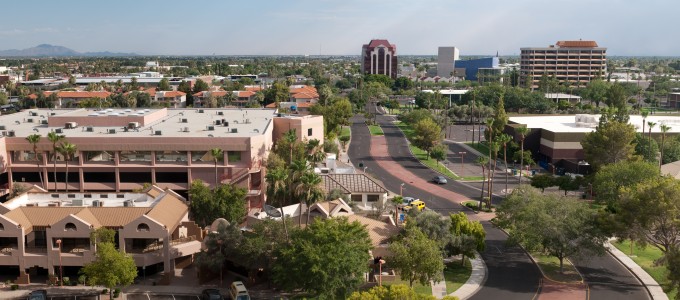 As the most widely taken standardized test, students who are looking to potentially take the SAT for the purposes of improving their chances of being accepted by the admissions committee of their college of choice may find themselves facing a large competitive pool and the possibility of needing to ensure that they have a strong grasp of the material to improve their odds of getting into their chosen school. Students in the Mesa area looking for assistance with the process of preparing for the SAT and other standardized tests should look to Manhattan Review for the best standardized test preparation in the Mesa area. Manhattan Review has been providing preparation for the SAT and other standardized tests since 1999 and allows for students to utilize resources such as group courses, private tutoring, and practice exams either individually or in combination with one another as part of the convenient packages offered.
Students who work with the benefits included in the packages that Manhattan Review can potentially offer to those who are looking for SAT exam preparation can also utilize additional options to help them get the most out of their course of study. Manhattan Review's group courses and private tutoring are offered both in-person ad online for students to use as they see fit, with the in-person private tutors being able to meet their students at any mutually agreeable location in the Mesa area. Students who work with one of Manhattan Review's private tutors will be able to customize their lesson plan as they see fit to focus on their strengths and weaknesses in an appropriate ratio for a stronger performance on the day of the exam. Manhattan Review also provides practice exams that are updated on an annual basis to ensure an accurate reflection of the exam's formatting and content.
Students who have used the many years of experience that Manhattan Review instructors can provide their students who are looking to receive preparation for the SAT exam have managed to develop a stronger grasp of how to take the exam and the academic material covered on the exam, leading to a subsequently higher score on the day of the exam. Manhattan Review students have managed to use their improved SAT scores to get into a wide variety of colleges, including schools located in Mesa such as Arizona State University and schools outside of it such as Harvard, Yale, Stanford, Columbia, Penn State, Rice, UCLA, University of Chicago, Massachusetts Institute of Technology, Oxford, Cambridge, and many others. Students have also used the guidance they have received from these educational institutions to help them with their subsequent careers. Call or email one of Manhattan Review's academic program advisors today to learn more about our options for SAT preparation.

I like his walkthrough of the problems. Also the strategies he gave. It helped me improve my English and writing. I went up on my SAT scores.
- Jeleine Toussarz (This student took our SAT preparation course)
Meet a Mesa SAT Tutor: Shana M.
Shana M. began tutoring high school students when she attended Massachusetts Institute of Technology, where she earned a Master's in mathematics while helping students who were looking to work on their preparation for such standardized tests as the SAT and ACT. She later moved to the Mesa area and now works as a private tutor for high school students in the area.
Shana's teaching methods are focused on ensuring that students have a strong understanding of whether they would be better suited for the SAT or the ACT before giving them the necessary materials to help them prepare for the day of the exam. When she is not helping students with their standardized test preparation, Shana spends her free time attending concerts and dance recitals.