SAT Prep Courses in Manhattan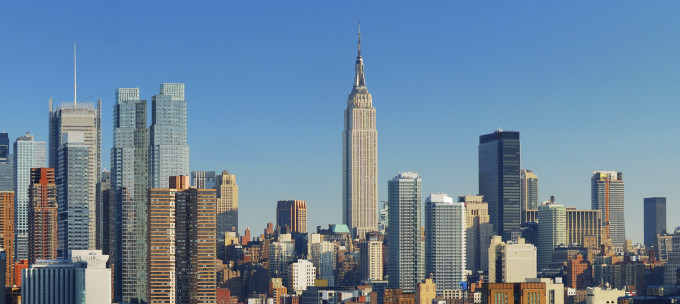 SAT Preparation in Manhattan (New York)
The SAT presents a series of puzzles and problems to solve, but the standardized test is certainly no enigma. At Manhattan Review, we have seen the bulk of SAT questions and have prepared a course syllabus with comprehensive, relevant content to conquer the SAT. Our scholarly SAT tutors in Manhattan help students absorb this knowledge to perform exceptionally on testing day.
For first-time students of the SAT seeking top scores, our full-length classroom course can condense years of coursework into one easy-to-understand and follow learning plan. For the students ready to raise their SAT scores to reach a new frontier in their futures, our proven track record for success will help you boost those scores. Even a small increase in your SAT score can affect admissions into your top schools. For these students, we recommend the one-on-one counsel of our private tutors who will expertly diagnose areas of difficulty to concentrate on weaknesses and create strategic study plans.
Our past students have dramatically improved their SAT test scores, opening new doors of opportunity to the best colleges and universities in New York and nationwide. When taking the SAT, students may not have a chosen career track in mind. We recognize that our pupils have wide-ranging interests, goals, and academic records. That's why our course offerings are diverse to match the need of every learner. We have our full-length courses, private tutoring, and Interactive Online Courses to accommodate every aspiring undergraduate college student in Manhattan and surrounding the New York City metro region.
Since 1999, Manhattan Review has delivered test prep that has led to degrees from Harvard, Princeton, Yale, and Stanford. Apart from the major Ivy League names, competitive liberal arts colleges nationwide have opened their doors to our past applicants with impressive SAT scores. Whatever your top choice, we have the resources and tools to get you on your way. We have helped a large number of students to gain entry into top-ranking New York University (NYU). Among the most elite local private schools, Cornell and Columbia are both a source of pride and possibility for high school seniors ready to undertake higher education. As you figure out the path to your own academic endeavors, you'll recognize that your location in New York City is ultimately an advantageous first step. Your next move is to utilize the most advanced, high quality test prep methods to score in the top percentiles of the SAT.
Manhattan
Primary Course Venue:

Manhattan Review GMAT GRE LSAT Prep
275 Madison Avenue, Suite 1429
New York, NY 10016

Phone: (212) 316-2000
Meet a Manhattan SAT Tutor: Mike W.
Mike is a Columbia University honors graduate with degrees in both Neuroscience and English. After his perfect SAT score and compelling application, Mike was accepted in Columbia, Harvard, and Johns Hopkins University. He picked New York City so he could stay near his fiancé, a drama student who performs at the Metropolitan Opera of New York. Mike likes to joke that his now-wife's theatrical side has influenced his more logical and tactical approach to expressing himself.
Mike has been involved with tutoring since high school, and nowadays he takes to a stage of his own in the classroom setting. Mike is a gifted tutor who has gotten rave reviews from his past students. He has actually helped some of his pupils boost their SAT scores by more than 400 points. He has the knowledge and the exuberance to bring his subject matter to life, and Mike makes the SAT much more accessible to his students at any level of learning. Mike has cultivated a refined interest in the performing arts, but he still also revels in a lively indie rock show at the Bowery, too.