SAT Prep Courses in Madrid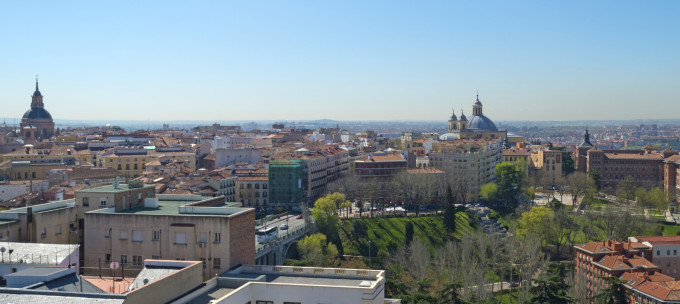 As one of the most widely accepted standardized tests used to determine eligibility for many colleges and universities around the world, including Madrid, the Scholastic Assessment Test, or SAT, tends to carry a lot of weight for prospective college students. This natural trepidation can, and is often, magnified for the many students who feel as though their previous study habits are inadequate enough to help them achieve their desired test scores to get accepted into the school of their choice. Parents and prospective college students need no longer fret, at Manhattan Review, we've got you covered with our state-of-the-art SAT test prep courses.
For over 15 years, Manhattan Review has specialized in SAT test prep for students all over the world. With a unique focus on providing what we like to call an a la carte service, which features elite professional tutors who represent the top of their respective fields, interactive online courses and practice tests that look and feel just like the real SAT that students, like yourself, eventually take. And the best part about it all is that the students are 100 percent in control of the entire process. Meaning, they get to customize the test prep program to fit their individual needs and learning styles. Often times, the students that come to us are full time employees and/or have other commitments, so being able to design their own learning program is not only highly desirable, but unprecedented as well. This is why we are a world leader in what we do.
No matter where Manhattan Review goes all around the world, we establish a reputation of training the best and brightest that that particular city has to offer, this includes the bustling city of Madrid. All the top colleges and universities in Madrid have all gladly embraced our past test prep participants because they agree with every other city where we have a presence. The same is true for all the top employers in Madrid as well. Everyone wants to be associated with the best, and when it comes to SAT test prep services, and training the most academically inclined and professionally viable, no one does it better than Manhattan Review.

Good SAT test taking strategies learned. I developed new skills and feel more prepared.
- Kevin Gonzalez (This student took our SAT preparation course)
Madrid
Phone: +34-911-876-504

Primary Course Venue:

Sheraton Madrid
Calle Alfredo Marquerie 43
28034 Madrid
Spain

NOTE: We do NOT typically have staff at the venue, so email us before visiting the venue.
Meet a Madrid SAT Tutor: Pedro R.
Early on as teenager growing up in Madrid, Pedro knew that he wanted to work in the field of information technology. He always had a knack for computers and would often tinker with them at every opportunity. And because he was so determined, he also excelled academically, including with scoring in the 99th percentile on the SAT. As a result, Pedro was able to attend the Technical University of Madrid, the top technical university in all of Spain. While there, Pedro accepted employment with one of the biggest information technology firms in Madrid, and he has remained there ever since.
Several years ago, while working on a special project offsite, Pedro came across Manhattan Review and was immediately intrigued, as he tells the story. Pedro never considered himself the teaching type, but felt that his experience in information technology and his desire to leave a positive and lasting impact on the next generation of professionals is exactly what propelled him to embark on professional tutoring. Low and behold, Pedro discovered another innate talent that he possessed. Since joining Manhattan Review-Madrid, Pedro has played an instrumental role in delivering the top-notch SAT prep services that we are known for. It also helps that he's never a bore when it comes to livening up the learning process. Pedro often incorporates topics ranging from football teams in Madrid to the history of Spain in his discussions with students.