SAT Prep Courses in Knoxville (Tennessee)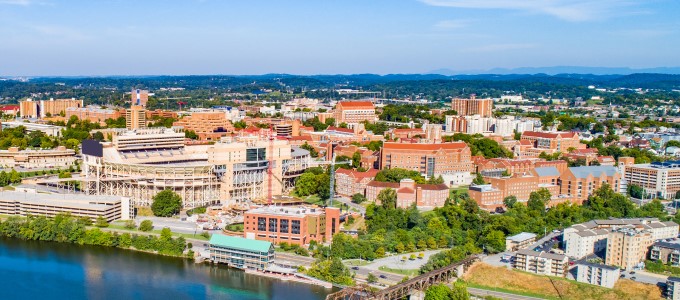 Manhattan Review's Knoxville office is ready to offer local residents top-quality SAT preparation services. Students looking to enter competitive undergraduate programs understand that scoring in the top percentile is an important step to earning a spot at the most elite institutions in the United States. Manhattan Review has been working with the most ambitious students since 1999, amassing more than twenty years of experience in creating the best materials and methods and hiring the best instructors in the industry. We understand that each of our clients have different learning and scheduling needs, so we offer an array of learning options. You can choose between on-site and interactive online group courses or one-on-one tutoring, also offered on-site or online. We also offer true-to-life practice SATs and consultation services. Call, email, or contact us online today to find out more about which of our offerings will work best for you.
By the second half of high school, many students are already crafting their admissions portfolio. Those students know that in an ever increasingly competitive admission process, there is no room for error when it comes to standardized test results. There are methods students can use to study on their own, but those who are able to have an expert, third-party observer of their studies have the upper hand when it comes to using time effectively and efficiently. Do not waste your precious time and energy trying to come up with your own study plan or trying to find a tutor on your own. Manhattan Review has already created course material which is rigorous and constantly updated, and we know how to find the best tutors the industry has to offer. Save your energy and time for studying the material and practicing with your instructor and leave the rest of the details to Manhattan Review.
Manhattan Review students have been accepted to highly selective schools such as the University of Virginia, The University of South Carolina at Chapel Hill, Harvard, Yale, Vanderbilt, Brown, Dartmouth, Princeton, the Massachusetts Institute of Technology, the University of Michigan, the University of California at Berkeley, Georgetown, Cornell, Columbia, and many more. Studies have shown that students who earn their degree from the most elite universities earn more money at all stages of their careers than alumni of less selective schools. Students who gain admission to these selective schools are able to reap the benefits of that education throughout their career, both in the opportunities afforded to them and the salary they earn. Past Manhattan Review students have been hired by a number of Fortune 500 companies, including New York Life Insurance, Wells Fargo, Microsoft, Exxon Mobil, and Enterprise Products Partners. Whether you choose to work and live in Knoxville or somewhere else, your opportunities will be endless. Invest today in your future by working with the team at Manhattan Review in Knoxville and earn top scores on the SAT with our prep courses and tutoring programs.

Good SAT test taking strategies learned. I developed new skills and feel more prepared.
- Kevin Gonzalez (This student took our SAT preparation course)
Knoxville
Primary Course Venue:

Manhattan Review Prep
Hyatt Place
530 S Gay St.
Knoxville, TN 37902

Phone: (212) 316-2000

NOTE: We do NOT typically have staff at the venue, so email us before visiting the venue.
Meet a Knoxville SAT Tutor: Lynn S.
Lynn has been teaching SAT and ACT prep courses and private sessions for the past eight years. She earned her bachelor's degree in business marketing from the University of Texas at Austin. While working towards her degree, she began tutoring students for the ACT and SAT. After completing her degree, she worked in marketing in the Austin area for six years before she came to Knoxville in 2012 to work as a consultant for a local advertising firm, but she missed working with her tutoring students. It was at that time that she joined the Manhattan Review team in Knoxville and hasn't looked back!
Lynn's students love her attention to detail and ability to connect to them each individually. One student said of Lynn, "It's great to work with someone who has so much experience with the subject, but is clearly still up-to-date with all of the changes over time." When Lynn is not working, she enjoys reading, cooking, and trying out new restaurants with her husband.