SAT Prep Courses in Jacksonville (Florida)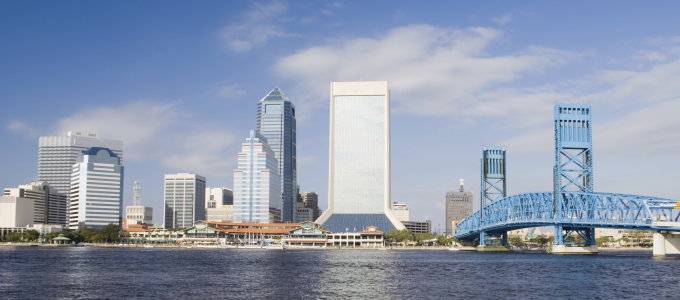 As one of the most widely administered standardized tests all over the world, the Scholastic Assessment Test, or SAT, presents a natural obstacle for prospective college students. This is particularly true for college hopefuls who are applying to the top schools in Jacksonville. What many students may not realize is that their test preparation methods will require adjustment in order to rise to the level needed to successfully perform on the SAT. In doing so, help may be necessitated, as it is often the case. Manhattan Review can help you achieve your SAT testing goals with our test prep courses.
Since 1999, Manhattan Review has been the industry leader in SAT test prep services. Our a la carte program is unlike no other test prep. Why? Because we provide college hopefuls with every tool and resource they will need in order to be successful on test day and going forward. In addition to offering students access to elite professional private tutors, who represent the top of their respective professional fields, and practice tests that mimic the real SAT that the students will eventually take, we also offer fully customizable state-of-the-art test prep courses. Our SAT test prep courses not only give students the opportunity to design their own learning program based on their unique learning styles and availability, but also gives them access to an interactive learning environment unlike any other. The results of which have contributed to the successful SAT results of many college hopefuls all over, including Jacksonville.
As a result of the work that we have done and continue to do in the communities we serve, Manhattan Review has garnered quite a stellar reputation. All of the top colleges and universities in Jacksonville, in particular, including the University of North Florida, Jacksonville University, Florida State College at Jacksonville, the Art Institute of Jacksonville, Jones College, St. John's River State College and Flagler College, have all proudly accepted our past participants into their programs. They do so because our students are among the top scorers on the SAT and that they have all received the necessary foundation to continue to pursue academic excellence and professional success thereafter. No other test prep services develop students for life beyond the SAT, like Manhattan Review.

Funny, made things clear and related things to real life. The SAT / ACT course was very helpful, I don't think I would've improved my reading skills without it. This course also gave me strategies to break down a reading. I got a feel for the SAT and had practice in areas I struggled in.
- Niaema Fox (This student took our SAT preparation course)
Jacksonville
Primary Course Venue:

Manhattan Review GMAT GRE LSAT Prep
Jacksonville Teaching Center at the Hyatt
225 East Coastline Drive
Jacksonville, FL 32202

Phone: (904) 302-5456

NOTE: We do NOT typically have staff at the venue, so email us before visiting the venue.
Meet a Jacksonville SAT Tutor: Bradley H.
Like so many of our elite professional tutors at Manhattan Review, Bradley stood out even as he was growing up in Jacksonville. In grade school he was often among the top academic performers, which translated to excellent test taking skills. After scoring in the 99th percentile on his SAT, Bradley was well on his way to achieving his goals of working in the insurance industry. And with a college academic record that looked similar to his stellar grade school record, it's no wonder that Bradley was among the first of his graduating class to land employment prior to graduation, and with a major employer in Jacksonville.
Since joining Manhattan Review as a professional SAT tutor three years ago, Bradley has been an instrumental part of our SAT test prep services. Our students in Jacksonville love to work with Bradley, because he is so accomplished and he has been precisely where they are right now. He sympathizes with their plight, and at the same time, shares the right advice to help them put things rightfully into perspective. As an insurance executive, Bradley works tirelessly to make sure his clients are informed and making the best decisions that will help them to achieve their goals. He employs the same work ethic as a private tutor with Manhattan Review, which not only makes him an asset to our entire team, but certainly makes him of great value to his students, who learn the fundamentals of SAT testing from him as well as how to succeed academically and professionally going forward.