SAT Prep Courses in Hartford (Connecticut)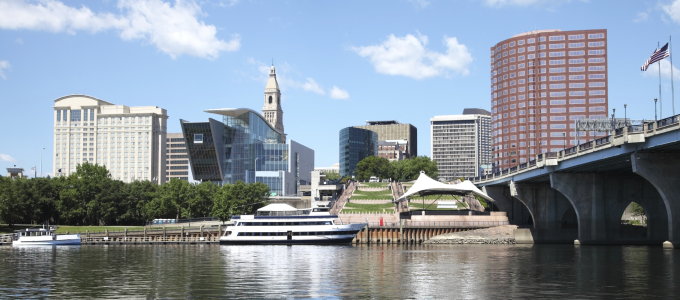 The Scholastic Achievement Test, or SAT, is one of the most widely used standardized tests all over the world. More than just another step in the college application process, the SAT is used to determine college readiness. Specifically, the SAT qualifies students on their skills in reading, writing and math that are necessary for college academic success. Unfortunately, many prospective college students find that the previous study strategies that they employed while in grade school are no longer applicable when studying/preparing for the SAT. They need to do more, in order to meet the challenge of the SAT and perhaps even further to earn a high score, which is most desirable for all of the top colleges and universities. Manhattan Review can help prospective college students, like you, with industry-leading SAT test prep courses.
For over 15 years, Manhattan Review has been specializing in the delivery of world-class SAT test prep services to prospective college students all over the world, including Hartford. In our state-of-the-art program, we give students the opportunity to fully customize their own SAT test prep, however they wish to, but this typically includes consideration of their individual learning styles and availability. Students can also choose to participate in our private tutoring with elite professionals who happen to represent the top talent in their fields, or they can opt for our interactive online courses. No matter which option they choose, all of our participants are able to access myriad of tools and resources, including SAT practice tests that mimic the real SAT that the students will take. In essence, we invest in every student that comes to our program, and the Hartford academic and business community has come to appreciate all of our efforts.
Manhattan Review has generated quite a remarkable reputation as a result of the work that we do with college hopefuls. From the top colleges and universities including Trinity College, Capital Community College, the Hartford Seminary and the University of Hartford, to the top employers in Hartford, including Aetna, Travelers Insurance, U.S. Fire Arms, United Technologies, Hartford Financial Services Group, Sovereign Bank, Connecticut Children's Medical Center and Saint Francis Hospital & Medical Center, all throughout the Hartford metropolitan area, Manhattan Review is known for working with the best and brightest that Hartford has to offer. As a result, the top colleges and universities as well as the top employers know that when they accept or hire one of our former students, there is no question that they have the requisite skills and knowledge to not only do the job, but also perform well.
Let us invest in you to help you achieve your academic and professional goals with our SAT test prep courses. Contact Manhattan Review today.

He was able to break down difficult material. I was able to destruct and master the basic things I would need to get a good score on the SAT.
- Sade Catlyn (This student took our SAT preparation course)
Hartford
Primary Course Venue:

Manhattan Review GMAT GRE LSAT Prep
Hartford Teaching Center at the Marriott
200 Columbus Boulevard
Hartford, CT 06103

Phone: (860) 838-3173

NOTE: We do NOT typically have staff at the venue, so email us before visiting the venue.
Meet a Hartford SAT Tutor: Scott H.
Scott has a motto: "stay the course, no matter what." And though by gauging where he is right now is his career you would think that he has it all, and he admits that he does, he is quick to admit that it wasn't always that way. Like so many students coming out of high school, Scott had a tough time trying to obtain his desired score on the SAT. But by his third attempt, he was well on his way to getting accepted into this school of choice, The Hartford Seminary. While some would have given up after the second attempt, or perhaps even the first, Scott felt strongly that if he pursued he would indeed conquer the SAT, and that when he in fact he wanted to be able to help teach/tutor other prospective college students, which for him goes hand-in-hand with his desire to instruct religion at his alma mater.
Since becoming a professional tutor with our world-class SAT prep program at Manhattan Review, five years ago, Scott has not only been instrumental in helping our students achieve their own SAT testing goals, but has also been a huge source of inspiration to the students as he loves to share with them his own stories of personal triumph over the SAT. Scott always tells the students at Manhattan Review that he is so proud of the students for first, taking the step to acknowledge the importance of doing well on the SAT and second, to seek out the help of Manhattan Review's SAT test prep program to aid them in their preparation to take the crucial standardized test. Our students always appreciate Scott's honesty and willingness to go above and beyond to ensure that each of his students not only are well prepared to take the SAT, but perform well on test day as well.