SAT Prep Courses in Durban (South Africa)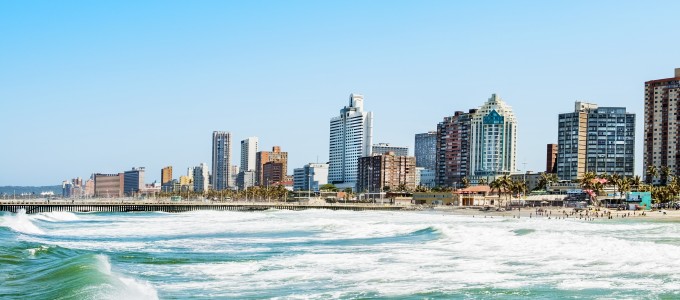 Are you a Durban-based student seeking to obtain the highest score possible on the SAT? If you are searching for the most effective and comprehensive SAT preparation resources available, look no further than the standardized test prep experts at Manhattan Review. At Manhattan Review, we are pleased to provide you with everything you need to excel on the SAT, a potentially life-changing exam, and we are ready to partner with you every step of the way to help you achieve your own test-taking success. Our unique and proprietary approach to preparing for the SAT will ensure you have all the cutting-edge materials you need to help you obtain your desired SAT score, opening important collegiate doors and giving you control over your academic future. The SAT is the most widely taken standardized test in the world and continues to be an established part of completing high school. The SAT is far too important to your academic future to leave anything up to chance, so instead of doing your best to piece together a study plan you hope covers the relevant material, let us teach you how to master the SAT so you can take the test without fear. At Manhattan Review, we are pleased to offer classroom-style group courses, interactive online instruction, and one-on-one private tutoring. Whatever your test-taking needs and whatever college you hope to attend, there's always a place for you at Manhattan Review.
When you work with Manhattan Review, you can be confident that you're receiving the highest quality instruction from the most sought-after tutors in the test prep industry. Our skilled and insightful tutors have deconstructed and analyzed the SAT to thoroughly understand every question in every section, and we've used our knowledge to create a study syllabus that remains unsurpassed in the test preparation business. Our prep courses and tutoring options provide the most targeted SAT preparation, focusing on important details that are often overlooked while also ensuring nothing will come as a surprise to you when you officially take the test. It's no secret the SAT is a difficult and intimidating exam, but when you prepare with Manhattan Review, there's no need to be anxious. By working with our knowledgeable and experienced instructors, you will learn the most effective methods for retaining and recalling information, as well as strategies to help you identify questions and select the most appropriate response. Our test prep professionals have taken the guesswork out of preparing for the SAT, and when you partner with Manhattan Review, you set yourself up for the standardized test success you deserve. We are proud to offer Durban's most student-friendly, flexible, and results-driven SAT prep courses delivered in-person or online.
The SAT is composed of two sections: Evidence-Based Reading and Writing, and Math. Each section has a possible range of scores from 200 to 800. Based on accumulated statistics, the average SAT scores for the top twenty universities in the United States are as follows: 711 to 768 for Evidence-Based Reading and Writing, 740 to 797 for Math, and 1450 to 1554 for total SAT score. While these are merely guidelines and every college or university will vary, the importance of exceptionally high SAT scores cannot be underestimated. In order to be competitive for the most respected institutions of higher education, it is imperative to demonstrate a strong performance on the SAT.
Everyone dreams of attending a world-famous college, but in order to turn your academic dream into a reality, you will need an impressively high SAT score to gain admission to the most selective universities. While achieving a high SAT score may seem overwhelming or even impossible, the truth is that standardized tests such as the SAT can be understood and even mastered through a mixture of hard work, skilled guidance, and dedicated practice. This is an exam where preparation and study truly do pay off, and when you work with one of our gifted instructors, you are investing in yourself by taking advantage of the amazing SAT preparation options available to students right here in Durban. Those students who work with Manhattan Review consistently gain admission into the most prestigious colleges and universities in the United States and around the world, including Stanford University, Johns Hopkins University, Yale University, Duke University, Oxford University, Harvard University, Dartmouth College, the University of Cambridge, Columbia University, Cornell University, the University of Chicago, the University of California at Berkeley, the University of Southern California, the University of Texas at Austin, the University of North Carolina at Chapel Hill, Rice University, MIT, CalTech, Northwestern University, and elsewhere.
When it comes to applying to college, many factors influence whether you receive an offer of admission. While impressive high school grades and demonstrated involvement in clubs and other extracurricular activities are undoubtedly important, these are not enough to guarantee you a place at the college of your dreams. A high SAT score demonstrates your willingness to work hard and your determination to do everything in your power to secure a spot at a leading university. Our tutors have first-hand experience with standardized tests such as the SAT, having achieved their own stellar scores, but our instructors are not only gifted test-takers…they are gifted teachers with strong backgrounds in education, cognition, and learning theory. They are passionate about ensuring the students they work with experience unprecedented individual success through a combination of focused study and practice applying the most effective and efficient test-taking strategies. Here at Manhattan Review, we have helped countless students from Europe, Asia, the United States, and around the world gain the confidence and skills they need to perform to their highest potential on the SAT. We encourage you to reach out to us today to learn more about how we can support you along your journey to test-taking success.
Manhattan Review has been offering world-class test prep materials and resources since 1999, and we take great pride in pairing students with committed and personable instructors who understand the importance of the SAT. We love watching our clients achieve their own individual successes, making their marks on the world and enjoying personal and professional triumphs. If you are seeking to obtain the highest possible score on the SAT, we excel in guiding students just like you to the highest standardized test scores. Regardless of whether you have already begun to prepare for the SAT or are just beginning to think about preparation, we will meet you wherever your learning has taken you and show you how to go farther than you ever imagined. Let us assist you in earning the SAT score you need to gain acceptance at recognized colleges and universities worldwide.
Whether you enjoy learning in the company of like-minded peers, prefer the flexibility of online instruction, or require the customized and personalized learning that comes from working with a private tutor, at Manhattan Review, there's always an SAT option that's just right for you. Research consistently demonstrates that working with an experienced test prep professional can accelerate your learning, improve your retention and recall, and improve your confidence in your test-taking abilities. Come learn how to leverage the academic strengths you already possess while avoiding costly mistakes that might negatively impact your SAT performance. We are pleased to offer our services to Durban-based students, and whatever your undergraduate goals, Manhattan Review can help you achieve the SAT score you'll need for wherever your education takes you.

Funny, made things clear and related things to real life. The SAT / ACT course was very helpful, I don't think I would've improved my reading skills without it. This course also gave me strategies to break down a reading. I got a feel for the SAT and had practice in areas I struggled in.
- Niaema Fox (This student took our SAT preparation course)
Durban
Primary Course Venue:

Hilton
12-14 Walnut Road
Durban 4001
South Africa

NOTE: We do NOT typically have staff at the venue, so email us before visiting the venue.
Meet a Durban SAT Tutor: Zeke S.
Zeke S. describes himself as being "very" familiar with the concept of standardized tests, having worked with professional instructors and tutors after being diagnosed with ADHD as a child. Zeke struggled to sit still and pay attention in class and even though he studied diligently for tests, his grades never reflected his extensive preparation. "It was so frustrating," he recalls, "trying so hard and feeling like I was just too different to ever succeed at school." After he was diagnosed with ADHD, his academic difficulties could be understood in a different light, which gave him hope that things at school might be different moving forward. His parents worked closely with his school to find a tutor for him, someone who could teach effective test-taking strategies and guide Zeke to study in ways that allowed him to remember and recall the information. "Having a diagnosis and working with a tutor didn't magically make everything about school easy for me," Zeke is quick to share, "but for the first time in my life, I'd seen that I was capable of learning and doing well on tests, and that gave me the motivation I needed to keep working hard."
A native of Connecticut, Zeke grew up dreaming of attending Yale University but knew there was no way his family could afford such a prestigious school even if he managed to be accepted. "If I really wanted to go there, I would have to receive financial assistance, and after doing a ton of research, I decided a high SAT score was a realistic way of getting scholarships. So, I decided I would work however hard I needed to in order to ace the SAT," Zeke says with a laugh. Zeke worked with his long-time tutor to prepare for the SAT, in addition to participating in an online prep course that offered him flexibility around his ongoing commitments and extracurricular activities. "When it was time to take the SAT for real, I'd taken so many practice tests and studied so many questions, nothing was a surprise, and I was able to relax enough to work to my full potential."
Zeke's hard work and dedication were rewarded when he not only received his official acceptance letter to Yale University, but also received generous offers of financial aid, ensuring he could afford to attend the school of his dreams due almost entirely to his outstanding SAT score. Zeke graduated from Yale with a degree in education before obtaining his master's degree in teaching from Penn State. He ultimately accepted a position with a well-known educational consulting company in the Philadelphia area where he was able to work with schools around the world on identifying better ways to serve the needs of students with learning differences, ensuring other children would receive the support that had been so beneficial to him as a child.
When Zeke's husband was given an opportunity for a promotion that required the couple to relocate to South Africa, Zeke was ecstatic to explore more of the world and live outside of the United States. He continued to work towards ensuring equal access to education for everyone, even going so far as to offer evening and weekend seminars for neurodiverse high school students on preparing for the SAT, using the skills he'd developed from his own education and tutoring experiences. His workshops became so popular that we at the Durban office of Manhattan Review reached out to Zeke about joining our team, and we couldn't have been happier when he accepted. "Working with neurodiverse students is the best," grins Zeke. "They're not afraid to think differently, and that's why they're going to change the world." When Zeke isn't helping Durban students excel on the SAT, he can be found riding horses on the beach, visiting the Drakensberg Mountains for spectacular stargazing, and enjoying a cup of coffee at his favorite local café with his husband.