SAT Prep Courses in Columbus (Ohio)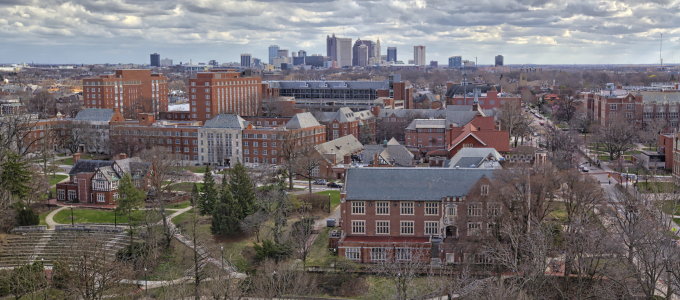 Preparing for college can be both an exciting and stressful time for prospective college students. For many students, the Scholastic Assessment Test, or SAT, will play a significant role in the application process for most colleges and universities around the world, including right here in Columbus. Intended to assess reading, writing, and math skills that are necessitated for academic success at the college level, the SAT also serves to differentiate potential high achievers, which is what all colleges and universities want to accept. As a result, college hopefuls will be challenged to strive for their highest possible score on the SAT in an effort to secure admittance into their school of choice. At Manhattan Review, we specialize in helping students achieve their testing goals and more.
For over 15 years, Manhattan Review has been the industry leader in SAT test prep services, giving students, like yourself, the requisite foundation to achieve their best possible score on the SAT. Specifically, our state-of-the-art program affords prospective college students the opportunity to custom design their own learning plan, which can either include our interactive online courses or one-on-one private tutoring sessions with our elite professional tutors. In addition, each student will have access to a host of other tools and resources such as our SAT practice tests that mimic the real SAT, giving our prep students unprecedented access to what the SAT is really like before they sit for the exam. No one does test prep like Manhattan Review.
All throughout the Columbus metropolitan area, Manhattan Review has earned a reputation for developing the best and brightest that Columbus has to offer. We know this because each year when our participants leave our SAT test prep program they not only go on to achieve their highest possible score on the SAT, but they also go on to get accepted into the top colleges and universities in Columbus, including Ohio State University, Columbus State Community College, Columbus College of Art and Design, Fortis College, DeVry University, Ohio Business College, Ohio Institute of Health Careers, Franklin University, as well as the many religious schools in the city. Furthermore, our participants have also enjoyed the benefits of our reputation as evident by being hired by the top employers in the area as well. Specifically, our SAT test prep students have been hired by Battelle Memorial Institute, OCLC, Chemical Abstracts, JP Morgan Chase, Huntington Bancshares, Owens Corning, Wendy's, White Castle, Siemens, Roxane Laboratories, Vaisala, ABB Group, and Mettler Toledo.

He was able to break down difficult material. I was able to destruct and master the basic things I would need to get a good score on the SAT.
- Sade Catlyn (This student took our SAT preparation course)
Columbus
Primary Course Venue:

Manhattan Review GMAT GRE LSAT Prep
Columbus Teaching Center at the Hyatt
350 North High Street
Columbus, OH 43215

Phone: (614) 340-9763

NOTE: We do NOT typically have staff at the venue, so email us before visiting the venue.
Meet a Columbus SAT Tutor: Charles L.
Born and raised in upstate New York as the son of a prominent politician, Charles was destined to become a service person as well. For him, finding a way to give back always made sense and was a priority as he came from a family that focused heavily on community service. He just needed to find a way to incorporate his own passion for education with his passion for giving back. That he found, as a result of landing a teaching position at one of the most prestigious institutions for higher learning in the United States, Ohio State University.
Nearly five years into his teaching tenure at Ohio State University, Charles had a chance meeting with a staffer from Manhattan Review who advised him to check out our renowned test prep services because he would be a great fit as a private tutor. Not long after, of course, Charles did in fact become a professional tutor with Manhattan Review in Columbus, which is only enhanced by the fact that he is a college professor at one of the top schools in the country. Our students love working with Charles for numerous reasons including the fact that he is so patient, knowledgeable, and has true intentions for helping them develop their potential. Ideally, he would love for all of his SAT test prep students to go on and attend Ohio State University, but more importantly to him he wants all of his test prep students to go to achieve their own academic and professional aspirations.