SAT Prep Courses in Chennai (Tamil Nadu, India)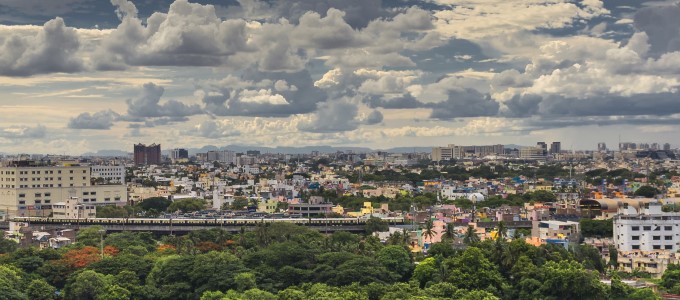 Manhattan Review SAT Prep in Chennai
Manhattan Review's Chennai Coaching Centers offer the most comprehensive, flexible, and effective SAT services in the area. Manhattan Review is a global test prep company that has been serving Chennai and other major world cities since 1999, and we have taught thousands of students how to succeed on the SAT and all of the other standardized tests commonly used for undergraduate and graduate university admission. SAT options and services available in Chennai include private SAT coaching, SAT learning plans in online interactive format, on-site SAT group courses, and SAT practice tests. Manhattan Review students consistently receive the SAT scores necessary for admission to elite postsecondary institutions such as Johns Hopkins, Harvard, the California Institute of Technology, the University of California-Berkeley, Northwestern, Yale, the University of Virginia, Dartmouth, Rice, New York University, Swarthmore College, and many more. Some of our former test prep clients are now employed by Chennai's top businesses, such as Southern Petrochemical Industries Corporation, Apollo Hospitals, Manali Petrochemical, and AMCO Batteries.
Almost all universities in the United States will accept the SAT, which is taken by more than 1.7 million upper-secondary students per year. The SAT has a three-section structure; verbal skills are evaluated by the Evidence-Based Reading and Writing (EBRW) and optional Essay sections, while quantitative skills are tested on the Math section. Manhattan Review uses test-taker data and diagnostic assessments to produce customized SAT learning plans that accommodate individual SAT strengths and weaknesses. Our students improve their skills in all areas of test content, and they also learn how to craft expert study plans and how to use the most favorable test-taking strategies. With Manhattan Review's SAT Coaching Centers, you can begin preparing for high SAT scores in Chennai today. Contact us to learn more about our group course, individual coaching, on-site, or online SAT programs for prospective undergraduate students living in Chennai.
Why Manhattan Review SAT Coaching Centers are the Best in Chennai
Manhattan Review in Chennai is devoted to giving our students SAT programs of the highest quality in every respect, from the credentials of our teachers to the dedication of our student support. Our methods of instruction are supported by the most innovative research into test prep teaching, and our course materials are the result of many years of classroom experience. Manhattan Review's SAT group course instructors and individual tutors bring engaging styles of instruction, substantial amounts of teaching experience, impressive educational credentials, and track records of success to an SAT learning process that has been proven to get results. Our Chennai team of student support professionals help each and every client select their ideal SAT preparation option and ensure that everything goes smoothly after enrollment. Manhattan Review is your most comprehensive resource for student-centered SAT instruction that produces elite test scores and stronger all-around academic abilities.
Manhattan Review's 'Turbocharge Your SAT' Series is Considered the Best SAT Prep Material Available
The Turbocharge Your SAT series gives students a highly effective resource for SAT preparation, and we have just published a new edition. Thousands of students in India and many other countries around the world have improved their test scores and prospects for university acceptance by using Manhattan Review's SAT prep books. This updated edition is intended for use with the latest version of the SAT. Manhattan Review's SAT guides precisely target each SAT section and exercise, deconstructing test content in a manner that is accessible to all types of SAT students. Test-takers who work through the full series learn everything they need to know to substantially increase their scores on every SAT section. With comprehensive coverage of math and verbal skills from the most basic through the most advanced levels, the Turbocharge Your SAT series is the top study guide for every part of the SAT preparation process. As thousands of past students have learned, these books are integral to SAT study and reference, and they enjoy a strong worldwide reputation.
About Manhattan Review's Founder Prof. Dr. Joern Meissner
Manhattan Review founder Joern Meissner has been the company's leader and a business school professor for over 25 years. He holds degrees from the University of Hamburg (diploma in business management) and Columbia University Business School (PhD in management science). He has published articles on important topics such as supply chain management, dynamic pricing, and revenue management, and he has taught business courses at the University of Hamburg, Lancaster University Management School, the Leipzig Graduate School of Management, and the University of Mannheim. Prof. Dr. Meissner has also developed new MBA electives, courses for executive education, and business English classes. Founded in 1999, Manhattan Review is now a global company that serves major cities in the Americas, Asia, Europe, and Africa with programs for the SAT, ACT, IELTS, GMAT, GRE, LSAT, and TOEFL.

My instructor goes into detail with every problem. I left this SAT course with new material learned and easier ways to solve problems, which helped me out a lot. With the material I learned here I was able to up my math test scores.
- Shaniqua (This student took our SAT preparation course.)
Chennai
Primary Course Venue:

Sheraton Park Hotel & Towers
T.T. Krishnamachari Road
Chennai (Madras) 600018, India

NOTE: We do NOT typically have staff at the venue, so email us before visiting the venue.