SAT Prep Courses in Barcelona (Spain)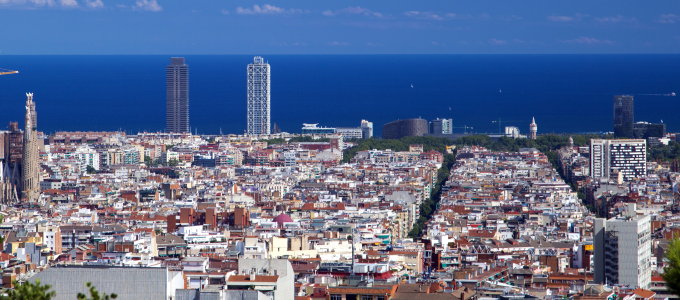 As one of the most widely accepted standardized tests, the Scholastic Assessment Test, or SAT, plays a critical role in the application process for thousands of colleges and universities all around the world, including right here in Barcelona. Designed to assess basic math, reading, and writing skills, the SAT also serves to determine academic aptitude deemed necessary for success at the college level. For prospective college students, however, preparing for the SAT can often prove much more challenging than expected as the SAT is unlike any of the standardized tests most college applicants have previously encountered. Manhattan Review can help.
For over 15 years, Manhattan Review has been the trusted leader in test prep services, helping prospective college students, like you, to reach their highest possible score on the SAT. How do we accomplish this goal? By offering an unprecedented, a la carte program that allows our participants to control their own learning experience. With a custom designed learning plan, prospective college students can tailor their SAT preparation to their own learning style and needs, including availability constraints, which often impacts students and their ability to adequately prepare for standardized tests like the SAT. Participants have the option to choose among interactive online courses or one-on-one sessions with one of our elite private tutors for a more intimate learning experience. Also accessible to all participants, there are a host of additional tools and resources such as SAT practice tests, which gives our students the opportunity familiarize themselves with the SAT prior to test day in an effort to both realize opportunities for improvement and strengths.
All around the world, Manhattan Review has garnered a reputation for developing top talent and Barcelona is no different. In Barcelona and the surrounding communities, all the top colleges and universities such as the University of Barcelona, Polytechnic University of Catalonia, Pompeu Fabra University, EADA Business School, IESE Business School, Ramon Llull University, Autonomous University of Barcelona, Toulouse Business School, and Open University of Catalonia have consistently shown their support for our SAT test prep students and endorsed our program at Manhattan Review by accepting our participants over other applicants. Similarly, the top employers in Barcelona including Borsa de Barcelona, World Trade Center Barcelona, Nissan, Derbi, American Express, Hewlett-Packard, Avis, Barcelona Metropolitan, Galactic Suite Design, Eurostars Hotels, Gas Naturals, Nueroelectrics, and Akamon Entertainment have also supported us and our students in the same manner, opting to hire our past participants over others every time. The top institutions of higher learning and businesses continue to embrace our students because they know that when a prospective college student completes Manhattan Review's SAT test prep, they will be exceptionally prepared to achieve their goals, both academically and professionally. Schedule an appointment for one of our world-class SAT test prep courses today.

I like the amount of attention given to the topic and the instructor helped very much. She did a great job! My score on my diagnostic SAT went up 260 points!
- Chelsea (This student took our SAT preparation course.)
Barcelona
Phone: +34-932-201-721

Primary Course Venue:

Hotel 1898
La Rambla, 109
08002 Barcelona
Spain

NOTE: We do NOT typically have staff at the venue, so email us before visiting the venue.
Meet a Barcelona SAT Tutor: Andreas
Before volunteering to take a position with the Barcelona office of his employer, a well respected international technology company, Andreas had never left his home state of Tennessee. However, upon moving to and adopting Barcelona as his new home, Andreas not only learned to embrace the vast culture of Spain's most populated city, but also accumulated a great deal of experience in his field which helped propel his career to a new level of success. It's also a huge testament to Andreas' character that he was able to overcome a great deal of personal adversity on his path to success, including academic challenges early on in life, and this helps him set a great example as a private tutor.
As a member of our elite team of private tutors at Manhattan Review in Barcelona, Andreas is instrumental in helping us to provide the number one rated SAT test prep service that we are known for all around the world. Our SAT test prep students love to work with Andreas because, like all of our private tutors at Manhattan Review, he has the compassion and diligence to provide the assistance they need, when they need it. Having been through his own share of academic trials and tribulations, Andreas is all too familiar with what it is like to overcome such adversity and as a result makes it a personal mission to help others to learn from his experience and avoid common mistakes, both academically and professionally. For these reasons and so many more, we are thrilled to have a respected instructor such as Andreas at Manhattan Review.