SAT Prep Courses in Baltimore (Maryland)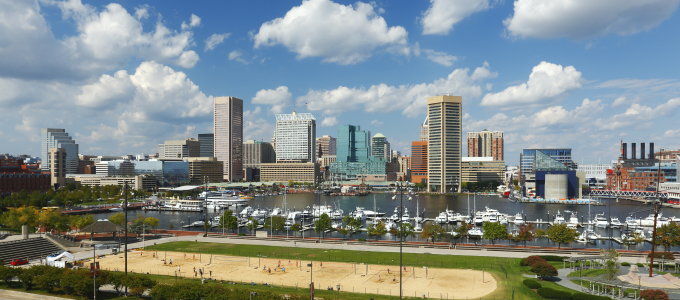 The Scholastic Assessment Test, or SAT, is one of the biggest challenges that prospective college students must overcome during the application process for many of the colleges and universities across the country, including right here in Baltimore. The SAT not only measures basic reading, writing, and math skills, but in doing so also assesses academic preparedness of college hopefuls. In order to prove such academic preparedness, prospective college students must then achieve a desirable score on the SAT, as deemed by their school of choice. For many, this may not be an easy task when attempted without the aid of a professional test prep service. Manhattan Review can help.
For over 15 years, Manhattan Review has been the trusted SAT test prep service across the United States for prospective college students just like you. We have been able to earn such a distinction primarily because of our commitment to each individual student that comes to our SAT test prep program. Specifically, in our unprecedented program, each student is given the opportunity to in fact custom design their own learning program according to their own learning style and needs, which can include availability constraints, should they exist. At Manhattan Review, we understand that our participants lead busy lives and as a result, we have made every effort to create a SAT test prep program with interactive online courses and the option of one-on-one sessions with a private tutor to ensure that our participants do in fact reach their testing goals. We also give prospective college students plenty of practice with the SAT prior to test day with our SAT practice tests, designed to familiarize our participants with the SAT prior to their actual test date.
No other test prep service prepares prospective college students for the SAT like Manhattan Review and it shows. All throughout the Greater Baltimore Area, institutions of higher learning have continuously endorsed the work of Manhattan Review as demonstrated by their support for our past participants. Specifically, Johns Hopkins University, Baltimore International College, Loyola University Maryland, Maryland Institute College of Art, St. Mary's Seminary University, Notre Dame of Maryland University, The Peabody Institute of Johns Hopkins University, Sojourner-Douglass College, Baltimore City Community College, Coppin State University, Morgan State University, Towson University, University of Baltimore, and University of Maryland all prefer students that have used Manhattan Review for SAT test prep not only because they have higher scores on the SAT, but also because they have demonstrated academic aptitude. Similarly, the top companies in Baltimore feel the same way about Manhattan Review. Namely, Johns Hopkins Hospital, Under Armour, Cordish Company, Legg Mason, McCormick & Company, T. Rowe Price, Royal Farms, and the Port of Baltimore all have a track record of hiring our past participants over the years. Let Manhattan Review help you achieve academic and professional success in Baltimore, starting with your reaching your SAT testing goals.

Funny, made things clear and related things to real life. The SAT / ACT course was very helpful, I don't think I would've improved my reading skills without it. This course also gave me strategies to break down a reading. I got a feel for the SAT and had practice in areas I struggled in.
- Niaema Fox (This student took our SAT preparation course)
Baltimore
Primary Course Venue:

Manhattan Review GMAT GRE LSAT Prep
Baltimore Teaching Center at the Hilton
401 West Pratt Street
Baltimore, MD 21201

Phone: (410) 999-6300

NOTE: We do NOT typically have staff at the venue, so email us before visiting the venue.
Meet a Baltimore SAT Tutor: Briana L.
Appropriately named "one of the best and brightest talents in Business" by one of Baltimore's most notable publications, Briana is one of the most successful administrators in the healthcare industry. With a career that spans more than ten years in one of the most stable industries in Baltimore, Briana has managed to make her mark and stand out above others with her unique combination of tenacity and compassion for others. As Briana often tells her students, she loves helping people, which is precisely why she has chosen to work in the healthcare industry, however, for years, a part of her has remained unfulfilled as a result. That is, until she discovered SAT private tutoring at Manhattan Review.
After joining our team of elite private instructors at Manhattan Review in Baltimore three years ago, Briana was able to realize a lifelong passion of hers. Our students love to work with Briana not only because of her past academic record and success in the healthcare industry, but also because she is determined to help them succeed and they feel it. Not one to shy away from a challenge, Briana's tenacity is relentless as she works overtime to ensure that her students are in fact adequately prepared to take the SAT on test day. For all of her efforts in helping our students improve their SAT test scores, we are thrilled to have Briana as part of our team at Manhattan Review in Baltimore.