SAT Prep Courses in Athens (Greece)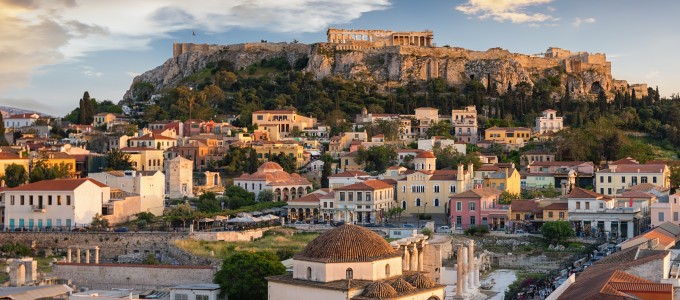 The SAT, a globally renowned standardized test, is significant in one's journey toward higher education and personal growth. Manhattan Review offers unparalleled standardized test preparation services in the region for students seeking to enhance their SAT exam readiness in Athens. When collaborating with Manhattan Review, students will have the opportunity to benefit from exceptional test preparation services that have been aiding students both within and beyond Athens for over two decades. Manhattan Review offers refined and compelling test preparation options to students seeking to excel in the SAT examination. These offerings encompass group courses, private tutoring, and practice exams, which can be strategically employed independently or in synergy. At Manhattan Review, we pride ourselves in our commitment to excellence. With this in mind, we diligently update our instructors and curriculums annually, guaranteeing they possess the latest knowledge and insights to effectively guide our students in mastering the nuances of the current SAT structure.
Students who engage with Manhattan Review's study services receive access to numerous advantageous offerings meticulously curated to guarantee heightened proficiency on the pivotal day of their examination. Manhattan Review offers a variety of exquisite educational options, including group courses and private tutoring, tailored to the individual's preferences. Whether you desire the personal ambiance of in-person instruction or the convenience and flexibility of online learning, we provide you with the utmost sophisticated education. Our highly skilled private tutors at Manhattan Review have the privilege of meeting their students in person, allowing them to choose a mutually agreeable location. This personalized approach ensures a seamless and tailored exam preparation experience. Students can tailor their lesson plans following their unique strengths and weaknesses by partnering with one of Manhattan Review's reputable private tutors. This invaluable option is available for those seeking in-person guidance and those opting for an online learning experience. Students who choose to study with Manhattan Review's instructors for their SAT preparation will have the privilege of learning from a highly experienced and accomplished professional who has successfully guided numerous students, locally and beyond Athens, in achieving exceptional results in their SAT exams.
High school students who have sought the assistance of Manhattan Review in their SAT preparation have successfully utilized the invaluable guidance provided to enhance their comprehension of the exam's content. This newfound knowledge has proven advantageous on the day of the test and in their subsequent academic pursuits. Students who have received guidance from Manhattan Review have witnessed their SAT scores soar significantly, opening doors to an extensive array of prestigious educational institutions. Among these esteemed establishments are renowned universities like Harvard, Aarhus University, Cornell University, Kyoto University, Paris-Saclay University, University of São Paulo, King Abdulaziz University, University of California, San Francisco, Uppsala University, Amherst College, Boston University, along with the esteemed institutions of Oxford, Cambridge, and countless others. Furthermore, the invaluable educational foundation acquired at these prestigious institutions has qualified students to embark on diverse professional journeys, exemplified by their successful integration into renowned Athens-based enterprises like Titan Cement and Hellenic Petroleum. Call or email one of Manhattan Review's academic advisors today to discover your SAT prep options.

Funny, made things clear and related things to real life. The SAT / ACT course was very helpful, I don't think I would've improved my reading skills without it. This course also gave me strategies to break down a reading. I got a feel for the SAT and had practice in areas I struggled in.
- Niaema Fox (This student took our SAT preparation course)
Athens
Primary Course Venue:

Hilton Athens Hotel
46 Vassilissis Sofias Avenue
Athens 11528, Greece

NOTE: We do NOT typically have staff at the venue, so email us before visiting the venue.
Meet an Athens SAT Tutor: Angeliki O.
Angeliki has dedicated herself to assisting students with their SAT and ACT preparation since her time at the National and Kapodistrian University of Athens. While pursuing a Master's degree in information technology, she honed her skills and knowledge, which she now imparts to her students. Having grown up in the enchanting city of Athens, Angeliki now generously supports local students through her affiliation with Manhattan Review.
Angeliki has had the privilege of assisting a diverse range of students in and beyond the enchanting city of Athens, mastering the intricate content of standardized exams like the SAT and ACT and nurturing their academic aptitude for subjects beyond the confines of these tests. During her leisure moments, when she is not immersed in guiding students towards academic excellence, Angeliki engrosses herself in the ethereal ambiance of the Temple of Athena Nike, basking in the exquisitely crafted friezes that adorn its sacred walls.