IELTS Prep Courses in Warsaw (Poland)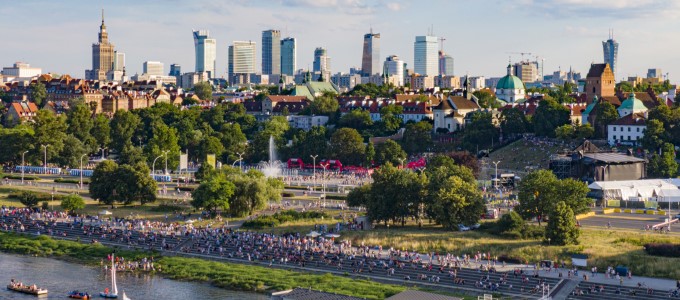 The International English Language Testing System (IELTS) is a widely used assessment of English language skills. The IELTS academic test is commonly taken by university applicants at the undergraduate and graduate levels, particularly at schools in the United Kingdom and other countries within its sphere of influence. Manhattan Review is Warsaw's top provider of IELTS services, including IELTS group courses and IELTS private tutoring, both available in on-site or online formats. We also offer IELTS practice tests, which are essential to any effective IELTS learning process. Founded in 1999, Manhattan Review is an international education company that serves Warsaw and other major European, North American, Asian, African, and South American cities. Our test prep courses and private tutoring plans have helped thousands of students reach their target scores on admission tests and gain acceptance to selective universities. Learn more about Manhattan Review's Warsaw IELTS course offerings, course schedules, and course details by contacting us today, either by email, by phone, or online.
The IELTS was developed and is administered by the British Council, IDP Education, and Cambridge Assessment English. More than 3 million people take the IELTS assessments every year, and the test is offered in approximately 140 countries. The IELTS features sections on reading, writing, speaking, and listening. The IELTS speaking test is an interview with a trained IELTS examiner (this is one of the main differences between the IELTS and the TOEFL; the latter uses audio recordings to test speaking abilities). IELTS scores are reported on what is known as the "band" scale, which ranges from 0 to 9 in half-point increments. A test-taker with a score of 9 is considered an "expert user." Scores of 8, 7, 6, and 5 correspond to classifications of "very good," "good," "competent," and "modest," respectively. Minimum IELTS scores for university admission typically fall somewhere between 5.0 and 7.5, and the exact requirement usually depends on the selectivity of a given institution. The University of Oxford, for instance, expects an IELTS score of 7.0 for undergraduate admission and 7.5 for graduate admission. At the University of Leeds, by way of comparison, the IELTS requirements are 6.0 (undergraduate) and 6.5 (graduate).
Manhattan Review's IELTS programs in Warsaw and other cities have helped thousands of students get accepted to elite universities in the UK, the United States, Canada, Australia, and other countries (including Oxford, Cambridge, the London School of Economics, Harvard, Johns Hopkins, the University of Pennsylvania, the University of Toronto, McGill, the University of Melbourne, and Australian National University). After completing bachelor's, master's or doctoral degrees at these top schools, our IELTS clients are regularly hired by Fortune 500 companies, such as Bank of America, JP Morgan Chase, Wells Fargo, World Fuel Services, New York Life Insurance, and Enterprise Products Partners. Warsaw firms, including PKP Group, Orange Polska, Mostostal, BBI Development NFI, Agora SA, and Cinema City Poland have also hired former Manhattan Review students. With Manhattan Review's IELTS preparation services for Warsaw students, you can immediately begin working toward selective university admission and a successful future.
Warsaw
Primary Course Venue:

Hilton Warsaw Hotel
Grzybowska 63
Warsaw 00-844, Poland

NOTE: We do NOT typically have staff at the venue, so email us before visiting the venue.
Meet a Warsaw IELTS Tutor: Draco T.
Draco T. grew up in Windsor, Ontario (just across the U.S.-Canadian border from Detroit). He earned his undergraduate degree in history from the University of Massachusetts-Amherst and his Master of Arts in teaching from Boston University. He also completed a master's degree in TESOL at Columbia University Teachers College. He moved to Warsaw in 2018 after living in New York for eight years.
Draco has been an IELTS group course instructor and private tutor for Manhattan Review in New York and in Warsaw since 2012. His test prep students have been accepted to top universities such as Oxford, the University of California-Los Angeles, the University of Toronto, and King's College London. In his spare time, Draco is a defenseman for a Warsaw amateur hockey team, which recently won its league's championship.