TOEFL Tutoring in Montreal (Canada)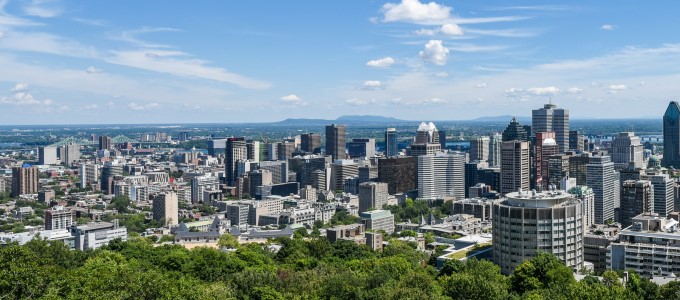 Manhattan Review is Montreal's top provider of customized private tutoring for the Test of English as a Foreign Language (TOEFL). Students with limited English skills will particularly benefit from our targeted TOEFL instruction, which allows test-takers to work exclusively on the areas most in need of improvement and pass the exam in the shortest possible amount of time. For students who prefer group classroom instruction, we offer TOEFL courses that can be taken either on-site or online, and we are also a provider of effective and reliable TOEFL practice tests. Manhattan Review was founded in New York City in 1999, and we are unique among American test prep companies due to the fact that most of our students live outside the United States. This gives us a level of experience and empathy with international students that cannot be approached by any of our competitors. Contact us today in order to receive details and answers to any of your questions about our TOEFL prep options for students in Montreal.
The effectiveness of Manhattan Review's TOEFL private tutoring and TOEFL prep courses has been consistently demonstrated by our students' acceptance to the best universities in the United States, Canada, United Kingdom, and other English-speaking countries. Former Manhattan Review TOEFL clients are currently students at or graduates of Harvard, Yale, Stanford, MIT, Johns Hopkins, Carnegie Mellon, Oxford, the University of London, the University of Toronto, and McGill. We've seen many of our students progress from beginning English speakers to fluency or near-fluency, which has been of immeasurable assistance in academic, professional, and social contexts. Their English-language abilities have become comfortable enough to secure jobs at major American and Canadian companies, including Dow Chemical, United Technologies, JP Morgan Chase, Express Scripts Holdings, Bell Canada, Genetec, Argex Titanium, and Autodesk Media and Entertainment. Academic and professional success in the English-speaking world is possible for international students. Manhattan Review's TOEFL prep services in Montreal will give you all of the necessary language skills.
TOEFL requirements at most universities are determined at the departmental level, and can be affected by degree level, program emphasis, and student status. Contrary to popular belief, TOEFL standards for graduate students are not always higher than for undergraduates, and in many cases they are lower. Some degree offerings expect minimum subscores on individual TOEFL sections along with composite scores, and these are usually dictated by the demands of a specific academic subject. TOEFL expectations for teaching assistantships are usually higher than general score requirements, especially on the speaking subscore. Manhattan Review's targeted TOEFL instruction teaches our students how to approach TOEFL exercises, how to study in the most effective possible manner, and how to approach the test strategically. We'll help you pass the TOEFL, regardless of your specific needs.
TOEFL Private Tutoring
Hours package 12 to 48 hours, Personalized 1-on-1 Tutoring, In Person or Live Online
TOEFL Private Course
12 hours in total, Personalized 1-on-1 Course, In Person or Live Online

The accent reduction section is very effective.
- Nan (This student took our Columbia Business School Communication and Culture boot camp.)
Montreal
Primary Course Venue:

Manhattan Review GMAT GRE LSAT Prep
Montreal Teaching Center at the Sheraton
1201 Boulevard Rene-Levesque West
Montreal, Quebec H3B 2L7
Canada

Phone: (514) 312-7207

NOTE: We do NOT typically have staff at the venue, so email us before visiting the venue.
Meet a Montreal TOEFL Tutor: Francois D.
Francois D. holds a bachelor's degree in philosophy from Vanderbilt University and a master's degree in history from the University of North Carolina. Originally from Paris, France, he has been a TOEFL tutor since his first year of graduate school in 2008. He has been teaching for Manhattan Review in Montreal since early 2016, and has quickly become one of our most popular tutors.
Francois understands the challenges of learning a new language as an adult, since his own English skills were fairly limited before he arrived in North America. As an undergraduate student, he chose Spanish for his foreign language requirement, and is now fluent in that language as well. He has taught TOEFL prep to students from most academic backgrounds and at all degree levels, and has seen his clients accepted to selective universities such as Princeton, Georgetown, Tufts, and Villanova.