TOEFL Private Tutoring in Durban (South Africa)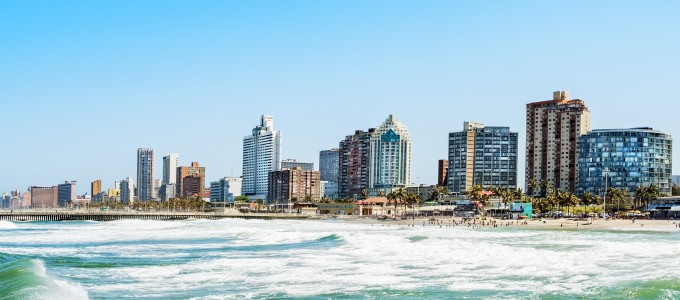 Are you a Durban-based student seeking to obtain the highest score possible on the Test of English as a Foreign Language (TOEFL)? If you are searching for the most effective and comprehensive TOEFL preparation resources, look no further than the standardized test prep experts at Manhattan Review. If English is not your first, or native, language, and you hope to attend an English-speaking college or university, it is imperative to demonstrate a high score on the TOEFL. While this might seem intimidating or even impossible, there is no need to prepare for this potentially life-changing exam by yourself—the test prep experts at Manhattan Review are here to support you every step of the way to test-taking success. When it comes to preparing for a standardized test such as the TOEFL, many students enjoy learning in the company of others, finding their peers' questions and comments insightful and inspiring. Other students, however, know that they do not perform to their full potential when attempting to learn in a classroom-style group setting. They worry they are holding the group back, keeping everyone from moving on because they need additional time to master a particular concept. Alternatively, some students in groups experience frustration because even though they have mastered a concept, they cannot move on until the rest of the group has caught up, leaving them bored and unmotivated. If you know you learn best through customized instruction and personalized feedback, consider working with one of Manhattan Review's knowledgeable and dedicated private tutors.
When it comes to preparing for the TOEFL, there is no need to waste your already limited time attempting to piece together your own study plan, hoping you are covering the most relevant information. Our experienced instructors have deconstructed the TOEFL and know exactly what it takes to master this exam, ensuring you are prepared and confident on the day of your test. At Manhattan Review, we've taken all the guesswork and worry out of preparing for the TOEFL, and our industry-leading instructors are eager to assist you in achieving your own individual success. Whether you have been preparing for the TOEFL for a while or have only just begun thinking about preparing, our esteemed instructors will meet you where your learning has led you and show you how to go farther than you ever imagined. Our private tutors are respected around the world for their ability to break down even the most complex concepts into information that can be easily retained and recalled on the day of your TOEFL exam. Research consistently demonstrates that those students who prepare for an exam with a private tutor accelerate their learning, allowing them to better grasp and remember important information, while also improving their recall of facts and figures and boosting their self-esteem and confidence in their test-taking abilities. When preparing for the TOEFL, you owe it to yourself to make use of every possible advantage, and if you truly desire to take your learning to the next level, there is no better way to do so than by working with a private tutor.
The TOEFL is a standardized test designed to measure the English language abilities of non-native speakers seeking to enroll in an English-speaking university. This test is accepted worldwide by over 11,000 universities in more than 190 countries. The TOEFL consists of a group of tests, the most popular of which are the TOEFL iBT and the TOEFL Essentials. The TOEFL iBT requires 90 minutes to complete, whereas the TOEFL Essentials is more rigorous and requires three hours to complete. The TOEFL is composed of four sections—reading, listening, speaking, and writing. A score on the iBT version of the test will fall in the range of 0 to 120, while a score on the Essentials version of the test will range from 0 to 12. Many universities require proof of English language proficiency, and the most selective universities expect to see a TOEFL iBT score over 100.
When you work with one of Manhattan Review's respected instructors, you can be assured that you and your learning-related needs always come first, and we take great pride in pairing each client with just the right tutor for them and their particular test-based goals. Your tutor will work closely with you to identify your unique learning style, showing you how to leverage the academic strengths you already possess while overcoming any areas of weakness that might negatively affect your TOEFL performance. While our world-class instructors are the best in the business, having first-hand experience on a variety of standardized tests, we do not only hire exceptional test-takers…we hire exceptional educators with strong backgrounds in teaching and learning theory who are eager to support you in achieving your own collegiate success. At Manhattan Review, we have used our knowledge of the TOEFL to design state-of-the-art test prep materials and resources to help you attain the highest score possible. We are proud to have curated and created the most results-driven, flexible, and student-friendly TOEFL preparation programs, and we look forward to designing a custom plan of study that is just right for you and all your test-taking needs.
Manhattan Review has been the leader in standardized test prep services since 1999, and we have used our more than twenty years in the instructional industry to create a study syllabus that remains unsurpassed. Our TOEFL prep courses are comprehensive, ensuring you do not experience any surprises when taking the exam, while also being extremely targeted, focusing on those particular areas you need to spend the most time on. If English is not your native language and you wish to attend an English-speaking college or university, a high TOEFL score will immediately set you apart from other eager applicants, demonstrating your commitment to learning in this challenging language. Our private tutoring clients have gone on to attend world-class undergraduate and graduate programs at leading colleges and universities, including Columbia University, Cornell University, New York University, Duke University, the University of Chicago, the University of California at Berkeley, Stanford University, Yale University, Harvard University, Princeton University, Dartmouth College, Johns Hopkins University, Rice University, the University of Southern California, MIT, CalTech, the University of Texas at Austin, American University, Georgetown University, the University of North Carolina at Chapel Hill, Northwestern University, and elsewhere.
Motivated students in and around Durban deserve to learn from the very best, and our personable and professional private tutors will work closely with you to design the most effective private tutoring program to meet your learning needs. The most competitive undergraduate and graduate programs demand a high TOEFL score, and working to your full capabilities and excelling on this exam will always make a positive first impression on anyone reviewing your college application. At Manhattan Review, we are excited to share tried-and-true test-taking techniques with you to help you achieve the score you need to attend the college or university of your dreams. If you are a motivated student who desires a customized program of study that is just as unique as you are, look no further than the private tutoring options available through Manhattan Review. We can arrange virtual or in-person tutoring sessions, depending on your schedule, and our tutors are available to meet during daytime, evening, and weekend hours. Regardless of where you are in your TOEFL preparation, we welcome the chance to assist you in achieving the TOEFL score you need to turn your college dreams into reality, and we look forward to partnering with you for all your standardized test prep needs.
TOEFL Private Tutoring
Hours package 12 to 48 hours, Personalized 1-on-1 Tutoring, In Person or Live Online
TOEFL Private Course
12 hours in total, Personalized 1-on-1 Course, In Person or Live Online

I highly recommend Manhattan Review's TOEFL preparation course for anybody interested in taking the exam. I took an intensive course and took the exam only after 4 weeks of classes, and got a 116 score. The teaching method is excellent. It focuses on techniques and strategies that allow students to understand exactly what is required to succeed on examination day. Tutors are very flexible and willing to adapt to the student's schedule, as well as reachable and always ready to help and follow up on whatever the student might need.
- Virginia (This student took our TOEFL classes in NYC)
Durban
Primary Course Venue:

Hilton
12-14 Walnut Road
Durban 4001
South Africa

NOTE: We do NOT typically have staff at the venue, so email us before visiting the venue.
Meet a Durban TOEFL Tutor: Parvati S.
Parvati S. was born in Chennai, India, and lived there for the first thirteen years of her life. "I was very fortunate to attend a school where I learned English alongside Hindi," she explains, "and to be honest, I always thought Hindi was easier." When Parvati's father accepted a job with a large tech company in San Francisco, Parvati was understandably anxious about leaving everyone and everything she knew. "I've always been more on the introverted than extroverted side," she shares, "so the idea of moving to a place where I didn't know a single person was terrifying." Parvati's parents immediately signed her up for a variety of activities after they moved, both as a way for her to make new friends and to allow her to practice English. Parvati was already a skilled computer coder, and she liked the idea of helping others—especially girls—learn important technological skills that could help them achieve their own academic success. In high school, Parvati began to offer coding classes to middle school-aged girls on weekends, and she was surprised to find that she spent much of her time helping students master the English language, in addition to helping them become more familiar with cutting-edge technology. "That's when I knew I wanted to do something that allowed me to combine teaching English with my love of computers," she smiles.
Parvati graduated near the top of her competitive high school class and thanks to her impressive grades and extracurricular activities, in addition to a very high SAT score, she was accepted at multiple colleges across the United States. She ultimately chose to attend the University of California at Los Angeles, where she majored in computer science and minored in English. "I knew from my own experiences how important a thorough knowledge of the English language was to academic success, and I wanted to help others improve their own futures," shares Parvati. After graduating from UCLA, Parvati completed a master's degree in computer science, as well as a TESOL certificate, from the University of Southern California. She then accepted a position with an international non-profit organization focused on improving access to technology in underserved regions, and as part of teaching children valuable programming skills, Parvati also had the chance to help them learn English.
Parvati loved combining her two passions, and she traveled around the world for roughly twelve years, living and working in Bali, India, Sri Lanka, South Korea, and Hong Kong. After a while, however, she decided she wanted to remain in one location for more than a year or two, and when her husband was offered a position in Durban, she was ready to put down roots in what would become her new home. Parvati was delighted to learn about Manhattan Review's Durban office and after she submitted an application for an open TOEFL instructor position, she was quickly welcomed to the team. Parvati's students appreciate her extensive real-world experience almost as much as they appreciate her patience when helping them master the intricacies of the English language. "I love helping students learn English, because it will open so many doors for them, both academically and professionally," Parvati smiles. "Seeing them succeed is the best feeling in the entire world." When Parvati isn't setting the next generation of college students up for their own successes, she can be found creating app-based programs to help people in remote areas learn English, enjoying cocktails on the beach with friends, and hosting a weekly children's reading program at the library.