TOEFL Prep Courses in Tampa (Florida)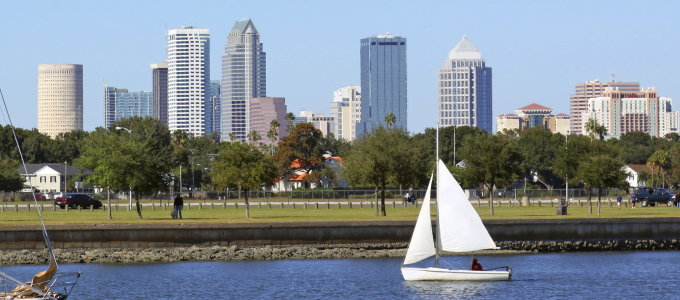 Learning to master the English language can be one of the biggest challenges for non native English speakers. This is particularly relevant for those individuals who may be required to take the Test of English as a Foreign Language, or TOEFL. Whether you are a student applying to local (or out-of-state) colleges and universities, a medical professional working towards a licensing or certification, or an immigrant applying for a residential or work visa, achieving a desirable score on the TOEFL will likely be required of you in an effort to prove your English proficiency. At Manhattan Review, we have worked to develop a TOEFL test prep program that is guaranteed to help you reach your testing goals and much more in Tampa.
Since 1999, Manhattan Review has been the industry leader in TOEFL test prep services all over the world, including right here in Tampa. We are able to maintain our position as the industry leader in TOEFL test prep services by offering something that no other test prep service offers: a 100 percent customizable program. Specifically, non native English speakers are able to create their own learning plan, which can include any unique combination of interactive online courses or one-on-one tutoring sessions with one of our elite private tutors. Additionally, each participant is given access to a host of other tools and resources such as our TOEFL practice tests, which are designed to help prepare our participants by encouraging familiarity with the TOEFL before test day.
Over the years, Manhattan Review has developed a reputation for working with the best and the brightest that Tampa has to offer. As a result, all of the top colleges and universities in the Greater Tampa Area including the University of South Florida, University of Tampa, Hillsborough Community College, Southern Technical College, Jersey College, Eckerd College, and St. Petersburg College have all accepted our past participants. They do so not only because or participants are among the top scoring percentile on the TOEFL, but also because they know from past experience that they indeed have the requisite knowledge and skills to go forth and achieve academic success in Tampa, thanks to Manhattan Review. Similarly, the top employers across the various thriving industries in Tampa such as finance, retail, healthcare, insurance, shipping by air and sea, national defense, professional sports, tourism, and real estate all respond to our participants in the same manner. Specifically, BayCare Health System, Publix Super Market, HCA West Florida, Verizon, Tampa General Hospital, Wal-Mart, Florida Hospital, JP Morgan Chase & Co., Moffitt Cancer Center and Citi are among the most noted recipients and biggest supporters of our participants and Manhattan Review. We are in the business of giving you the foundation to succeed both academically and professionally in Tampa, starting with helping you to become proficient in the English language.

Hi Steve! Thanks a lot! I actually got 116 on TOEFL, so I am pretty happy :). 28 29 29 30. Best regards.
- Victor (This student took our NYC class)
Tampa
Primary Course Venue:

Manhattan Review GMAT GRE LSAT Prep
Tampa Teaching Center at the Sheraton
200 North Ashley Drive
Tampa, FL 33602

Phone: (813) 830-9623

NOTE: We do NOT typically have staff at the venue, so email us before visiting the venue.
Meet a Tampa TOEFL Tutor: Sophia
When Sophia first moved to Tampa for her biggest promotion yet, she had no idea that she would fall in love with this world city so quickly. Growing up in Miami, Sophia was quite accustomed to enjoying the fruits of her labor in the real estate industry as an executive for one of the most notable real estate developers in the South. In addition, Sophia also spent time honing her leadership skills and working towards her current position in several other world cities in the United States. Sophia is no stranger to success and hard work, which is what makes her a perfect candidate to be an instructor with our test prep services at Manhattan Review. It just so happens that a chance meeting with another one of our existing instructors is all it took to convince Sophia that she too should pursue a second career in instruction, helping to develop talent in Tampa.
As a member of our elite team of private TOEFL tutors at Manhattan Review, Sophia is plays an integral role in helping us to provide industry leading test prep services to a non native speaking individuals throughout the Greater Tampa Area. Our students love to work with Sophia because she has firsthand knowledge of what it is like to be a non native English speaker who has to learn how to master the English language in order to progress and achieve success in America, both academically and professionally. Being self-taught, Sophia is all too familiar with the struggles that one must overcome on the path to becoming proficient in English, which is precisely why working with our participants at Manhattan Review is a newfound passion of hers. For Sophia, giving prospective college students, medical professionals, and immigrants the necessary foundation for them to achieve the life that she has, and even better, is why she does what she does. We couldn't be more excited to have someone so successful serve as an example to our participants of what they also can achieve by working with us.