TOEFL Prep Courses in Stamford (Connecticut)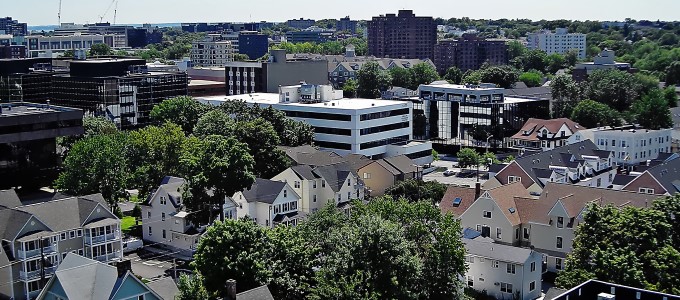 Non-native English speakers seeking admission to universities in English-speaking countries must prove that they have the language skills necessary to succeed and function. One of the most widely accepted means of doing this is the Test of English as a Foreign Language (TOEFL). Manhattan Review is Stamford's most respected resource for effective and engaging TOEFL preparation, and we offer a full set of TOEFL services to students living in the Stamford region. Available TOEFL learning programs include on-site TOEFL prep courses (which meet at practical Stamford locations), online TOEFL classroom instruction (which offers all of the convenience of modern technology), TOEFL private tutoring (which is customized to each student's educational needs), and TOEFL practice tests (which help teachers and students craft study plans and assess progress). Manhattan Review has been teaching TOEFL prep in Stamford and other cities around the world since 1999, and we have assisted students from a wide variety of academic backgrounds and countries of origin. We'll help you develop all of the relevant TOEFL skills for superior TOEFL scores.
The TOEFL internet-based test (iBT) is a four-section exam that evaluates reading, writing, listening, and speaking skills with a large set of unique exercises. Although each TOEFL section is primarily devoted to one of these areas, the TOEFL is meant to promote synthesis of language abilities, which is essential for functional communication. Each TOEFL section is scored from 0 to 30, and the total TOEFL score is the sum of these four section scores (0 to 120). Passing TOEFL scores are not specified by Educational Testing Service (ETS), the administrator and owner of the exam, and this allows each university division, department, or degree offering to establish TOEFL benchmarks that best suit their needs. The passing standard for the TOEFL can range anywhere from 60 to 110, largely depending on the selectivity of a given institution. Some degree offerings may also have subscore requirements for the TOEFL, especially for applicants seeking graduate teaching assistantships. At most universities, sectional scores of 25 each (for a total score of 100) will be sufficient for regular admission.
Manhattan Review's TOEFL prep courses and private tutoring have guided thousands of students into elite undergraduate or graduate programs, at world-class schools such as Oxford, Princeton, Johns Hopkins, Cambridge, Harvard, the Massachusetts Institute of Technology, Stanford, Columbia, the University of Pennsylvania, King's College London, the University of Edinburgh, the London School of Economics, Carnegie Mellon, Dartmouth, Cornell, and the University of Michigan. Many of our international TOEFL clients choose to remain in the United States after graduation. Some have accepted jobs with Fortune 500 businesses, including Microsoft, Walgreens Boots Alliance, New York Life Insurance, JP Morgan Chase, and Bank of America. Others have chosen employment at companies in Stamford, such as Thomson Reuters, Synchrony Financial, United Rentals, General Reinsurance Corporation, and Charter Communications. Get started on your future by contacting Manhattan Review for more information on our TOEFL services in Stamford.

I highly recommend Manhattan Review's TOEFL preparation course for anybody interested in taking the exam. I took an intensive course and took the exam only after 4 weeks of classes, and got a 116 score. The teaching method is excellent. It focuses on techniques and strategies that allow students to understand exactly what is required to succeed on examination day. Tutors are very flexible and willing to adapt to the student's schedule, as well as reachable and always ready to help and follow up on whatever the student might need.
- Virginia (This student took our TOEFL classes in NYC)
Meet a Stamford TOEFL Tutor: Danny D.
Danny D. has been teaching TOEFL prep for Manhattan Review in New York and Stamford since 2010. A native of Baton Rouge, Louisiana, he moved to Stamford last year, and he is quickly developing a reputation as one of the city's top test prep educators and language instructors. In addition to the TOEFL, Danny also has several years of experience teaching English as a second language.
Danny is a graduate of Louisiana State University (bachelor's degree in Spanish) and the Graduate Center of the City University of New York (master's degree in adult education). His TOEFL students have been accepted to universities in the United States, Canada, and the United Kingdom. He is a diehard fan of the LSU Tigers baseball team, and he also roots for the Texas Rangers.