TOEFL Prep Courses in Sao Paulo (Brazil)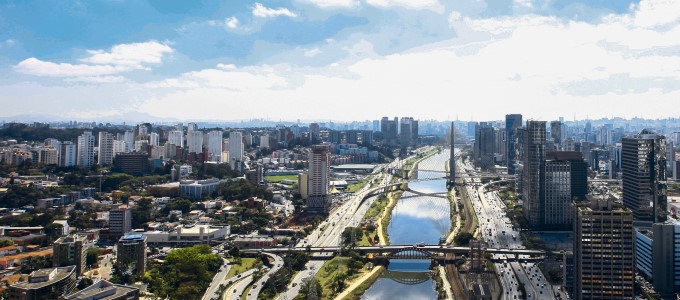 One of the conditions to enter high-class universities for international students is an excellent English level. Many students decide to show that by taking the Test of English as a Foreign Language (TOEFL) as part of their application. Manhattan Review has won a reputation of the best provider of TOEFL services in Sao Paulo. Our TOEFL prep options include TOEFL classic courses, customized TOEFL private tutoring and authentic TOEFL practice tests with the same content and time as the original TOEFL test. TOEFL prep courses and one on one classes can be done online with live interaction software, used in many universities after admission. With more than 20 years TOEFL prep and other exam prep experience, Manhattan Review has created a learning methodology and stress-free strategy to improve student's skills and time to maximize their achievements and reach their target test scores. We are also the most popular author of TOEFL study materials, written personally from our founder, who happens to be a business school professor and long term professional educator. Begin preparing for the TOEFL with Manhattan Review, and learn the fastest way to achieve the required score to enter your dream school.
Students applying for American and British universities or international undergraduate and graduate programs, taught in English, will need to prove their language level. They have two test options – the TOEFL or the IELTS. While the second one is only for schools in the UK, the TOEFL is accepted mostly everywhere and preferred in many US schools. The great advantage of this exam is that it can be taken anytime through the year, as it is computed based on a test offered in many virtual examination centers. This format is known as iBT. We advise our students to check with the university they would like to enter which exam is preferable there. If their chosen school accepts both IELTS and TOEFL and you do not know which one to do, we suggest taking a practice test for both exams, for results which will help the student make the decision which one is the right one for his needs.
Manhattan Review is an educational leader in providing students with different prep courses, including the TOEFL, which happens to be one of the most wanted exams for our non-native students. Our focus in our 20 years prep experience are international students, whose mother language is not English. Giving them different learning strategies and specially made time management plans for their studies, we secured them a spot in undergraduate and graduate programs in some of the most elite postsecondary schools all around the globe. Our former students have been accepted at Harvard, Yale, Stanford, University of Pennsylvania, Columbia, New York University, Johns Hopkins University, MIT, Duke, Cornell, Berkeley, Cambridge, Oxford, University of Australia and many other educational leading schools. Excellent English level is not only an important condition to enter a prestigious school, but also a must in today's global world. Speaking good English increases your job opportunities and chances of a high salary. Many of our past students have high positions in big international companies around the world like Johnson and Johnson, Bank of America, General Motors, HP, Allianz, Volkswagen. Some have started their own business in Sao Paulo and created strong connections all around the world, which double their incomes. Improve your English Level with Manhattan Review as an investment in your future career.

She is great! She is able to involve all the participants. She is clear, and she always keeps the attention of the class.
- Matteo (This student took our Columbia Business School Communication and Culture boot camp.)
Sao Paulo
Primary Course Venue:

Grand Hyatt Sao Paulo
Avenida das Nacoes Unidas 13301
Sao Paulo 04578-000, Brazil

NOTE: We do NOT typically have staff at the venue, so email us before visiting the venue.
Meet a Sao Paulo TOEFL Tutor: David P.
Jeremy K., born and raised in Sao Paulo in an English-speaking family, has graduated from Cornell University. He holds a Master's degree in Economics from Georgetown and owns a small business consultancy company in Sao Paolo, after moving back in 2011. He started his tutoring career for Manhattan Review, when he was in the States, helping many international students online and in-person for the TOEFL. Now he is a professional GMAT and GRE tutor as well, but still continues working with non-native students, helping them to improve their English level and giving them strategies how to fit in the exam time.
Jeremy is friendly and open-minded. He enjoys working with students in all the exams but really likes working with students who would like to improve their English. In his free time, he like to dance and go out with friends.