IELTS Prep Courses in Sao Paulo (Brazil)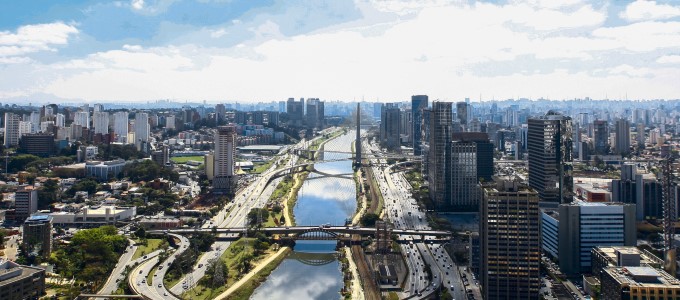 The International English Language Testing System (IELTS) is one of the most commonly taken of Manhattan Review's test services among Sao Paulo's students. Some of the choices of prep include IELTS classic courses onsite and online, using online multimedia tools which make the quality and content the same with live interaction, individual IELTS private tutoring with senior Manhattan Review tutors, and IELTS practice tests which mimic the real one. Established in 1999, Manhattan Review has created thousands of study programs for its students, giving them tested learning strategies and methodology for improving their level of knowledge on the IELTS and maximizing their score potential. Our instructors are known for their flexibility, and they have many long years of teaching experience and qualifications which makes them some of the best in the industry. Be part of our list of successful students accepted in most prestigious schools worldwide. Contact us today to find out more about our IELTS prep options and an advisor will assist you to find the most suitable one for you.
The IELTS exam is one of the two language tests required for admission in universities in English-speaking countries. One is TOEFL, which is mostly preferred in American schools, while the British world favors the IELTS exam. The main difference between both is formatting. The TOEFL is computer based, while the IELTS can be done on computer or on paper, and the speaking part is done in-person, so this exam will be more fitting to students who prefer one on one interaction. There are four individual sections on the IELTS - reading, writing, speaking, and listening. Some universities have total score requirements and some want specific scores from their students in particular sections. Manhattan Review urges its students to inform themselves about the minimum score their chosen university or college needs for them to get accepted in their graduate or undergraduate programs before starting with their IELTS preparation, so they increase their chances with the right study plan and help of a senior tutor to achieve that target.
Manhattan Review is a leading educational company, working mostly with non-native English-speaking students all over the world and helping them improve their English levels. We have international students accepted in the most wanted postsecondary schools in the USA, Europe, Asia and Australia. Some of the prestigious schools our students enter are Cambridge, Oxford, University of Melbourne, McGill, Columbia, University of Pennsylvania, Cornell, Berkeley, Harvard, Yale, University of Virginia, Duke, Brown, University of Houston and many more. An elite school's diploma usually leads to higher job opportunities. Manhattan Review's former students have been hired from big international Fortune 500 companies all around the world and from the big and successful ones in Sao Paulo like Toyota, Google, Microsoft, Samsung, Rabobank, BBI Development and more. Start thinking about your future and make the first step to success with enrolling in Manhattan Review's IELTS prep courses or IELTS private tutoring.
Sao Paulo
Primary Course Venue:

Grand Hyatt Sao Paulo
Avenida das Nacoes Unidas 13301
Sao Paulo 04578-000, Brazil

NOTE: We do NOT typically have staff at the venue, so email us before visiting the venue.
Meet a Sao Paulo IELTS Tutor: Andrew D.
Andrew D., originally from Wisconsin, has been a tutor for Manhattan Review for 9 years. After great success in high school and a score in the 94th percentile on the GMAT, he went to New York University to study Economics. He also holds an MBA from Columbia University, and since 2014 he has worked as a Professor of Economics in elite schools in New York and Sao Paulo. He moved to the city in 2017 and enjoys working with international students, helping them for the GMAT, SAT, ACT, TOEFL and IELTS.
Andrew's teaching style is a great fit for students looking for flexibility and high professionalism. As a native English speaker he is a preferred choice of many students taking language tests as well. Many of his former students have now studied in prestigious schools in the USA, Europe, Asia and Australia. In his spare time, he enjoys playing soccer and listening to Brazilian music.