TOEFL Prep Courses in San Diego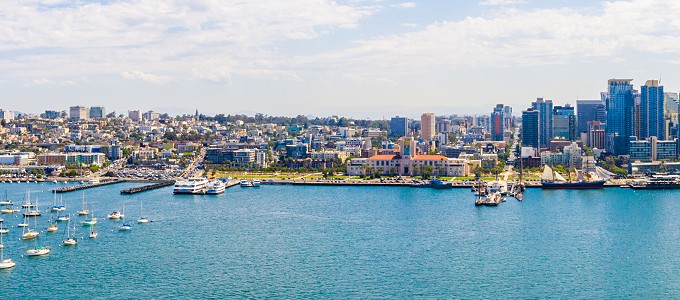 TOEFL Preparation in San Diego (California)
Many colleges and universities require an aptitude test if English is not your first language. The TOEFL is designed to measure your level of language proficiency so it meets the collegiate standard. After all, a non-native English speaker would struggle keeping stride at American universities where English dominates. Whether you have mastered your fluency or are still ironing out some weaknesses, we can help you achieve a TOEFL score to strengthen your admissions applications.
Whether you immigrated to California from another country or grew up in a non-English speaking family, you may be required to submit the TOEFL with your applications. If so, let Manhattan Review guide you toward your top score in all four of the language-related sections. Our educational services firm has been in business since 1999, working directly with students to ensure they're qualified to gain entry into well-regarded higher education facilities.
Team up with Manhattan Review, and gain access to our state-of-the-art study materials that will help you master your language skills. You can register for full-length classroom courses, sessions seamlessly organized with our customizable course syllabus. Countries around the world use the TOEFL exam, and our experts know exactly what to expect from this standardized Test of English as a Foreign Language. Rather than rely on guesswork or random memorization, we'll target what you need to know to score the most points.
If you are unable to meet in the classroom in San Diego, we invite you to register for an Interactive Online Course. You'll still get the same great benefits of our unrivaled study materials and superior tutors. Only you can access our test prep services through a virtual classroom. Connect with us, and we'll work together to help you achieve your goals. Then you'll increase the likelihood that you'll continue your academic journey at your first-choice school.
We offer yet a third learning platform, so you can get the test prep that works best for you. Collaborate with a San Diego TOEFL tutor one-on-one for study sessions that channel your unique learning needs. Let your private tutor help you by diagnosing weaknesses, then working through these areas through TOEFL practice tests and guided support. With a score of 600 on the TOEFL paper or 90-100 on the computer exam, language will not be a barrier standing in the way of your scholarly pursuits.

The lessons are well-structured. The presentation session is very helpful. The instructor is very friendly and responsive to students' questions.
- Sanido (This student took our Columbia Business School Communication and Culture boot camp.)
San Diego
Primary Course Venue:

Manhattan Review GMAT GRE LSAT Prep
San Diego Teaching Center at the Sheraton
1380 Harbor Island Drive
San Diego, CA 92101

Phone: (619) 819-0716

NOTE: We do NOT typically have staff at the venue, so email us before visiting the venue.
Meet a San Diego TOEFL Tutor: Rosa G.
Rosa earned her undergraduate degree from Caltech, where she studied English and Spanish. Having grown up in a bilingual household, Rosa spoke both languages fluently and wanted to bring her communication skills into the classroom.
She next attained her Masters of Education and became a grade school teacher in the San Francisco Bay Area. Several years later, she relocated to San Diego, where she flourished as an English teacher for kids ages 12 through 18. At this particular school, many of her students were also raised to speak Spanish and English. Not a large leap but certainly one that makes sense, Rosa has been a stellar TOEFL tutor with Manhattan Review. Able to overcome communications barriers and draw from her own background, she has helped students exceed their own expectations.
In her spare time, Rosa loves to cook and host festive parties for her family in her big home. She also enjoys mindful exercise like yoga and Pilates, her two cats, and dancing.