TOEFL Prep Courses in San Antonio (Texas)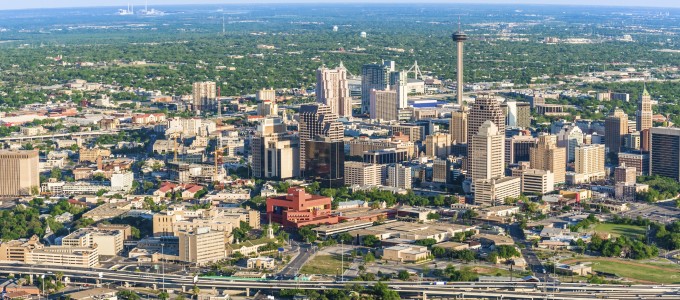 For non native English speakers looking to either enter college, obtain a residential or work visa, or obtain professional licensing or certification, the Test of English as a Foreign Language, or TOEFL, is a tremendous obstacle. As one of the most widely accepted standardized tests in the world, the TOEFL examination is considered one of, if not, the most accurate determination of English proficiency. Prospective college students, in particular, often find that they require assistance in learning to master the English language is unlike learning/mastering other subjects. Learning/mastering the English language, while not impossible, requires a certain degree of unique skills set. At Manhattan Review, we have a world-class TOEFL test prep courses that will give you all the requisite skills you need to master the English language.
For over 15 years, Manhattan Review has been specializing in helping non-native English speaking prospective college students, professionals and immigrates, not only master the English language, but also score high on the TOEFL. How do we accomplish this? By employing two tried-and-true strategies, including offering elite professional tutors, and our state-of-the-art interactive courses, we have been able to emerge as the leader in TOEFL test prep. Our unique boutique program is unlike any other in San Antonio, giving non-native English speakers the opportunity to custom design their own learning program suited to their individual learning temperaments, yet still encompassing all the attributes of our highly commended TOEFL test prep services.
All over the world, including throughout the City of San Antonio, Manhattan Review is known for our stellar training. Our TOEFL test prep courses have successfully prepared many non-native English speakers for both the TOEFL examination as well as a life that includes proficiency in English speaking. Our past program participants have gone on to attend the top schools in San Antonio, both public and private, such as the University of Texas-San Antonio, St. Mary's University, Our Lady of the Lake University, Webster University and Hallmark University because we have a reputation of working with the best in San Antonio. Additionally, our past students have also been hired by the top employers in San Antonio across a variety of industries, including Fortune 500 companies, serving as yet another testament to our program and the results that we deliver year after year.
Don't leave your future in the balance with uncertainty. Ensure your English proficiency by enrolling in Manhattan Review's TOEFL test prep courses in San Antonio.

The instructor is patient in his explanation, and he knows the topics really well.
- Chew (This student took our Columbia Business School Communication and Culture boot camp.)
San Antonio
Primary Course Venue:

Manhattan Review GMAT GRE LSAT Prep
San Antonio Teaching Center at the Sheraton
205 East Houston Street
San Antonio, TX 78205

Phone: (210) 485-3627

NOTE: We do NOT typically have staff at the venue, so email us before visiting the venue.
Meet a San Antonio TOEFL Tutor: Andrea K.
As a native of the San Antonio area, Andrea grew up being exposed to the multi-cultural offerings of her hometown. And though she loved growing up having friends that spoke Spanish, she would often take the time, even at an early age, to help her friends with their English speaking skills when she saw them struggling. Andrea discovered early on that she wanted to help others; she didn't know, however, that that included teaching/tutoring one day.
Before joining Manhattan Review as a professional TOEFL tutor, Andrea herself was quite the student and test taker, acing both the SAT and GRE with resounding results, scoring in the 99th percentile on both. She attended the respected University of Texas Health Science Center at San Antonio, where she earned both her Bachelor of Science and her Master of Science in Nursing. After graduating with her Bachelor's degree, Andrea went to work for one of the most prestigious medical facilities in San Antonio, which just so happens to also be a Fortune 500 company. She remained there throughout her Master's program up until present day, where she currently holds a senior level management position. While working for her current employer, however, Andrea began to notice that many of her staff members struggled with English proficiency. She wanted to do something to help, and that's how she discovered Manhattan Review.
In addition to working full time as a senior level manager in the healthcare field, for the last five years, Andrea has also been tutoring at Manhattan Review. As a private tutor for Manhattan Review, Andrea has been instrumental in delivering the top-notch TOEFL test prep services that we are known for. Her innate caring nature and strong command of the English language, as a native English speaker and respected senior level manager, help make her the perfect fit for our program.