TOEFL Prep Courses in Raleigh-Durham (North Carolina)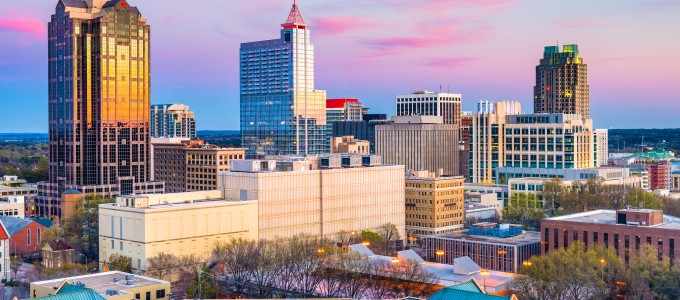 Learning a second language can be a challenging and complex task, to say the least. The nuances of a language, the parts of speech, and the new vocabulary words are a tremendous amount of information to absorb over a short period of time. However, learning English is a critical part of enrolling, and succeeding, in a U.S. university. The first step in that process is scoring well on the Test of English as a Foreign Language.
Since 1999, Manhattan Review has been helping students improve their standardized test scores and gain admission to the best colleges and universities around the globe. Whatever brings you to the United States, you can enrich your employment prospects with a world-class higher education experience. Whether you are still working on your English or simply seeking test-taking strategies, we will help you bring your language skills to the next level.
For students seeking a study guide for the TOEFL, Manhattan Review offers the perfect program to master this exam. We made it our goal to learn the TOEFL inside and out in order to provide our students with the best test prep possible. After receiving this tutelage, our students can efficiently master the material and ace the exam. In Raleigh-Durham, we offer not only strategic prep courses but also private tutoring and Interactive Online Courses. All of these learning plans are designed by Manhattan Review's proven test prep methods.
Choose the tutoring style that best suits your learning style. Then one of our talented and experienced Raleigh-Durham tutors can help you reach your goals with a program tailored to maximize your individual success. Once you have reached your dream test score, you'll be able to pursue your education at the next level. Join the former students who have graduated from the ranks of Harvard, Yale, Princeton, Georgetown, Stanford, University of Pennsylvania and Duke University, among so many others.

Helpful! Very thorough.
- Kate (This student took our Negotiation and Decision Making Seminar.)
Raleigh-Durham
Primary Course Venue:

Manhattan Review GMAT GRE LSAT Prep
Raleigh-Durham Teaching Center at the Hilton
4810 Page Creek Lane
Durham, NC 27703

Phone: (919) 436-3748

NOTE: We do NOT typically have staff at the venue, so email us before visiting the venue.
Meet a Raleigh-Durham TOEFL Tutor: Danielle T.
Danielle's great grandparents were both born and raised in Panama, and while Spanish was not spoken often in her house, she was always drawn to the language, even as a child. Years later, Danielle studied Spanish at Northwestern University, where she received her bachelor's degree. During her time at Northwestern, she spent a semester studying abroad in Barcelona. Her time there only reinforced her love of the Spanish language.
Danielle began tutoring students while she was still an undergraduate and as a side project, started working with Manhattan Review in 2009. From her own experiences and training in assessment techniques and standards, she has an expertise that encompasses the TOEFL exam. Danielle has become increasingly dedicated to her test prep tutoring over the years, watching her TOEFL test-takers transform into successful graduates of the top schools across the country. She has seen her pupils go on to such schools as Yale, University of Michigan, University of Virginia, Stanford, Washington University and Caltech.
Danielle can work with you to make English feel more natural to you – an asset that will prove invaluable on test day.