TOEFL Prep Courses in Pittsburgh (Pennsylvania)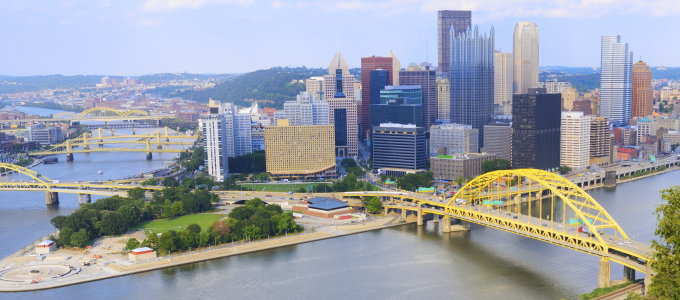 The Test of English as a Foreign Language, or TOEFL, is one of the most widely administered standardized tests all over the world, including in Pittsburgh. Primarily used to assess English language proficiency, the TOEFL exam is used by many colleges and universities, medical and licensing organizations as well as immigration departments that issue residential and work visas. As a result, many non-native English speakers will likely encounter the TOEFL examination at some point as they attempt to acquire employment, education or seek or permission to enter the U.S., which requires mastering a language that may in fact be foreign to them. However, with the help of the professionals at Manhattan Review, you can and will master the English language and successfully pass the TOEFL exam.
Since 1999, Manhattan Review has been the industry leader in TOEFL test prep services. By providing an unprecedented boutique program designed specifically with our testing participants in mind, we are able to provide the most effective and efficient TOEFL test prep services around. We accomplish this by offering participants access to our interactive online courses, which can be tailored to suit each participant's learning style and availability, as well as a host of other online tools and resources, including TOEFL practices, approved for test preparation. We also offer participants access to private one-on-one tutoring sessions with professionals who have not only performed well on the TOEFL themselves, but also represent some of the top talent with respect to mastering English language proficiency.
Our investments in all of our students result in every possible advantage to succeed and over the years, that's exactly what has transpired. Regardless of whether the participants were trying to apply to college, obtain a medical license, or visa, our team of highly trained and experienced professionals have helped them to reach their goals of first realizing English proficiency, and secondly, by achieving their desirable score on the TOEFL so that they can then go on to apply to the colleges or universities of their choice, obtain their medical license or certification or acquire their residential or work visa.

Helpful! Very thorough.
- Kate (This student took our Negotiation and Decision Making Seminar.)
Pittsburgh
Primary Course Venue:

Manhattan Review GMAT GRE LSAT Prep
Pittsburgh Teaching Center at the Marriott
112 Washington Place
Pittsburgh, PA 15219

Phone: (412) 235-1755

NOTE: We do NOT typically have staff at the venue, so email us before visiting the venue.
Meet a Pittsburgh TOEFL Tutor: Candis Y.
Before coming to Manhattan Review to become one of our elite TOEFL private tutors, Candis had extensive experience working with non-native English speakers from all over the world. As a professional translator turned ESL college professor, Candis has quite an impressive resume with respect to teaching others how to master the English language, which is precisely why she makes a great addition to the team at Manhattan Review in Pittsburgh. And even though Candis is so experienced, she often reminds her students of the story of how she first became involved in tutoring English proficiency in the first place, a touching story of her dedication to helping her parents, non native English speakers assimilate in her foreign land, America.
Throughout her youth, Candis spent much of her time learning and practicing her English so that the could become fluent enough to help her parents. It took a lot of work, but it paid off tremendously when she was able to attend the University of Pittsburgh on a full scholarship, after acing both the SAT and TOEFL examinations. Candis knew then that she wanted to pursue a career in helping others not just learn the English language, but more importantly master the language enough to go about in the world with confidence about their abilities. And while she does in fact accomplish such a goal every single day as a college professor, Candis also accomplishes that goal when she helps Manhattan Review's students achieve a desired test score on the TOEFL with her private tutoring sessions.