TOEFL Prep Courses in Newport Beach (California)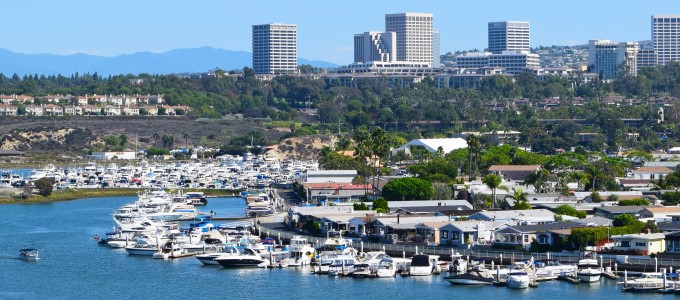 All over the world, non native English speakers are turning to Manhattan Review for world-class test preparation for the Test of English as a Foreign Language, or TOEFL. Designed to assess English proficiency among non native English speakers, the TOEFL is one of the biggest challenges that many individuals face when applying to colleges and universities; medical licensing and certifications; and residential and work visas. What more and more non native English speakers are discovering right here in Newport Beach is that Manhattan Review's state-of-the-art TOEFL test prep courses will give them the necessary tools and resources to help them to achieve their best possible score on the TOEFL and so much more, helping more individuals to go on to some of the top local colleges and universities as well as work for some of the biggest local employers that Newport Beach has to offer.
For over 15 years, Manhattan Review has been specializing in one thing: Providing unprecedented test prep consultant services to individuals who are seeking to achieve top scores on their standardized tests. This includes the TOEFL. We are able to achieve this goal every year by offering each of our TOEFL test prep participants the opportunity to customize their own learning plan according to their own learning style and needs, which gives each individual the greatest chance to maximize the benefits of this program and ultimately help them to accomplish their testing goals. At Manhattan Review, we understand that while every student is different when it comes to testing, which is why we give our participants creative control of their own learning process. This includes accessing our interactive online courses with the help of our team of experts providing guidance as-needed or one-on-one sessions with our elite private tutors. We also give each and every TOEFL test participant access to our library of supplemental learning materials, specifically our TOEFL practice tests, which gives them the opportunity to gain experience taking the TOEFL and improve their score by helping them to expose any weaknesses in their existing test preparation strategy.
Throughout the Newport Beach area, Manhattan Review is respected for working to develop the best and the brightest among the locals. In fact, no other test prep consultant service has helped more non native English speakers to both achieve high scores on the TOEFL or successfully pass their college applications; medical licensing or certifications; or residential or work visa applications more than Manhattan Review, leading our past TOEFL test prep participants to go on to achieve great success wherever they may go. Specifically, past TOEFL test prep participants in Newport Beach have gone on to attend the locally respected Newport University, University of California Irvine, University of California Irvine, Southern States University, and the Interior Designers Institute as well as many of the top universities in the country such as MIT, Harvard, Yale, and Stanford. Being affiliated with Manhattan Review has also helped our past TOEFL test prep participants to achieve gainful employment with many of the major local employers in Newport Beach including Acacia Research, Conexant, Galardi Group, Jazz Semiconductor, Toyota's Calty Design Research Center, Hoag Memorial Hospital Presbyterian, and Pacific Life. Manhattan Review can give you the same advantage in Newport Beach as well, starting with helping you to achieve English proficiency and your highest possible score on the TOEFL. Log onto ManhattanReview.com to apply today.

The accent reduction section is very effective.
- Nan (This student took our Columbia Business School Communication and Culture boot camp.)
Newport Beach
Primary Course Venue:

Manhattan Review GMAT GRE LSAT Prep
Newport Beach Teaching Center at the Hyatt
1107 Jamboree Road
Newport Beach, CA 92660

Phone: (949) 335-1935

NOTE: We do NOT typically have staff at the venue, so email us before visiting the venue.
Meet a Newport Beach TOEFL Tutor: Leah W.
Like so many of our world-class instructors in our TOEFL program, Leah came to Manhattan Review seeking an opportunity to help develop up and coming talent in Newport Beach. After spending nearly a decade mentoring her team members in her department, some of whom were non native English speakers just like her, Leah decided to look for opportunities in an academic setting. Overcoming her own academic adversity as a child trying to master the English language, Leah feels a sense of duty to give back to the community in which she was able to achieve so much success, thanks large in part to the help of a couple of teachers in grade school who were committed to seeing her succeed. Leah never forgot about her past experiences with her caring and dedicated teachers and although she was focused on opening her own realty office in her second home of Newport Beach, she always knew she would one day help others in a similar manner.
As an elite private TOEFL tutor at Manhattan Review for nearly five years, Leah has played a significant role in helping us to provide industry-leading TOEFL test prep consultant services to non native English speakers in the Newport Beach area. As a non native English speaker herself, Leah is familiar with the adversity that comes along with mastering the English language, making her an ideal candidate to help others in a similar position. Determined to help as many students succeed on test day, Leah has indeed achieved her goal of becoming a caring and dedicated instructor, just like the ones that helped and inspired her. For those reasons and others, we are proud to have Leah on our TOEFL instruction team at Manhattan Review.