TOEFL Prep Courses in Montreal (Canada)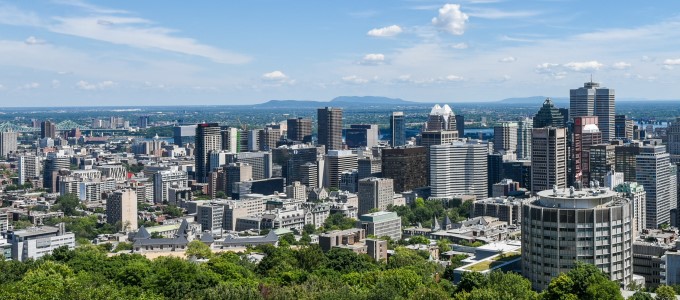 Universities in the United States, Canada, United Kingdom, Australia, and other countries require non-native speaking applicants to prove that they have the English-language skills necessary for undergraduate or graduate coursework. The most popular means of demonstrating this competency is the Test of English as a Foreign Language (TOEFL). Manhattan Review, an industry-leading test prep company founded in 1999, offers several learning options that produce passing TOEFL scores. On-site and online TOEFL prep classes, TOEFL private tutoring, and TOEFL practice tests are available to Montreal students at convenient times and practical meeting locations. We are a global company with operations in major North American, European, Asian, and African cities, and the international character of our business makes us especially qualified to teach students from outside the English-speaking world. Our TOEFL tutors and instructors are highly credentialed in terms of academic background and teaching experience, but they are also sympathetic to our TOEFL clients because they have lived the international student experience themselves. Learn more about our TOEFL services for students in Montreal by contacting us today.
Students preparing for the TOEFL must understand that TOEFL prep is not quite the same thing as English language instruction. There is a definite relationship between the two, but TOEFL prep is much more narrowly focused. Exercises in the TOEFL's four sections (speaking, reading, writing, and listening) are designed to assess language skills, but successful completion of these exercises is a skill in and of itself. TOEFL prep is also affected by individual student goals, and it is common for programs to have varying TOEFL standards, even within the same institution and the same department. What matters for the individual student is the requirements of his or her specific degree offering, which is determined by such factors as degree level, academic discipline, and institutional ranking. TOEFL prep is a highly individualized educational undertaking, and this individuality determines the actual course of TOEFL study.
Manhattan Review has taught thousands of students how to receive the TOEFL scores expected by their preferred schools, departments, and programs, which can vary by as much as 100%. Our TOEFL clients have been accepted to universities with the highest minimum requirements, including Oxford (total score as high as 110), Princeton (108), Harvard (100-109), Columbia (100), MIT (100), Stanford (100), Johns Hopkins (99), and New York University (92). We've also helped students get accepted to schools with lower TOEFL standards, such as Boston University (84), UCLA (83), UC Berkeley (80), and the Florida Institute of Technology (79). All of these scores are averages only, and as noted above, the actual requirements of a specific program can be either higher or lower. Manhattan Review's TOEFL prep has both short- and long-term benefits. University admission is obviously the immediate concern, but the skills learned in TOEFL prep will ultimately also facilitate easier entry into the job market. Our past students have shown this by securing important positions at Fortune 500 companies and Montreal firms, including Ford Motor, Fannie Mae, HP, Bank of America, Iron Ore Company of Canada, Cellcom Communications, Molson, and BCA Research. Effective TOEFL prep is invaluable to assimilation into both academic and professional life.

The instructor is patient in his explanation, and he knows the topics really well.
- Chew (This student took our Columbia Business School Communication and Culture boot camp.)
Montreal
Primary Course Venue:

Manhattan Review GMAT GRE LSAT Prep
Montreal Teaching Center at the Sheraton
1201 Boulevard Rene-Levesque West
Montreal, Quebec H3B 2L7
Canada

Phone: (514) 312-7207

NOTE: We do NOT typically have staff at the venue, so email us before visiting the venue.
Meet a Montreal TOEFL Tutor: Tracy N.
Tracy N. is a dedicated TOEFL instructor with over 12 years of experience. Born and raised in Bangkok, Thailand, she was once a TOEFL student with limited knowledge of English ("Tracy" is an Anglicized version of her name). Her TOEFL prep experience allowed her to study at the University of Maryland, where she completed a bachelor of science in engineering.
Tracy has taught TOEFL prep as an online instructor, classroom teacher, and private tutor, and has been successful in all three capacities. Her students have come from over 30 countries of origin, and have successfully entered undergraduate and graduate degree programs at top universities in the United States and Canada, including McGill, the University of Pennsylvania, and Indiana University. She is also a part-time staff member at a Montreal engineering firm.