TOEFL Prep Courses in Mesa (Arizona)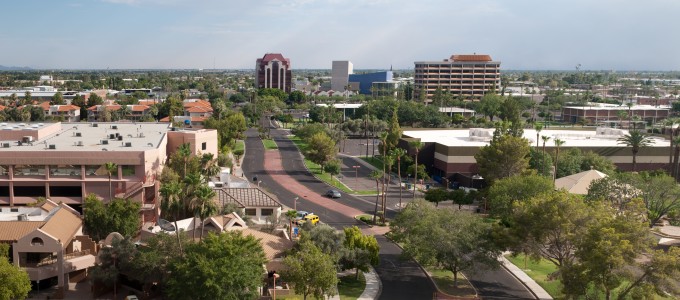 As a potentially difficult language to learn, ESL students who are looking to learn the English language for the purposes of demonstrating their capabilities on the Test of English as a Foreign Language, or TOEFL, may find themselves looking for study assistance to help them with the material that is covered on the exam. Students looking for the best options for their TOEFL exam preparation should look to Manhattan Review for the process of preparing for the exam. Students have been using Manhattan Review for assistance with the TOEFL and other varieties of standardized tests since 1999, and students who work with Manhattan Review can utilize group courses, private tutoring, and practice exams either individually or in combination with one another to allow for a well-rounded study process. They will also be working with instructors and curriculums that remain up to date with helping students to prepare for their choice of standardized test.
Manhattan Review students are able to take advantage of a wide variety of benefits to ensure that they are able to get the most out of their course of study in preparing for the day of the TOEFL exam. Students who choose to work with Manhattan Review for the process of preparing for the TOEFL exam can do so either in-person or online depending on what they think would be best for them in learning the material that is covered via group courses and private tutoring options. Manhattan Review's in-person private tutors are capable of helping their students at any mutually agreeable location in the Mesa area, and Manhattan Review private tutors can generally offer their students a customizable lesson plan that is adjustable to the students' strengths and weaknesses. Manhattan Review's practice exams are updated on an annual basis to accurately reflect the current TOEFL exam's formatting and content.
Students who speak English as a second language who have used the guidance of Manhattan Review to help them with the process of preparing for the TOEFL exam have managed to use the guidance they have received to further develop their skills in the English language to ensure a stronger grasp of the material that is both covered on the exam and in their everyday life. Students have used their increased grasp of the English language to get into a wide variety of schools that require the TOEFL, such as Harvard, Yale, Stanford, Emory, Oxford, Cambridge, Columbia, Brown, Emory, New York University, University of Chicago, William and Mary, Massachusetts Institute of Technology, and many others. Manhattan Review students have also used their increased command of the English language to help them gain employment at various companies, including Mesa-based ones such as Boeing. Call or email one of Manhattan Review's academic program advisors today.

Hi Steve! Thanks a lot! I actually got 116 on TOEFL, so I am pretty happy :). 28 29 29 30. Best regards.
- Victor (This student took our NYC class)
Meet a Mesa TOEFL Tutor: Silas B.
Silas B. has been working with a variety of ESL students, including a large number of the many ESL residents of the Mesa area, for their preparation for tests of the English language such as the TOEFL and IELTS. He has also helped a wide variety of other students who are working to learn other languages with their course of preparation.
Silas' teaching methods for helping students learn English, or any other language, are focused on immersing the student fully in using the language in a variety of contexts independent of studying for exams such as the TOEFL or IELTS. In his spare time, he likes to travel to different countries and attend soccer games as both a player and spectator.