IELTS Prep Courses in Mesa (Arizona)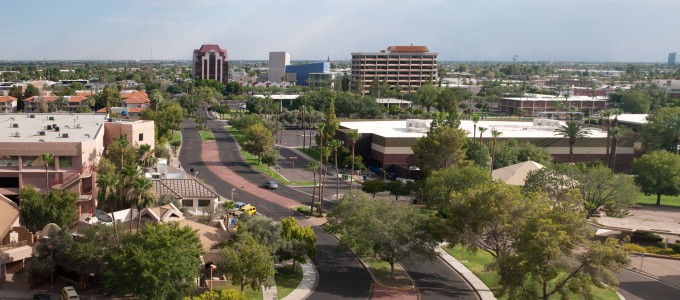 ESL students looking to take the International English Language Testing System, or IELTS exam, may find the process of preparing for the exam to be a potentially difficult one due to the inherent struggles in learning a new language, particularly one as difficult as English. Mesa's high population of ESL speakers also results in potentially heavy competition among people who are looking to take the exam for the purposes of advancing their academic journey. Students in the Mesa area who are looking to prepare for the IELTS exam should look to Manhattan Review for the purposes of preparing for the IELTS. Manhattan Review has been providing students with a wide variety of preparation options for the IELTS exam since 1999, with such choices as group courses, private tutoring, and practice exams being available for students. Students who utilize these options for the purposes of preparing for the IELTS can use them either individually or in combination with one another.
Students who work with Manhattan Review for the purposes of preparing for the IELTS exam can also utilize a wide variety of benefits that are designed to help them get the most out of their preparation for the IELTS exam. Manhattan Review offers students the ability to work with their group courses and private tutoring either in-person or online depending on what they think would be best for their course of study, with the in-person private tutors being able to meet their students at any mutually convenient location in the Mesa area for the purposes of preparing for the exam. Manhattan Review's private tutors can also customize their lesson plans to ensure that their students are able to get the most out of studying their strengths and weaknesses as needed. Manhattan Review also updates its practice tests on an annual basis to ensure that students are able to have an accurate view of the exam's formatting and content.
ESL students who have worked with Manhattan Review for the purposes of improving their English language skills for the process of preparing for the IELTS exam have managed to take the guidance of their instructors and translated it into an increased command of the English language, which has been useful in both the context of the exam and in daily life. Students have used their improved scores on the IELTS exam to help them with the process of getting into a wide variety of schools that take the exam, such as Harvard, Yale, Stanford, Oxford, Cambridge, Massachusetts Institute of Technology, Emory, Brown, New York University, University of Chicago, and many others, including Mesa-based schools such as Arizona State University. Students who have worked with Manhattan Review have also used their improved English language skills to earn careers in and out of the Mesa area, including at Mesa-based companies such as Boeing. Call or email an academic program advisor today to learn more.
Meet a Mesa IELTS Tutor: Henry G.
Henry G. was born in Buenos Aires, Argentina and moved to the United States at a young age due to his family's work, where he grew up speaking both English and Spanish and later took the IELTS exam for himself. He later moved to Mesa and now teaches students in the area for standardized tests, such as the TOEFL and IELTS, with Manhattan Review.
Henry's skills in helping his students become immersed in the English language have helped them to develop a stronger command of the language that has served them well both on their standardized tests and in their ventures outside of academia. When he is not helping students with exams such as the TOEFL and IELTS, Henry spends his free time attending concerts.